Good day and good eating to you dear reader, it is I, Chef Rouxby, the royal chef de cuisine at the Heart Palace and your most competent author of this fine bit of cookery know-how. Having survived being a chef to the Heart Queens through several reigns, it seems only sensible to write down these delightful easy, Wonderland recipes while they are still in my head.
A TRIO OF TERRIFYING TREATS
Variety is the cinnamon-minnamon of life, and for a holiday as wonderfully dark as the Earth realm's Halloween, I have deemed these three recipes worthy of passing on through the looking glass to you the reader.
While I understand that the common Earth "home chef" is not given a royal stipend for ingredients, equipment, and servants, the following recipes have been chosen for their relative ease and appeal to all.
I shall introduce you dear reader to some of the creative confections found in Wonderland that an Earth baker could whip up without slipping through the Continuum. Considering this is a holiday season where children can dress up, even as this "Alice in Wonderland" that supposedly exists there. Though I resent the idea that any of my goodies would shrink or grow Queen Alyss.
Beginning with the peculiarly named "Jabberwocky Eyes," a simply delightful treat with a dreadful name. Then there is my no-bake Choco-Tarty Tart that are perfect for a last-minute request from Queen or Cat. And finally, we shall dive into the more complex world of sugar with an easy-to-follow recipe for Looking Glass Lollipops.
Now collect your utensils, gather your spirits, and prepare to enter a kitchen full of creativity!
JABBERWOCKY EYES
While I certainly cannot tell you what a real Jabberwocky eye might taste like—unlike the tribes of Boarderland would be able to—I can with all enthusiasm suggest that you try these delicious and easily prepared treats. Rest assured no Jabberwocky need be injured—but those with nut allergies need beware.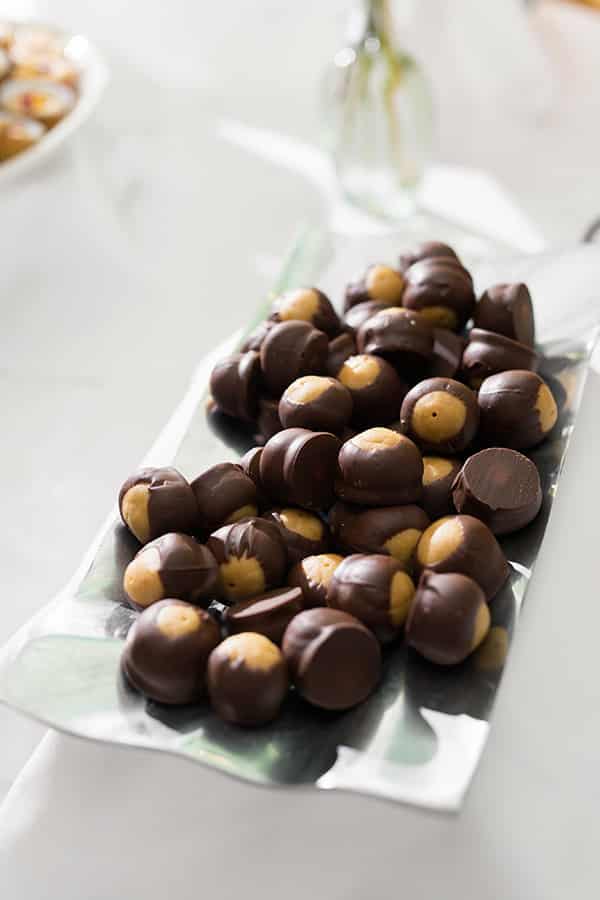 Ingredients:
1 ½ cups peanut butter, smooth or crunchy
1 cup butter, softened
½ teaspoon vanilla extract
4 cups confectioner's sugar, sifted to avoid clumps
4 cups semi-sweet choco-nibbles ("chips" I'm told they're called by Earth bakers)
toothpicks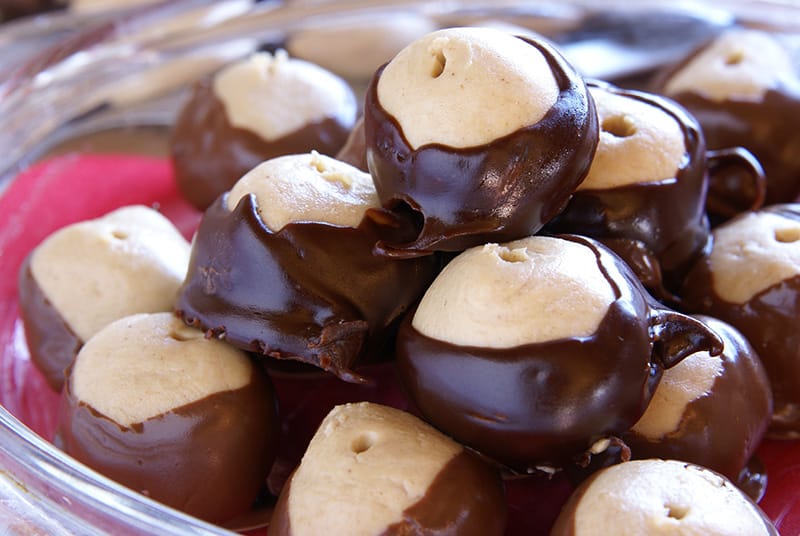 Step-By-Step Instructions:
Beat the peanut butter, unsalted butter, and vanilla together in a large bowl until light and fluffy. Then add in 4 cups of the sifted confectioners' sugar and mix until dough is stiff, firm, and dry with no lumps (may the Queen have mercy on you if there are lumps). You may add more sugar as necessary to achieve a workable dough.
Roll the dough into sixty 1-inch balls and place on wax paper lined cookie sheets, feel free to make the eyes as giant as the real thing but many might have trouble chewing such large "eye."
Then press a toothpick into the top of each ball for handling and chill in the freezer section of your chill-box-refrigerator contraption until firm, about 30 minutes.
While the dough chills, place your choco-nibbles into a double boiler, made by placing a heat-safe bowl set over a pot of barely simmering water. Stir frequently until melted and smooth.
Hold the toothpicks and dip frozen peanut butter balls into the melted chocolate, leaving a small "iris" of peanut butter showing at the top for the ghoulish effect. Return to the cookie sheet, remove and discard the toothpicks, and refrigerate until ready to serve.
NO-BAKE MINI CHOCOLATE TARTY-TARTS
This classic Wonderlandian treat elevates the humble Tarty-Tart without draining the clock. I can personally attest that this "no-bake" timesaver might help you keep your head if serving a Redd Queen with a black heart. (For transparency—I will add that several of my staff did lose their tongues during the reign of Her Imperial Viciousness, but I assure you this was for infractions made in the preparation of other dishes.)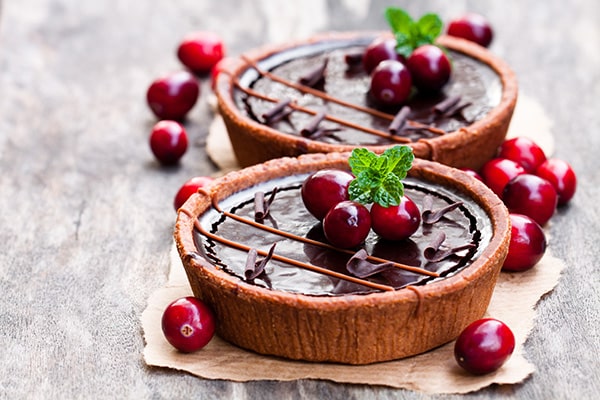 Ingredients:
2 cups chocolate cookie, crumbled for crusts
⅓ cup coconut oil, melted
12 oz bittersweet chocolate, the finest you can acquire without losing your head
1 cup heavy cream
6 tablespoon unsalted butter, softened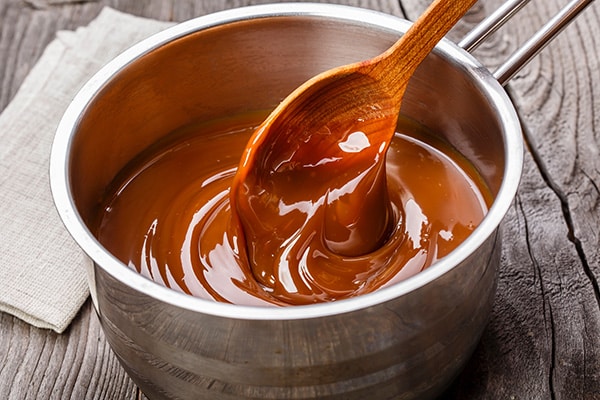 Step-By-Step Instructions:
Lightly grease 6 mini tart pans, or a large muffin/cupcake pan. Then, in a medium-sized bowl, combine the cookie crumbs and the melted coconut oil until thoroughly combined.
Portion the mixture between the 6 mini tart pans and press into the bottom and sides to form and even crust. If using a muffin tin, portion appropriately but there may be leftovers.
Cover and set in the freezer for 30 minutes to set.
Place the chopped chocolate in a medium-sized bowl and set aside.
Bring the cream to a simmer in a small saucepan over medium-high heat, be careful not to scald your dairy and stir occasionally. Once simmering, pour the cream over the chopped chocolate and let it sit for 2 minutes untouched.
Gently whisk the cream and chocolate together until smooth. Add the butter in slices and continue slowly stirring until melted and combined with the chocolate mixture.
Pour the chocolate mixture into the chilled tart shells, and use an offset spatula to spread the chocolate into an even layer. Place in your "fridge" to chill for a minimum of 2 hours, and up to 2 days.
Serve with fresh flugelberries (or similar substitutes—perhaps a "Razz-berry" as I've heard they are quite agreeable even to those of us with finer palates), powdered sugar, or whipped cream.
LOOKING GLASS LOLLIPOPS
Here is where things could get messy, and I would not consider it an offense should you skip this recipe until you feel as confident as Queen Crumpet in the kitchen. Sugar can be dangerous, be warned my dear readers!
Though Looking Glass Lollipops cannot mimic the true magic of a mirror—they can indeed generate a sense of whimsy in your kitchen. Though you didn't hear it from me, Jack of Diamonds can credit at least some of his well-endowed posterior to a deep love of these sweetly colourful treats, even if the writer Lewis Carroll forgets them in his rendition of Tea Time!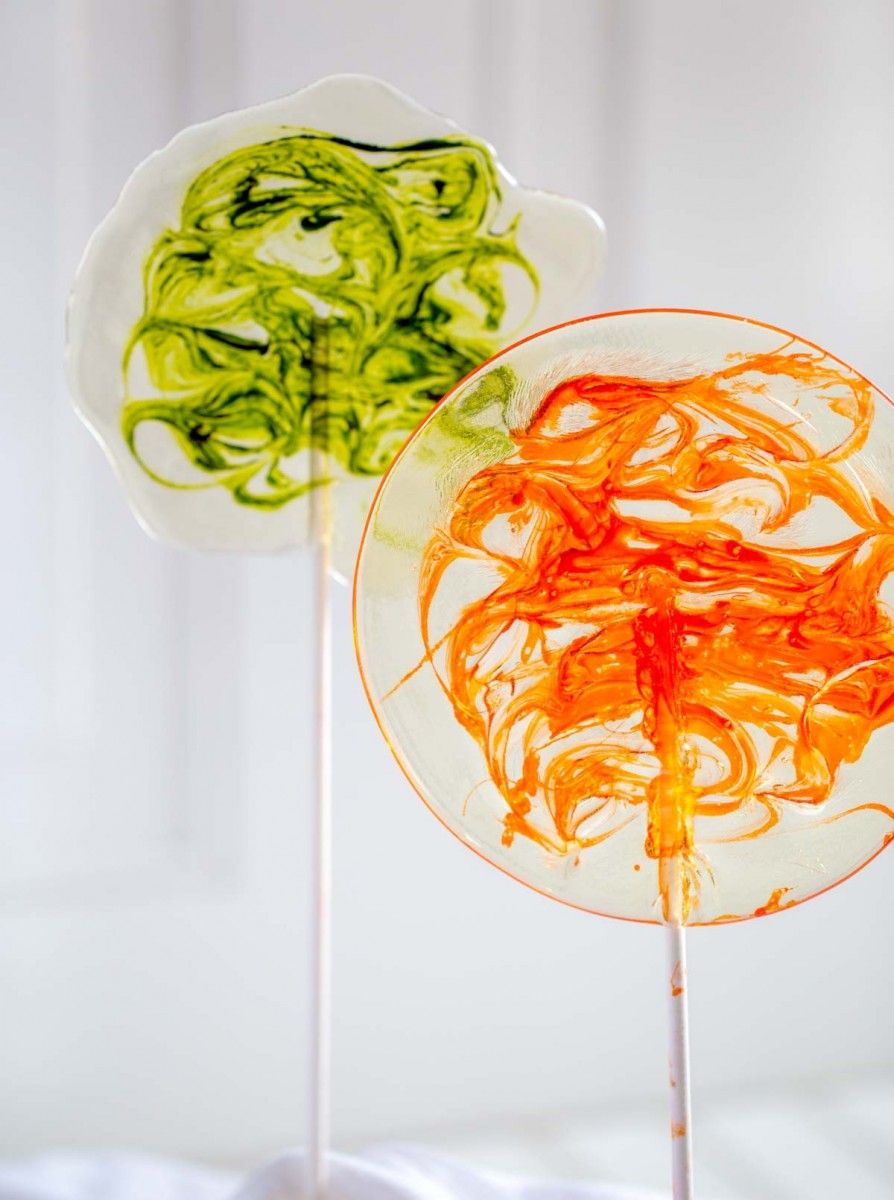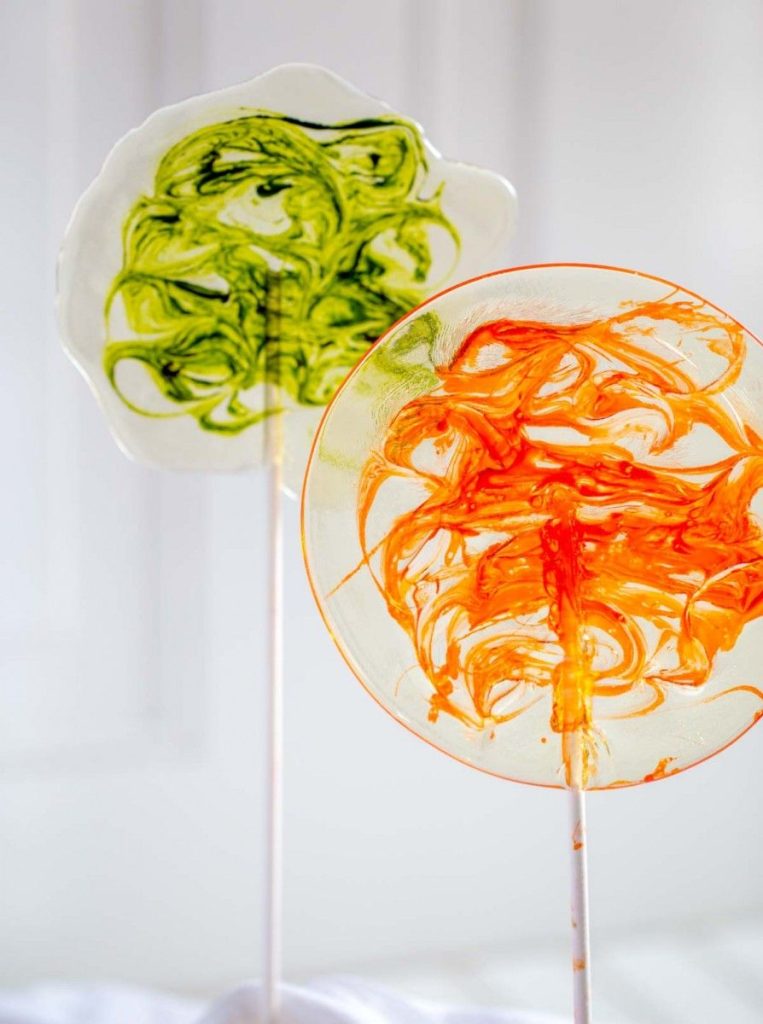 Ingredients:
3 cups granulated sugar
1 cup cold water
1 cup light corn syrup
¾ teaspoon extract (flavor of your choosing/preference)
Gel food coloring (any whimsical colours shall do)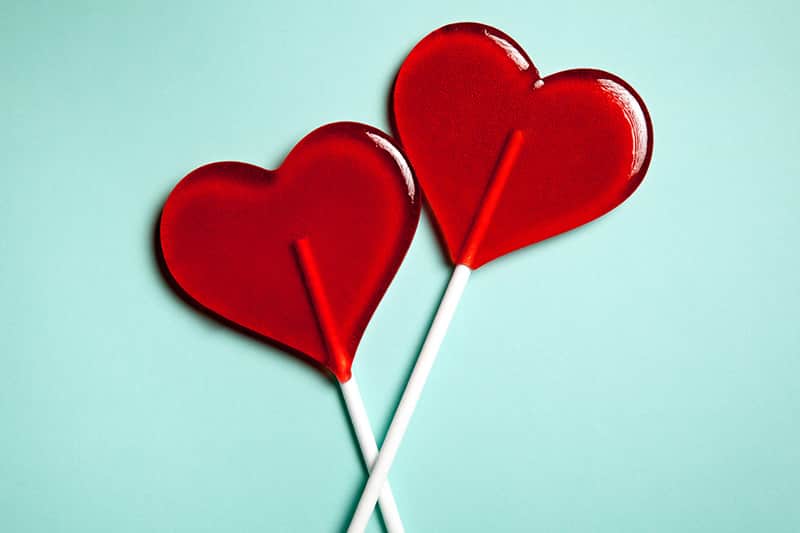 Step-By-Step Instructions:
It's important to have everything set out and ready to go before you begin this recipe. As without a cook's crystal to monitor things, once the hard-candy mixture reaches the hard crack stage, you have to act quickly to form and decorate the lollipops before they harden. Read and heed the instructions below for good success.
Create an ice-water bath for the pot you will be making your sugar mixture. You can use the small portion of your kitchen sink or a heat-resistant bowl filled with ice cubes and water. You will also need a heat-resistant glass measuring cup with a pouring spout. Set out your measuring spoons and desired flavoring. Pull out two or three large baking trays and line them with silicone baking mats or parchment paper.
Place your lollipop sticks right next to the silicone mats or parchment paper, take the lids off your gel food coloring so they're ready to use, and set out several toothpicks as you'll need a separate one for each color. You can also use the spare lollipop sticks for making the swirls.
Begin by adding three cups of granulated sugar to your clean dry pot. Add in the cold water using this important royal technique: slowly rotate the pot 360 degrees as you pour the water tightly along the interior wall of the pot. This is to ensure that no sugar granules stick to the inside walls of the pot where they will harden and crystalize, but not nearly as useful as the ones in Wonderland. When making lollipops you want a nice clear syrup.
Pour the light corn syrup in the center of the pot, allowing it to spread to the edges and meet the water. Let these three ingredients sit in the pot for 12-15 minutes so the liquids can completely soak down into the sugar. With a clean finger, briefly stir the ingredients to make sure everything is well combined.
The hard-crack stage for making lollipops is 305 F. Place the pot over medium heat. DO NOT STIR the sugar mixture as it cooks. The mixture will gradually start to boil. As the liquid evaporates the bubbling will get pretty lively, do not worry dear readers. Use a candy thermometer to track the temperature of the mixture. Once it reaches 305 F, it's at the perfect "hard crack stage" that's needed for making lollipops.
The very moment the candy thermometer displays 305 F, remove the pan from heat. Immediately add in the flavoring and swirl the pot back and forth to mix it in. Right away stick the pot in the ice-water bath for 15-18 seconds to stop the temperature of the sugar mixture from rising.
If the temperature rises above the "hard crack stage" it will turn yellow or amber color and will start to caramelize. We want our lollipops to be stained glass clear so we can add in those beautiful colorful swirls.
Remove the hot pan from the ice bath, taking care not to get any water inside the pan. Immediately pour the sugar mixture into an oven-safe glass measuring cup.
To form the lollipops, CAREFULLY pour the scalding hot liquid sugar directly onto your silicone mats or parchment paper. I suggest pouring only two lollipops at a time because they harden up fast! These are free-form candies so you don't need molds for this recipe.
Immediately place a few drops of gel food coloring onto the first lollipop and use toothpicks or spare lollipop sticks to quickly swirl around the food coloring in a colorful design.
Quickly place the lollipop stick into the lollipop about halfway up and rotate the stick 360 degrees. Place another dollop or two of hot syrup over the embedded lollipop stick just to give it some added stability.
Once cool, remove and enjoy! Wrap in wax paper, if you will be serving to little lords and ladies from noble houses. (An ambitious chef might shape their lollipops into the royal symbols of Hearts, Spades, Clubs, and Diamonds for added effect.)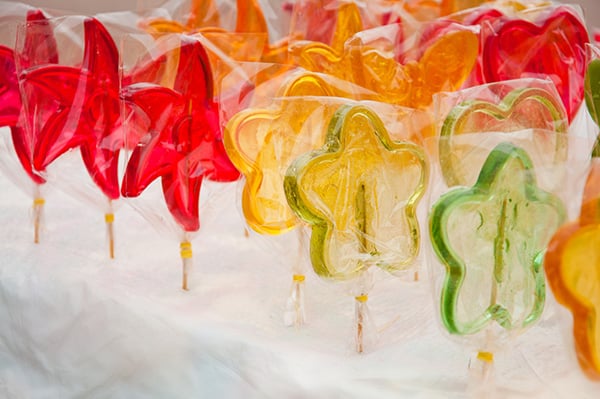 Dearest readers I do hope you have found these recipes stimulating to your appetite and add your own inventive twists to these tasty treats. The wonderous world of flavor is out there for you to explore and share with those who still have tongues to appreciate such things.
Never forget that Imagination is the finest spice, and the essence of all things good. Imbue your cooking with the all the light (or dark) creativity you possess and never fear a failed experiment.
Now I simply MUST get back to the rest of this cook-book before my own saucy opinions get me in trouble.
Meet the Author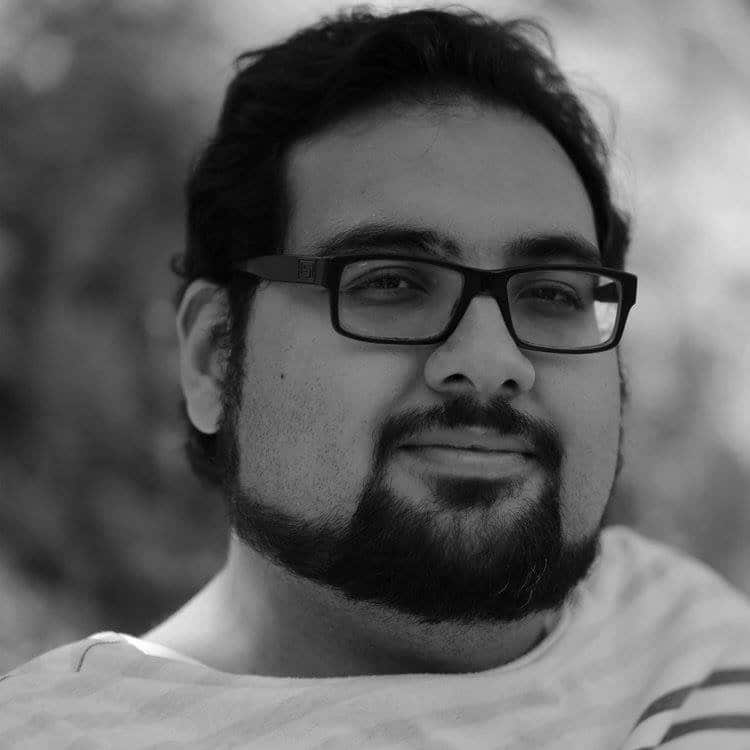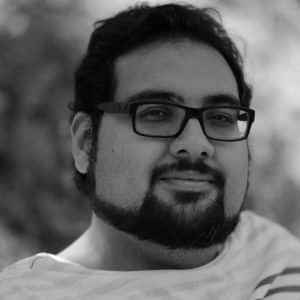 Marco Arizpe graduated from the University of Southern California and The American Film Institute with degrees in filmmaking and screenwriting. His brand of borderland gothic horror stems from his experiences growing up in a small town where Texas and Mexico meet. Culturally steeped in a rich history of all things terrifying, Marco never fails to bring forward indigenous folklore in contemporary and fresh settings.