As an amateur scholar and die-hard enthusiast of everything to do with Alice in Wonderland, I have launched a podcast that takes on Alice's everlasting influence on pop culture. As an author who draws on Lewis Carroll's iconic masterpiece for my Looking Glass Wars universe, I'm well acquainted with the process of dipping into Wonderland for inspiration.
The journey has brought me into contact with a fantastic community of artists and creators from all walks of life—and this podcast will be the platform where we come together to answer the fascinating question: "What is it about Alice?"
It is my great pleasure to have Ricky Romero join me as my guest! Read on to explore our conversation and check out the whole series on your favorite podcasting platform to listen to the full interview. For the full transcript with exclusive content, join our private Circle community.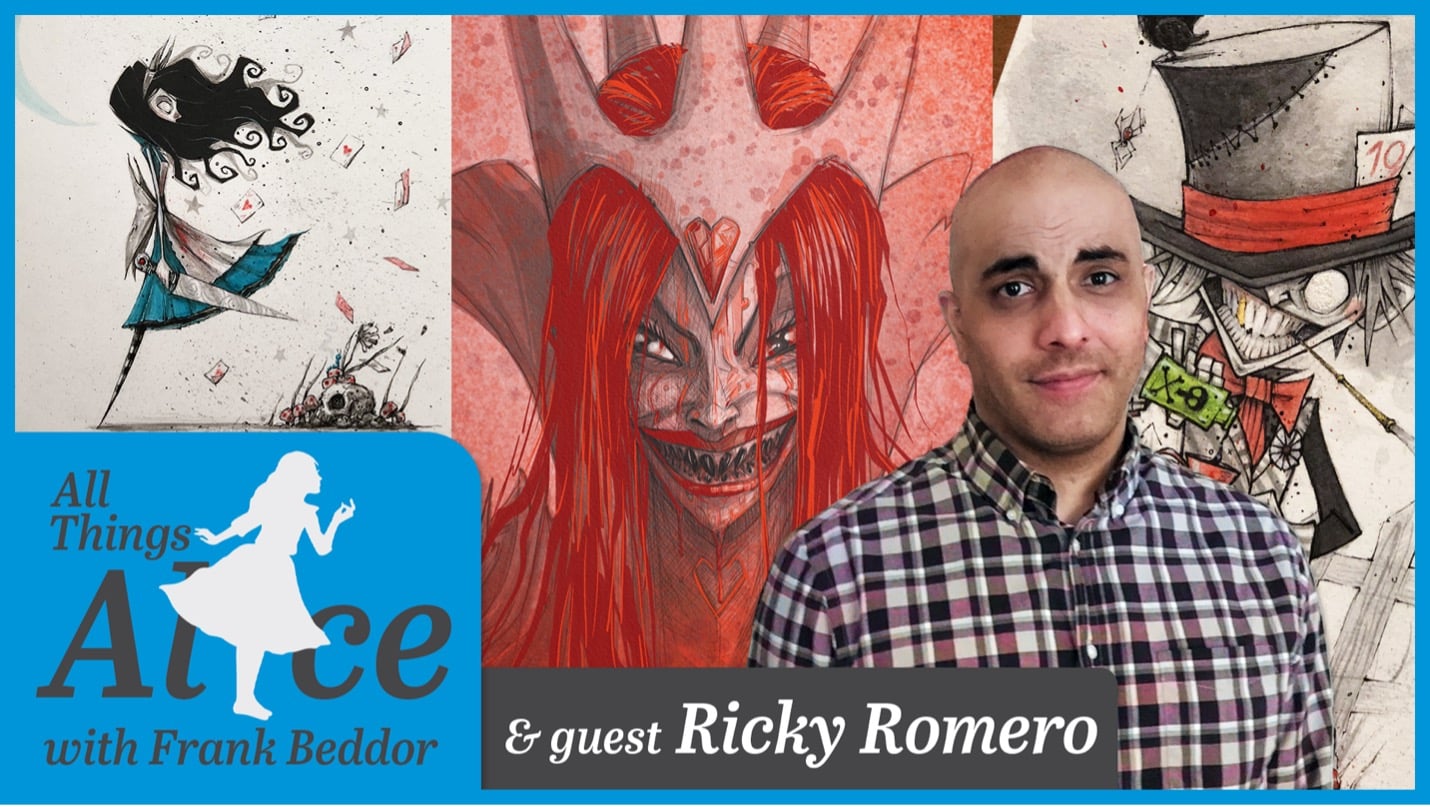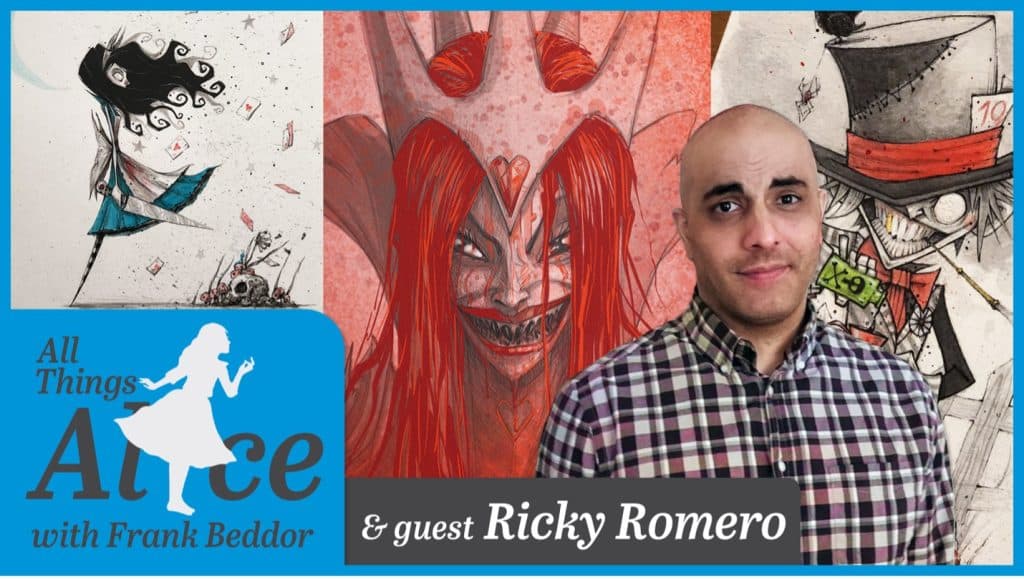 ---
Amazing Art Discount!
Don't miss out on snagging a piece of Ricky's amazing art for yourself! Use promo code "JAMYESTERDAY" on HIS WEBSITE for $25 off your purchase!
---
FB
I'm excited to have you on the show and to meet somebody that I've never worked with. I have had a lot of guests that I've worked with before and now I'm starting to branch out. I love the tone of your art. I referenced it and you thanked me and here we are.
RR
That was an honor, man, seeing you drop that post. I saw your name and it sort of rang a bell. I was like, wait, I know this name. Oh my God. Yes! The Looking Glass Wars. How can I forget? So, I'm honored to be on.
FB
Thank you very much. When did you pick up the books?
RR
Probably around 2008. I read all three of them. I read the third one, ArchEnemy, right after it came out. After I'd read the first one, I was like, "I got to see what happens." Then I sped through the rest of them.
FB
Thank you. It's such a nice compliment. It's been a while since I wrote a prose book so to get a little feedback at any time, especially this long after the publication is very satisfying.
RR
They're a lot of fun and just really engaging. The queen that I draw a lot is, without a doubt, influenced by Queen Redd from your books.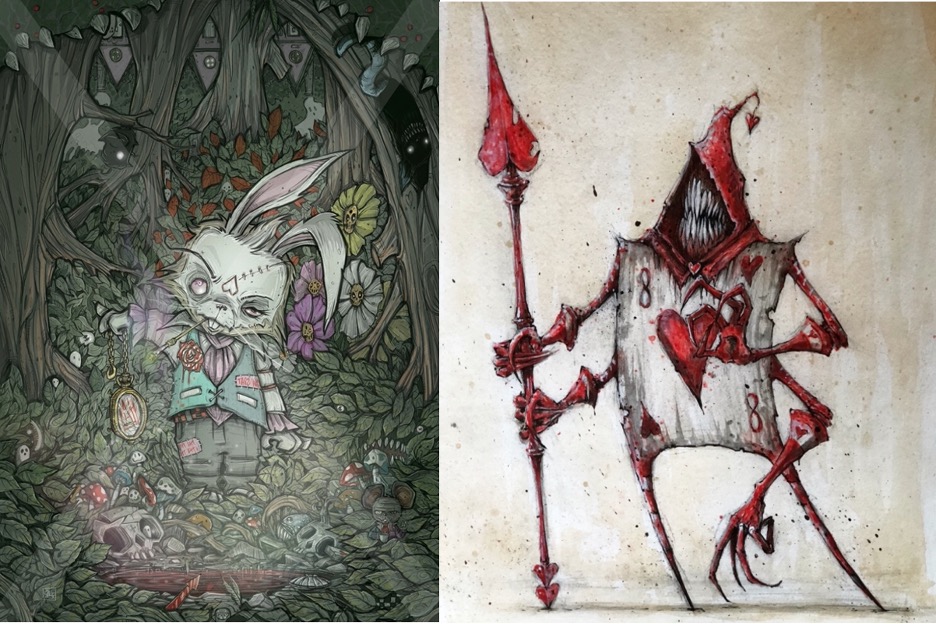 FB
I'm really interested in talking to you about all of that. What's nice about your Alice work is it's right on brand for this podcast. But you don't do just Alice stuff, you like taking on all things in pop culture, and twist and turn and reinvent them. What are you doing, attacking all these brands? The Little Mermaid and Alice in Wonderland, these iconic properties. Do you have beef with those properties?
RR
I don't think it's so much as having a beef with them so much as it is the creative world that we live in now because of them. As an artist, you feel pigeon-holed into doing certain types of art, such as Marvel, Star Wars, etc. I follow so many artists who are just incredible but they don't get the recognition they deserve because they don't want to do superheroes. It's kind of sad because when I started drawing, I had a lot of original ideas but everybody just wanted me to draw what they wanted to see from popular franchises and so I think my style was a response to that. If I'm gonna do it, I'm gonna do it in a bit of a punk rock, sassy kind of way. There's no real hate. Everything I draw on is something I grew up with so I have a lot of respect for those subjects. But it just feels like, "Man, can we get some new ideas here?"
FB
What I love about the tone of your work is, you're taking something that's recognizable and bringing a fresh voice and look and feel to it. I've a big fan of American McGee and he started with that whole dark Alice aspect. But when I look at yours, it's framed in horror a bit but it's so whimsical and optimistic and stylized. The Mad Hatter is just beautiful. The horror side of it comes through and a lot of people see Alice in Wonderland as a whimsical story but there are others that see it as more of a horror story with some insanity. So, there are lots of perspectives on what Alice means and how it's represented in culture and I would say that more people are gravitating to "the darker Alice." I can see why somebody might say that about your work but at the core of it, I see a love for the characters and a love for the world and a unique voice, which is why I wanted to reach out to you.
I would like to go through some of your artwork. Let's start with the Mad Hatter because he's so iconic. What were the influences for the piece and how would you describe it for the listeners? What's the elevator pitch?
RR
Alice in Wonderland is whimsical, but I view it more as a happy dream that slowly morphs into a nightmare. I like to draw between the lines, so everything that I draw regarding Alice isn't specifically written in the book but it's not, not written in the original book. So, for the Mad Hatter, my most recent picture, I drew him with a bunch of tea-themed and Wonderland-themed tattoos. It works for me as I'm drawing it because, there's never a passage in the book that says he doesn't have tattoos and within the confines of history, plenty of sailors were running around with tattoos. That's the creative process for me. In terms of making them scary, I try to merge a little bit of the creepy with a character that you actually might like to meet, but probably not stay around too long, which is how I feel about most of the characters in Wonderland.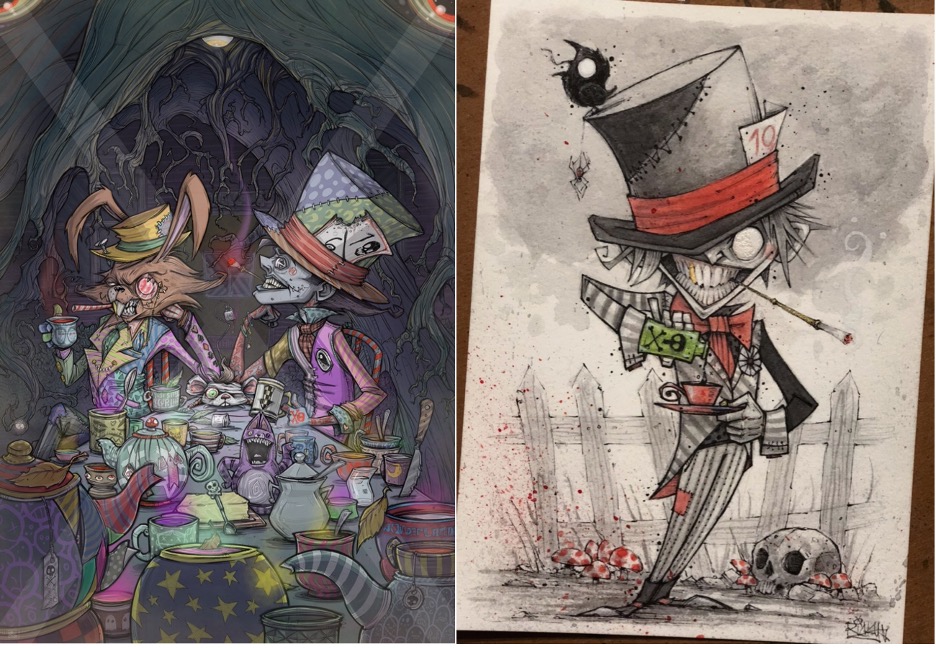 FB
Right. These are people with the inability to communicate at times or have reason and there's rampant uncontrollable moments for lots of them. So, you never know what you might get.
RR
The fun of the story for me is putting my own little spin on it, but I like to make sure that if you're pairing the images that I'm doing with the story, you won't look at the image and say, "That doesn't happen in the book or that can't happen in the book." Obviously, incredible stories can be made from getting outside the story but I like to stay within the confines of the original story.
FB
You don't feel like you get swept up in other influences from pop culture when you're sketching? Because when I look at his suit, with those really sharp lines and the way that his body is swayed slightly as if the wind is pushing him. That conjures lots of references to pop culture. It almost looks like he came out of a prison. That seems like a movie star from the 30s. So, you're definitely still blending influences from pop culture that you've seen.
RR
A lot of the images and pop culture elements that I do pull are dated. I live on the TCM channel. That's my jam. I just watch black and white movies nonstop.
FB
I also love the Alice image you did. She looks like a ballet dancer. She's so elegant and there's so much motion in the image. That's what I saw at first but then when you look closely, you see that big knife. With American McGee's art, you see the knife and the blood first but, in your Alice, I see the elegance, the ballerina, the beauty of color, and then you see this big knife. Tell me about tell me about the composition of that image and what that knife represents.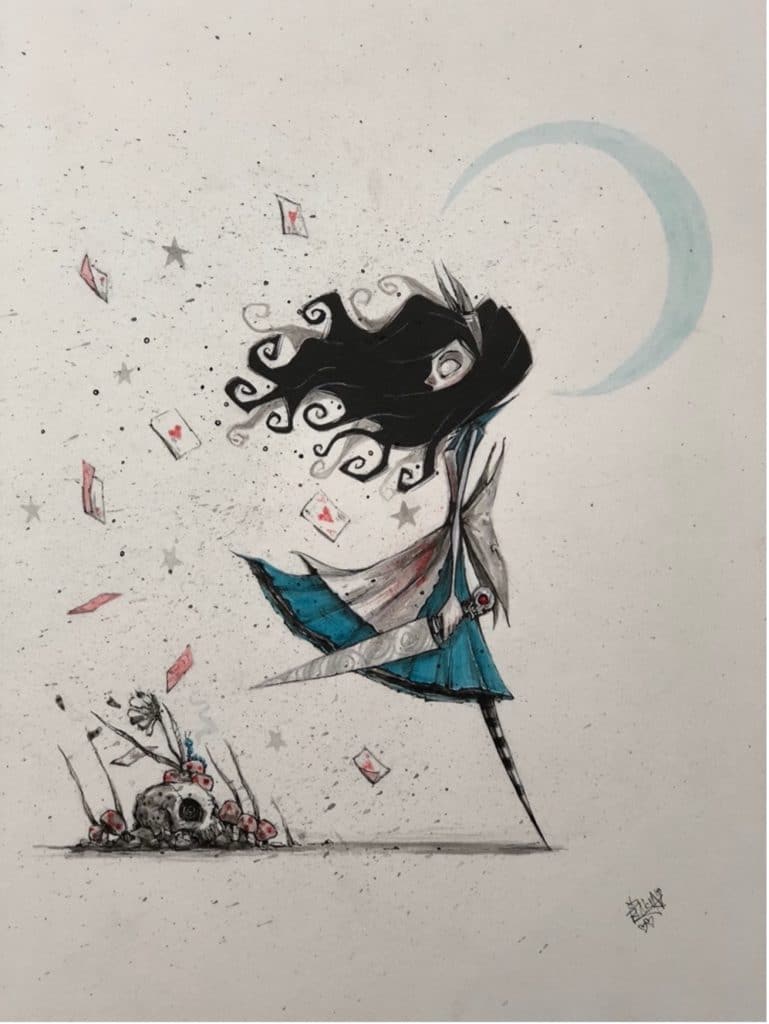 RR
I appreciate that so much. Thank you. That one is a piece that, in particular, just came about. I don't even really know how it came together. The blade is the Vorpal sword blade and it is a nod to American McGee because her blade in the game was a knife.
I like the image of a knife as opposed to a sword, which brings a very medieval feel to it. The knife feels a little bit crazier. Like she just grabbed a kitchen knife and now she's gonna go through Wonderland. As far as the composition, and everything with the cards, I wanted to draw an Alice that encompassed most of the ideas of Wonderland, the heart cards, and the little caterpillar she's facing. It takes a bunch of elements from the story and mixes them all together into one piece. She's really that much bigger than the caterpillar because in my mind, she had just eaten a piece of the mushroom. The cards are flying around as a sign of things to come. The blade was a nod to the American McGee video game, because there's no real mention of the blade in the first book. In terms of style, it's an older piece so I was more experimental than I am now, especially with the character elements such as the pointy feet and the very exaggerated features.
FB
I really love that. In looking at the Cheshire Cat hanging upside down holding a cup of tea the right way up and the scary card soldier, with that face which is all teeth. I think it's a nod to full on horror. Talk about those two pieces because I definitely want to show these off. Describe the piece with the Cheshire Cat hanging upside down.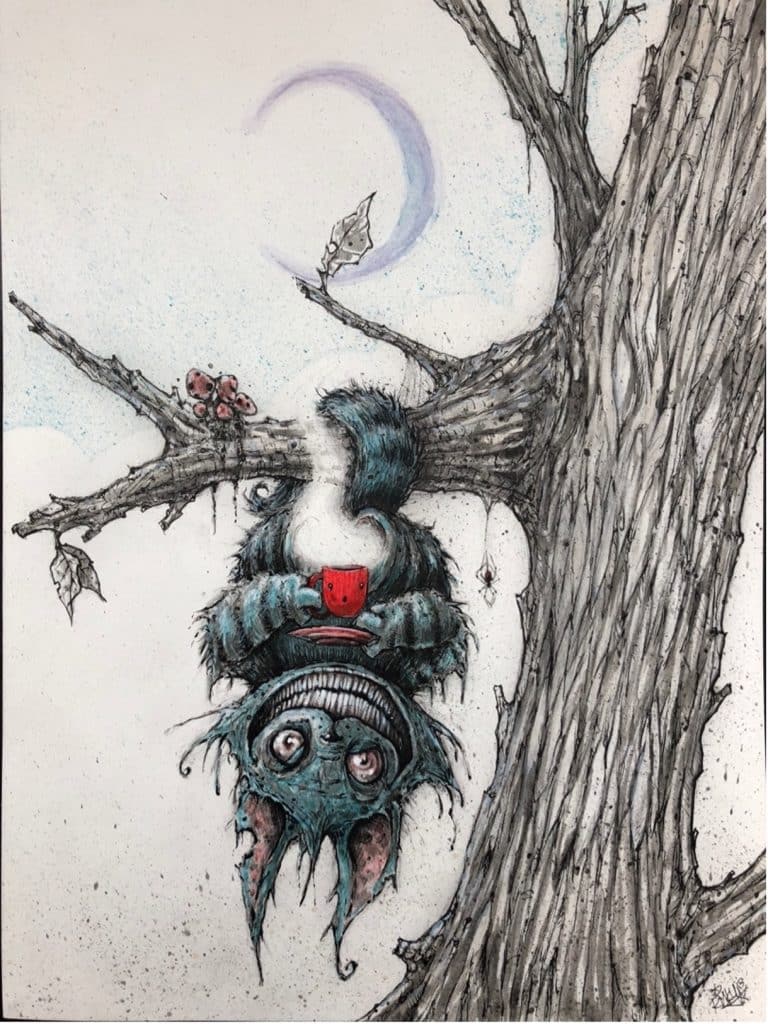 RR
The Cheshire Cat is one of my favorites in the original books. He was he so confusing, so nonsensical, he was always the one to put a smile on my face. He's always depicted as sitting on the tree but I wanted to go a little crazier so I decided to turn him into a bit of a monkey. He's hanging now by his tail, because why not? For the tea, I thought it would be funny for him to be holding a saucer of tea and drinking it. But he couldn't be holding it upside down. So, I created an interesting mix and had him hold the tea the right side up. Not many people notice those types of details because, especially now, you're really only seeing these pieces on the phone. But if you look closely, I always put hidden pictures in everything.
FB
Those easter eggs are fun. The more people that know there are easter eggs, the more people will go hunting for them. Is there a reason that you use blue or bluish gray for the Cheshire Cat? Was it an instinctual choice?
RR
I think I used the blue just because I didn't have any other colors at the time and I was just trying to go for the brightest color I had. Yeah, at the time I was doing those, I was running low on a bunch of different colors so I was grabbing whatever I could find. I think some of those were even painted with food coloring.
FB
You said your Queen Redd character was influenced by my Queen Redd character in the books. Do you mean from the book itself or from the concept art that was on the cover?
RR
From the book. For Redd it was the overall personality, but the matted hair is one visual element that definitely stood out. Because, up until that point, I always envisioned her as similar to Charlize Theron from the Snow White and the Huntsman movies. But the matted hair and the blackened teeth are really the chef's kiss of evil.
I remember thinking, "Okay, she's not traditionally pretty, but she's more likes this. I like this depiction. I like the way this is going." Another thing is that when people think of the Queen of Hearts, they envision the Disney queen. The overweight, very boisterous, unattractive queen. So, whenever I see different versions of the Queen, I'm always intrigued by how whoever is interpreting them decides to execute the depiction. Your interpretation was so far outside of how I had typically seen her depicted. She's either incredibly normal or incredibly unattractive and mean. Then your version came along, and I thought, "Wow, she's actually freaking evil. She's scary mean."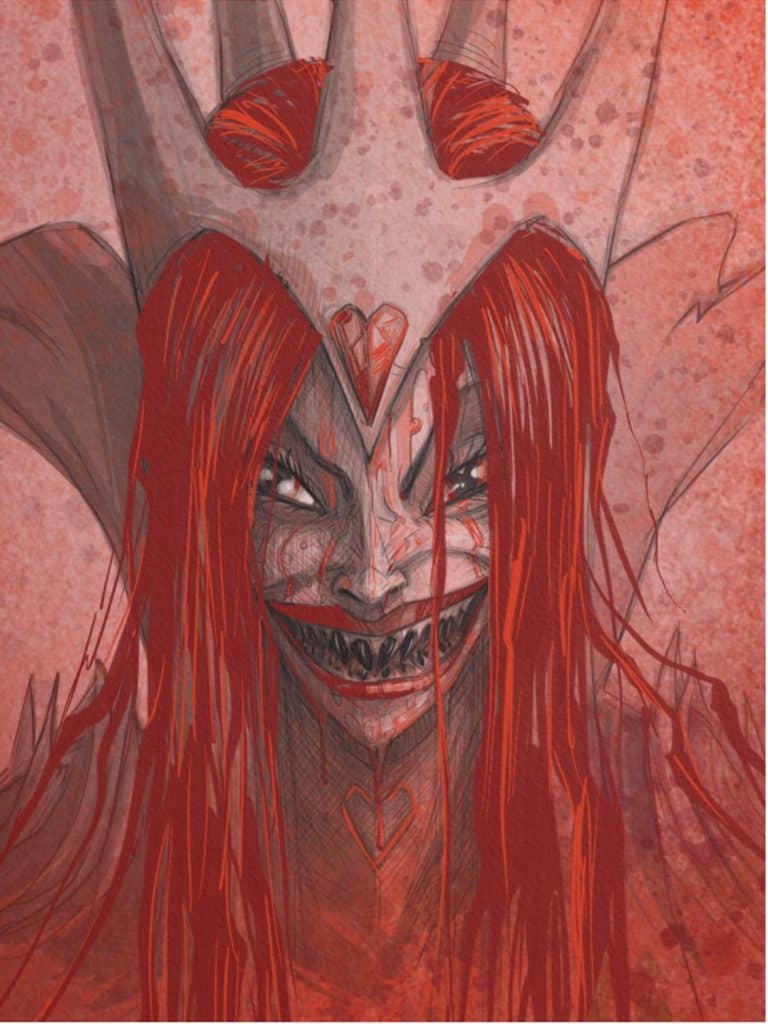 FB
I can see that connection in your artwork. But I can also see why my concept art didn't speak to that because there was that rub between the blackened teeth and that hair and how attractive or not attractive should she be in the concept art because I was thinking about it from a cinematic standpoint. Charlize Theron was a particular kind of model for the movie version. The concept artists I worked with for the cover art Seeing Redd did a number of iterations. There were darker ones that were rejected by my publisher and we ended up with the version that's on the cover now. But I was always a little bit conflicted about the way I described her in the book with her teeth, versus showing that on the cover. I suppose I still haven't sorted that out.
RR
I've got my own personal horror style, but I feel like it's a truly evil queen. The feeling I get from a lot of different interpretations of the Queen is that she's just angry.
In terms of Queen Redd's look, outside of the sharpened teeth and the matted hair, how did you envision her while you were writing?
FB
I visualized the mane of red hair and then it was the dress. I had a little fantasy; I was driving in traffic and somebody cut me off. I was thinking, like, "Oh, I'd really like to do something to that person as they're driving." I thought, if I was a thorny rose bush, I would just reach over and entwine their whole car and find my way into the cracks of the window. So, when I went home, I started thinking that Redd should have a dress that comes to life. The dress could reach out and kill some servant or anyone she feels is not servicing her in the way she should be taken care of.
You said your first introduction to Alice was the original Lewis Carroll novel, but how old were you when you read it?
RR
My first introduction to it was the 1951 Disney Alice in Wonderland. But the first one that actually resonated with me and stuck in my memory was the 1985 TV movie. Yes, her and her sister. I couldn't have been older than seven or eight at the time and I was visiting my cousin when we saw it, so my parents might have had it on tape. It was just so weird. The songs and the makeup were so out there but at the same time, it was totally compelling. I remember years later searching for it and it took forever to come out on DVD. I finally got a copy of it and I remember feeling the exact same way I did as a kid. This is really weird, but I like this a lot.
FB
Were there other things in pop culture that have weird, twisted takes on stories or preexisting ideas that you've been attracted to?
RR
A lot of them that I can recall off the top of my head are all Alice in Wonderland themed. Night of the Demons, the old 80s horror movie, is like, Alice in Wonderland goes to a haunted house. The most recent Japanese Netflix show, Alice in Borderland. I think it's really interesting how many people decide to use Alice as their source of inspiration. That certainly resonates with me because I really don't know what it is with Alice. But something about it is fun.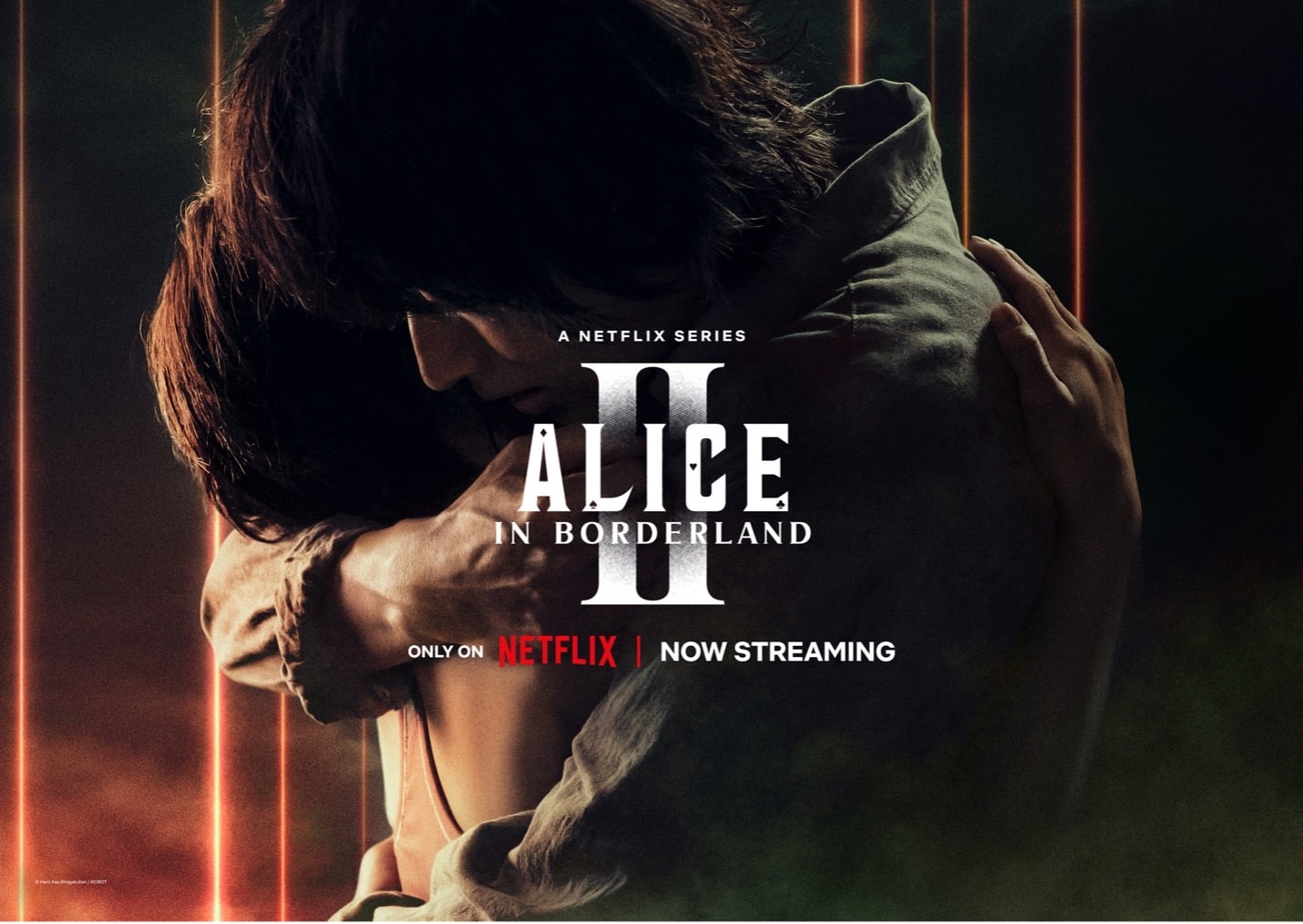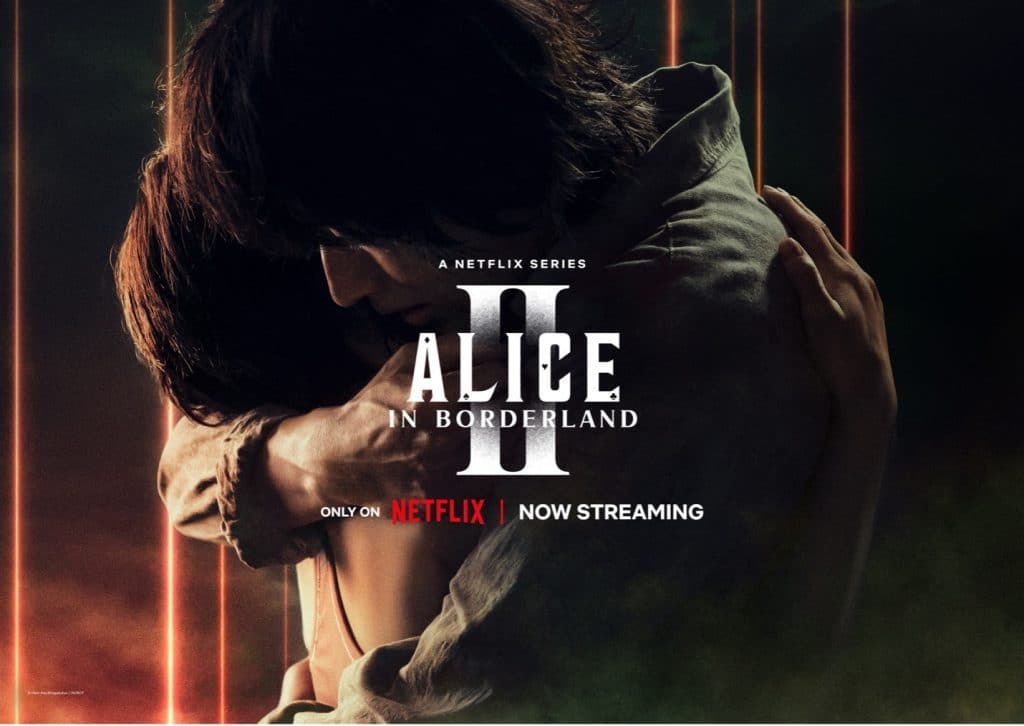 FB
You and I have the same experience. I'm wondering if you've noticed when you're working on something Alice-themed, suddenly, it seems to be everywhere. It's everywhere every day. It's like cars. You buy a Prius, and suddenly, everybody seems to have a Prius. It's the same with Alice. This last political cycle, I heard "down the rabbit hole," "we're through the Looking Glass," "we're all mad here," over and over. I was like, "Wow, was I not paying attention before?"
RR
I feel like that sometimes, too. The world is completely taken with it. We do Alice references everyday now for everything. Every time I'm on the internet, everybody's "I just went down the rabbit hole."
FB
That's probably the most popular and often used phrase. Obviously, Lewis Carroll didn't invent rabbit holes but as a term to refer to a portal to different place, he certainly did invent it in that respect. As you said, not only on the internet, but everywhere, people say it so casually. You wonder if they even know what the source material is.
FB
Do you have any favorite illustrated versions of Alice in Wonderland?
RR
When it comes to Alice illustrations, there's a lot that misses the mark for me. A lot of them feel too fluffy, so happy. They're great pieces of art, but it doesn't resonate with me in terms of the Alice in Wonderland world that I feel. There are a lot of pieces that are completely inspired by one specific source, looking at you Disney. The ones that aren't, I feel are definitely more interesting. Again, your books, American McGee, those types of things. I like those interesting takes on it, especially yours because you really went into the history and just tied it all together. It was a lot of fun to read. But in general, I feel like a lot of people concentrate on the happiest part of Alice or the dream part. Apparently, all dreams are good for them.
FB
Because to me, the Alice piece of art that you did is not dissimilar to Ralph Steadman in terms of the lines. There are common drawing techniques you both use. Steadman's version is one of my favorite illustrated Alice books and it put him on the map. But when I look at your Alice, you have more of a horror bent but the whimsy that Steadman creates is not dissimilar to yours.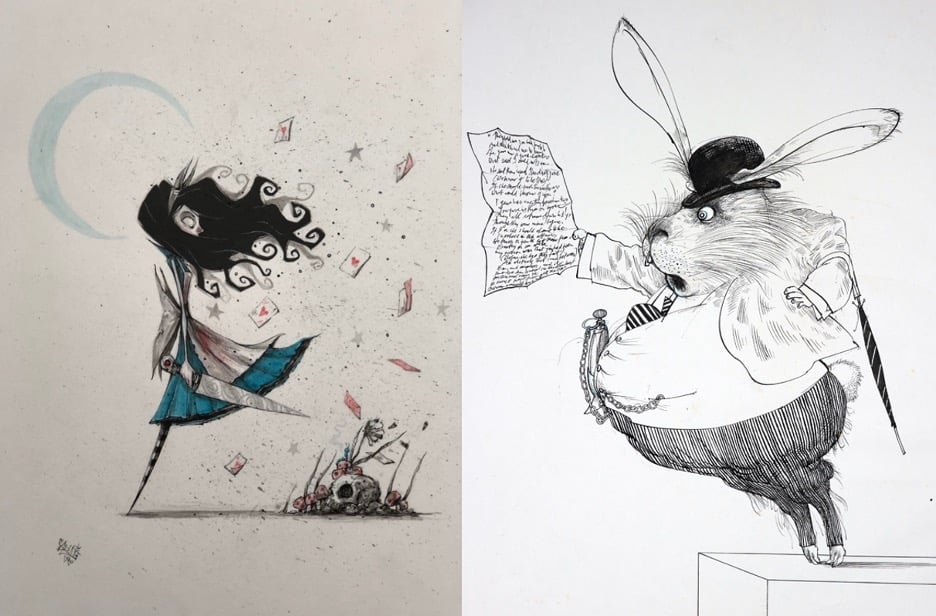 RR
High praise indeed. I appreciate that. Thank you.
FB
Do you see why I made that connection?
RR
He's an amazing artist. I can see the connection. A lot of my initial, I'm gonna say training but I'm really self-taught, was from a lot of Disney artists and books and Steadman absolutely featured in those.
A lot of the poses and everything else, that's from studying a lot of old Disney Animation. That was really what I wanted to do. Growing up, I was like, "I'm gonna go to Disney and I'm gonna make animated movies." Then, as I was hitting high school, they closed their animation studios and I just floundered. I was like, "I'm not going to Disney. Now what?" But all the training I did up until then definitely influenced my line work and how I draw. People see a lot of different styles in my art. It's not really a conscious effort to make it look like any person so much as it's just, I sat down and I drew it.
FB
It's the amalgamation of all sorts of things that have come into your creative consciousness. I can see what you're what you're getting at with some of the animated characters, because you have slightly exaggerated proportions of the body, slightly exaggerated stances, which I really love. But it makes sense to me that some of these people were influences for you.
How does one become self-taught in drawing? Is it like writing? It's the doing of it combined with trial and error?
RR
I think at the end of the day, it's just picking up the pencil and doing it. Whatever your medium is, you just have to do it and not let the failure or whatever you can't do in the moment hold you back from what you know you're capable of doing.
FB
How do you view failure?
RR
I try not to think about it at all. But, in an artistic sense, failure is the idea of drawing something to a point where I know it's good, but I'm just unhappy with it. I look at the picture, and I just say, "That's a fail." It's depressing in a way.
FB
How does it inform the next piece or the piece after that? Or the reimagining of it? How does it affect your psyche going forward?
RR
I have this thing I do when I draw, something I learned from Roald Dahl. I saw a documentary about him and he would write and then at the very tip, the precipice of his creativity, he would just put the pen down and walk away. He said it allowed him to flesh it out in his mind because he was just so into it that he couldn't wait to get back to it. But because he stopped at the height of his creativity, he's really just pouring his mind into that while he's away. Then he comes back, and boom, he writes the rest of his Roald Dahl book, or however much he's doing.
For me, it's a similar thing. When I have a scribble or a sketch of an idea, that I'm really enjoying, I won't overwork it. I'll just step away. If I don't do that, it'll haunt me until I can figure out the line work. I've had pictures where I will go over the line work a dozen times. I'll delete, start again, reference, start again, reference and start again. Sometimes they never even make it out. I've got dozens of pictures I'm never gonna finish, just because it's not a style I can capture in the moment when I sit down to work on it. But other ones, I come back a year later, and I'm like, "Oh, that's what I was trying to do with that." I'll finish the piece in 30 minutes and I'm happy with it.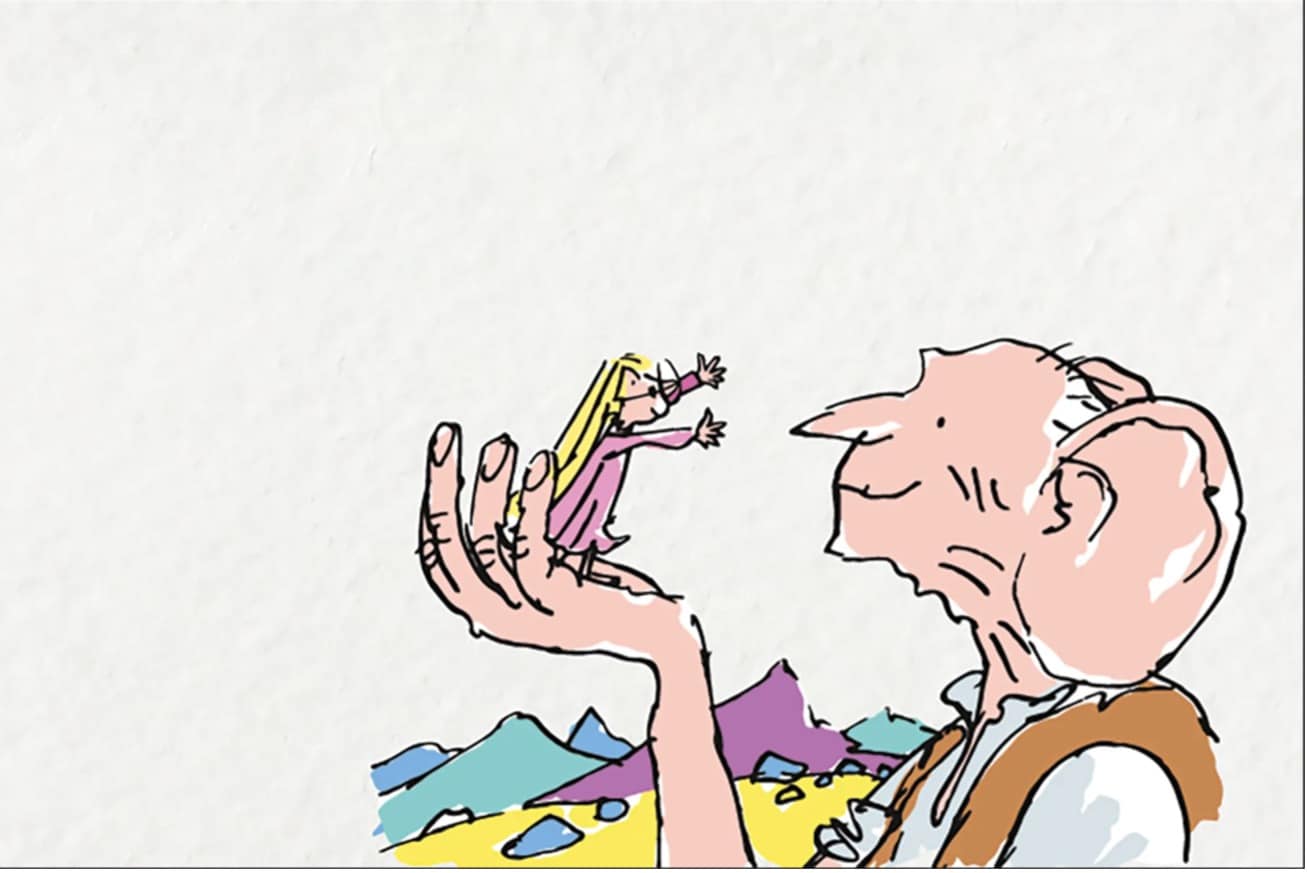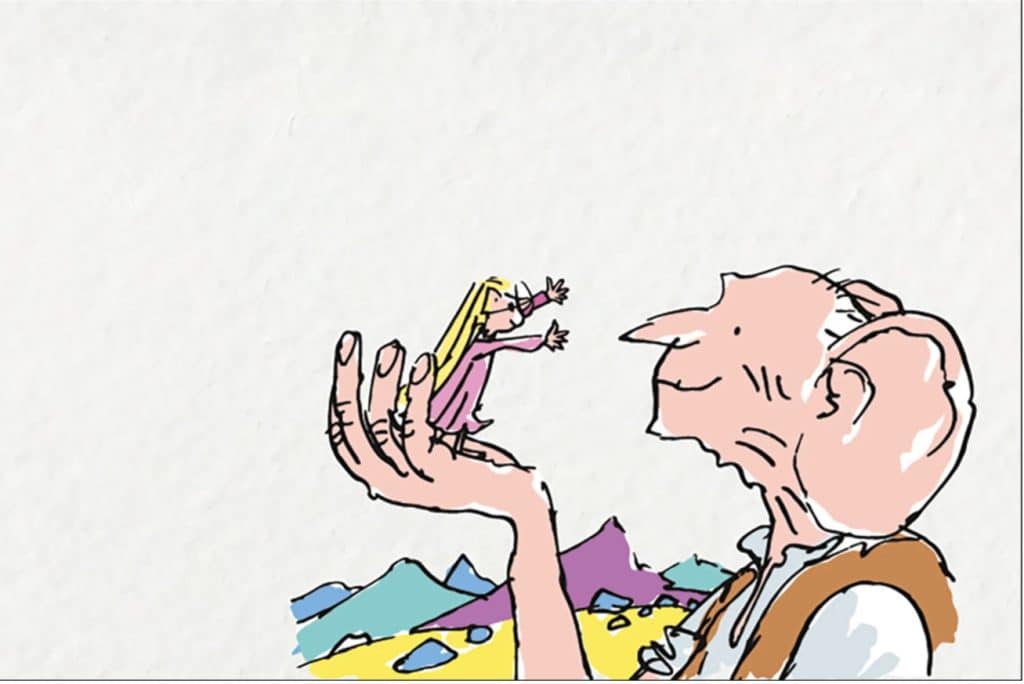 FB
How satisfying is that? When you can actually feel happy about finishing it and then it comes really quickly? I do think that creating a little bit of space is helpful, which is why I often write out of order. I have an idea for a chapter halfway through a novel and I write that and then come back and slowly work my way through it.
The putting it down is really important. I've been looking at ways to adapt The Looking Glass Wars into a TV show, so I go back and revisit the story with logic that suits a different medium. I keep coming up with better ideas that would suit the TV show but also would be great in the book. I'm like, "What was I thinking back then? That this is so much better of a solution. It's better backstory. It's more dynamic." It's 10 years past its prime, but I can't do anything about it.
RR
I was gonna ask you about how that feels, having something that you wrote that was so great and iconic. At this point, you must look back on that and feel, obviously you're proud of it, but you must have feelings like, "Oh, man, I wish I would've changed that one little sentence or what if I changed that tiny bit of a plot?" Do you feel that often?
FB
Oh, yeah. I'm constantly reexamining and reinventing. For example, there's a logic problem for me, and anybody that knows the book will know. Hatter Madigan goes on a 13-year search to find Alice and the moment he finds her, he goes into Buckingham Palace, fights a guard, and leaves. He goes back to Wonderland to tell everybody that she's alive, she's in this world, and they go need to go rescue her. At the time, I thought if I had Hatter meet Alice, he's going to automatically bring her back no matter what she wants. So, I can't have him confront her because his duty will overwhelm whatever her views on the situation.
Then, when I was developing the TV show it, I decided that the moment of conflict between them is so important, so how could I resolve that moment of conflict differently? I wrote a scene where Hatter gets into her study while Alice is there and she's confronted by this person that looks like the Mad Hatter from the books, which she has pushed out of her mind. She thinks it's one of those crazy obsessive fans, "How did you get in here? I'm going to call the guard. You have to get out." And there's this really intense conversation because he's saying, "No, I'm here to save you. Don't you remember? Your people need you. You have to come back." And she finally uses her own logic. She goes, "Wait, so I'm your Queen? I'm in charge. You have to do as I say, is that right? I command you to leave."
RR
That works.
FB
Right. It's much more dynamic. How tortured do you think I am that I don't have that scene in the book? How great that dialogue scene is and how much fun that would be and how conflicted Hatter would be after 13 years of losing his charge. He's gone through so much and in this moment, she doesn't believe him, just as no one's believed her for 13 years.
Do people look at a piece of your Alice art and say, "Hey, this kind of captures what I think of the book. It's not a dream. For me, it's more nightmarish."? Do you have comments like that?
RR
I get a lot of positive feedback from Alice fans. I think a lot of that has to do with how awesome the Alice community is in general. Alice fans are going to be Alice fans for everything it seems, which is cool.
FB
Alice fans love all things Alice. They keep reinvesting because artists keep reinvesting in Alice, so the Alice fans wouldn't be investing if you and I weren't investing in it and if it wasn't always in pop culture. But it's so iconic, Wonderland represents a magical place and "down the rabbit hole" represents an adventure. Alice's character is something we're all trying to discover. Who are we and who do we want to be? Where are we at? There are these universal themes that keep popping up and the community seems to embrace that.
I'll tell you a story. One of the publishers that turned me down said I was gonna piss off all the Alice fans. Then somebody said I would only have the Alice fans. I said, "Only the Alice fans? Only 150 million books sold? I'll take that." I didn't agree that fans would be upset. A few fans would prefer the traditional story but that just meant they didn't know anything about pop culture. They weren't looking anywhere other than Harry Potter.
RR
With Alice, you approach it how you want and, chances are, you're gonna find somebody who really appreciates the way you've approached it. With the newer franchises, people are so defensive about them. They don't want them to be messed with in any sort of way, whereas, by contrast, Alice is more, "Oh, here's a bunch of paints, use them the way you want. As opposed to, here's your set color of paints, and you must use these pencils, and color within the lines." I think that's the bigger takeaway when it comes to lingering characters in pop culture.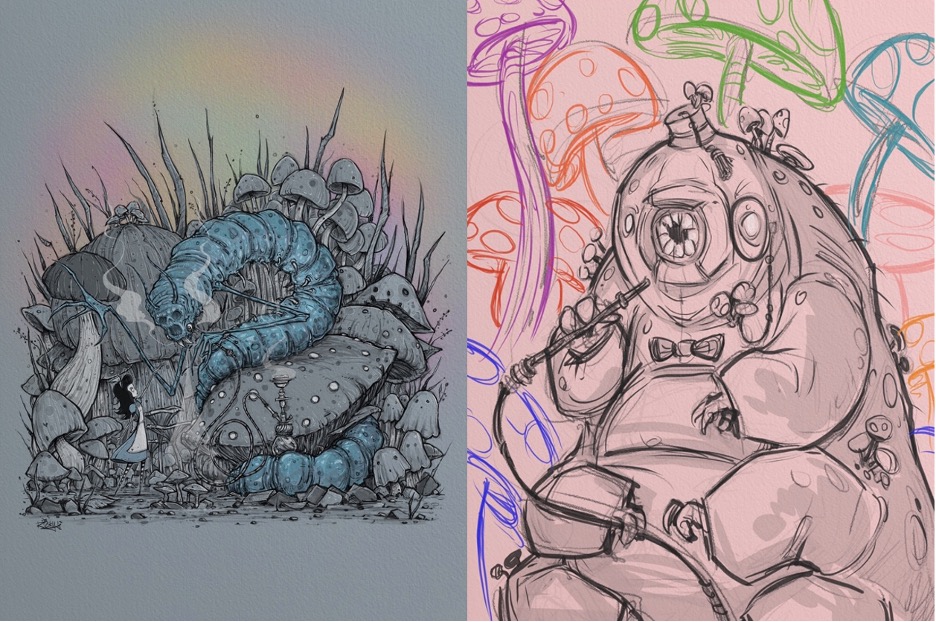 FB
The other difference is when things are in the public domain you have license to do anything you want. Then, inside of a world, the Batman world, for example, if you give the reins over to a filmmaker, as they did with Joker, you're going to get something that stands on its own, that's original and quite different. But the more you try and adhere to the formula, the more the formula dissipates over time, and you burn out on it. Then you feel frustrated because the thing that you love so much starts to fade. With Game of Thrones, I've watched it multiple times but I always stop at season six because seasons seven and eight are so frustrating.
RR
I read the Game of Thrones books around the same time that I was going through, like I was telling you earlier, my last book-reading phase, and I enjoyed every single one of them. Then the show came on and I was just ecstatic about it. The first few seasons, I couldn't tell enough people to watch it but then as the show was closing out, my Game of Thrones just went on mute.
FB
It completely cratered. But if you read the novels, you really understand why, because the novels are so precise and so set up for episodic for television.
RR
Yes, and they're so expansive. I don't even know how you can even fit all of that in a television season. You don't get enough hours.
FB
But structurally, the books set up in much the same way as the television show so it was very noticeable when they didn't have a book to finish out. At that point, it was guesswork and they didn't have the roadmap. From that standpoint, what you're talking about where there's a burnout in franchise creation and exploitation of IPs, I agree. But, when somebody is a creator, and you can give them license, like Peaky Blinders and Steven Knight, that's been going on for years and years. I believe he writes all the episodes and there's a tone and a consistency. It's stood the test of time, so far.
RR
I think if left in the hands of creators, we would probably get much more entertaining products. But the problem is that it's not entirely in the hands of creators at this point. Even within the realm of Marvel, if they would just take the reins off and stop forcing everything to be a certain way, the results would be much more enjoyable. I would love to have more standalone comic book movies. This was a great comic book story; we're going to make the standalone comic book movie. The next comic book movie, if it's going to be the same character, it doesn't even have to be associated with this one because that first standalone story was its own piece of greatness. But everything has to be tied in and it starts to wear on you. I loved comic books growing up but at this point, I fall asleep in comic book movies.
FB
I'm with you. I love the new Spider-Man, Spider-Man: Across the Spider-Verse, as well as the first one. But we have James Gunn running DC now, so we'll see what happens. Fingers crossed.
RR
Fingers crossed. Indeed.
FB
Do you have kids?
RR
I do. I have twin 16-year-old daughters.
FB
Have you ever used them as inspiration?
RR
Oh, yeah, all the time. They are actually my models for my Alice character. I use their hairstyles. Anytime I need any sort of a reference pose featuring any sort of female characters – "Come over here."
They're good kids. I think every parent feels the strain of teenagers without a doubt, for sure. You just have to look outside of the family to see how good your own kids are. I look at what other teenagers are going through and how other parents are and it makes me feel like okay, I'm not doing so bad. This is great.
FB
Originally, you wanted to be an animator for Disney. There are a lot of other animated companies, did you pursue that? How did you land on this medium? Is this a career that's sustainable or is it something you do with another job?
RR
In terms of the Disney thing, I started my family early.
FB
How old were you when you had the girls?
RR
I was 22 so, after they were born, I concentrated on the family. I always did want to try and do something else. After the whole animation thing I thought maybe I'd want to direct movies. But ultimately it was, "Do I really have time to spend away doing this sort of thing?" You can't start a family and then just run out and attempt to achieve stuff.
FB
That's a complicated time to be pursuing a career because basically, your entire 20s would be experimenting to figure out where you're going to land so that you can do the thing you've explored in your 20s during your 30s, especially if it has to do with entertainment, because it's so all consuming. For me, I was much older when I had kids. Then when I had kids, I realized I didn't have nearly as much time to write, so I decided to write late at night, as opposed to all day. But at 22, you have to make some even more definitive choices. And having two beautiful girls, they're telling you what choice you have every day.
RR
Exactly. I did the family man thing and I don't regret it at all. But in the time that I was doing that I worked on my art on the side and it was floundering. That's the best description for it. I wasn't really sure what I wanted to do for a long time. I felt like I didn't want to just draw because I didn't want to be a starving artist. That's not fun.
FB
How did you solve that?
RR
I became a starving artist. I just powered through and I got a little bit of a following. I'm still mystified as to how I ended up with as many people who enjoy my art as they do. I appreciate the hell out of it. It's so cool, but I'm still dumbfounded as to how it happened.
FB
What are you working on now? What can we look forward to?
RR
I'm working on the Alice in Wonderland illustration. It's gonna be a slow process because every single one of these Alice pictures that I'm doing is poster size. Literally 20 something by 20 something inches. They take up a good portion of the wall and drawing those digitally allows you to zoom in to millimeter sized areas, if I wanted to throw in that level detail, which I occasionally do. So that's going to take me the better part of the year, to finally get those out. I estimate that for the first book, it would take me about 60 to 80 pictures to fully illustrate it to the point where I would be happy, and that's including looking back at the earlier pictures and reworking them.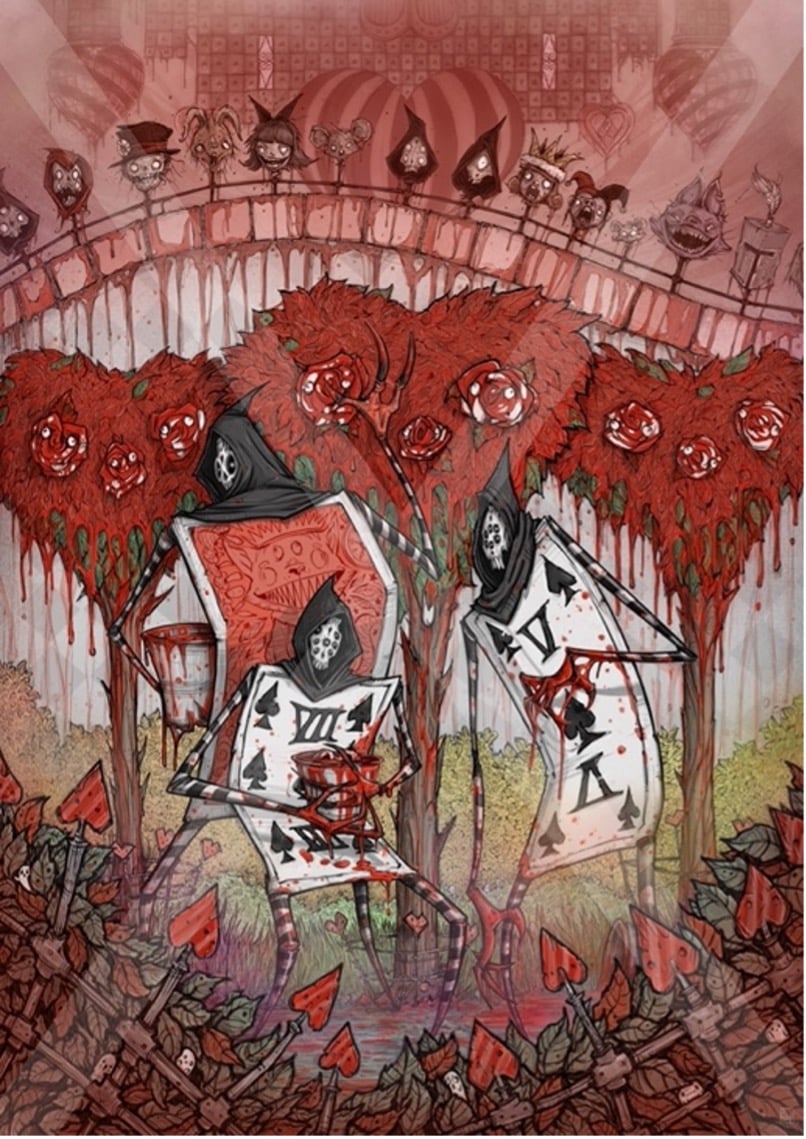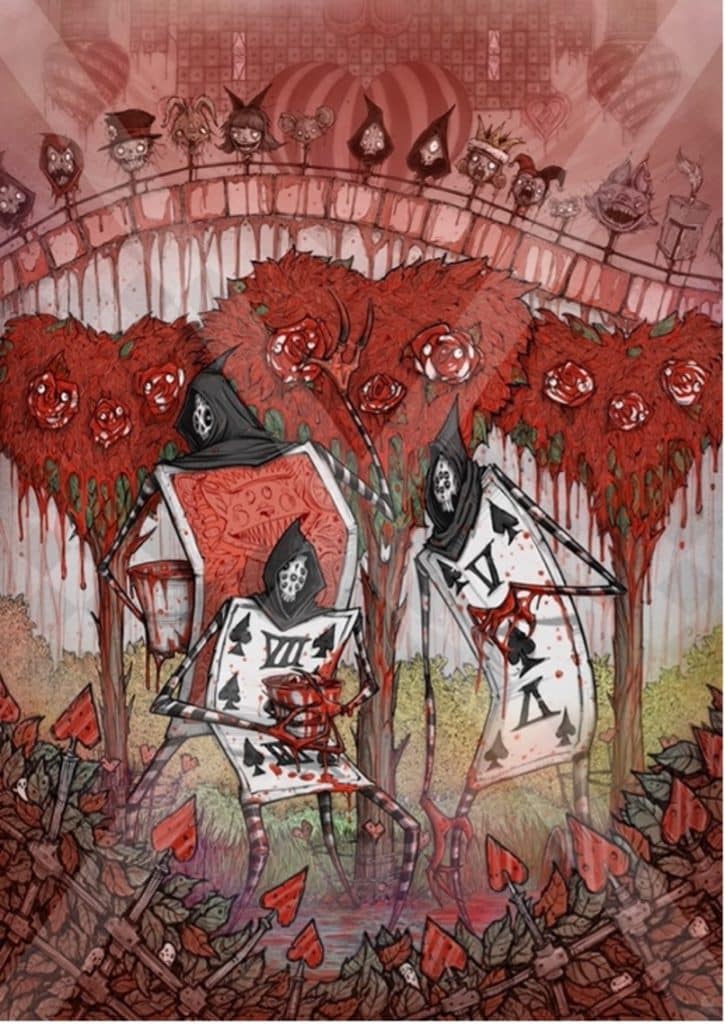 FB
I want to know about the role that the power of imagination has in your work, because in my novels, imagination is a real power source. I often like to look at quotes from interesting creators or thinkers or philosophers about the idea of imagination. Albert Einstein said, "Imagination is more important than knowledge," which is so interesting because you need both, but you need that spark. When you think about imagination, what do you think about?
RR
Imagination for me is anything that is so outside of the normal that it seems crazy. I don't really imagine day to day life. That's not imagination to me. Imagination is when you're sitting there and you're like, "There's a bird. But what if that bird suddenly transformed into something crazy, like a human with a bird head, and then it just started running?" That's the type of imagination I enjoy. It's a very surreal type of imagination. David Lynch is one of my favorite directors. He's got that very weird, scene-to-scene, "What's going on?" feeling and then he zooms in on an insect eating something.
It's a very weird juxtaposition something really imaginative and something very real. Now they're going to clash and I'm going to show them to you very vividly.
FB
It's been great chatting with you and it's been a pleasure getting to know you and learning about your process. Thanks for taking the time to be on the All Things Alice show. You're the perfect guest with everything you're doing and we're gonna be rooting for you to get that illustrated book out. Where can people find you?
RR
Thank you. It's @mrrevenge on Instagram and the website is mrrevenge.squarespace.com. We have a handful of limited Alice prints on the site and if you sign up for the newsletter, you'll get more info and sketches and all sorts of other stuff.
FB
Awesome. Thanks for coming on the show!
---
For the latest updates & news about All Things Alice, please read our blog and subscribe to our podcast!