Seasons greetings & creepy dreamings to you from the shady side of Wondertropolis. Against his better judgement Frank has allowed me to once more correspond with all you to bring forth further creepiness for your consumption.
It seems the darkly imaginative amongst you continue to have a morbid interest in the eerie and disturbed visions of Alice in Wonderland. So, for your dark delight the dark thinkers of Wonderland have provided a listing of creepy collectables for your cabinet of curiosities.
The long shadow of Alice's Adventures in Wonderland has provided ample material for creators across the Continuum to commit their mad vision of Wonderland in physical form; seems no matter where one goes through the looking glass, people insist on carving scary things into clay or crystal alike.
Now do read on and see what delights your dark imaginations…
First up for your viewing delight is a wonderfully grim vision of Alice in Wonderland's characters through the eye of photographer Tara Mapes. The artist took the world as presented by that author Lewis Carroll, and reinterpreted Alice, the Queen of Hearts, the Cheshire Cat, the Rabbit, and Mad Hatter of Wonderland in a macabre fashion one might expect to see of the "shadow people" that inhabit the realm of lucid dreams & sleep paralysis.
I admit however, it is not hard to see the stylings of Queen Redd or even the meaner of Milliners in this body of work. Whether it is together, or in their solo photographs, the various characters of Alice in Wonderland shine through with a darkly gothic flair that makes fine use of eerie masks and painful-looking jewelry that emphasizes some of the key traits of these beloved maniacs.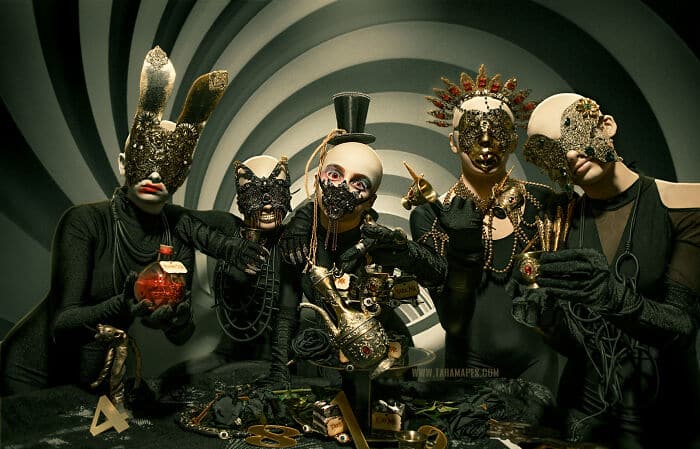 The dark allure of this photo collection does remind this one of the cover art used by those famed "metal bands" of Earth that shout their dark imaginings to all who will hear them. If any of these grim details entice your imagination, this one does recommend you take a peek through your looking glass at Mapes' lucid dreaming of Alice in Wonderland.
Next in line are a series of miniature sculptures from famed toy-makers at Mezco; figurines I'm told, that depict some notable faces of Wonderland in quite the nasty light. Grimy is the word of the day and most certainly in the best of ways as the usual culprits of Wonderland's "action" are given gruesome detail by these dark toy-makers. One of the most popular items in this collection by Mezco is of course, that Mad Hatter with his tea-time tools and looking like he has been indulging in the jabberwocky blood.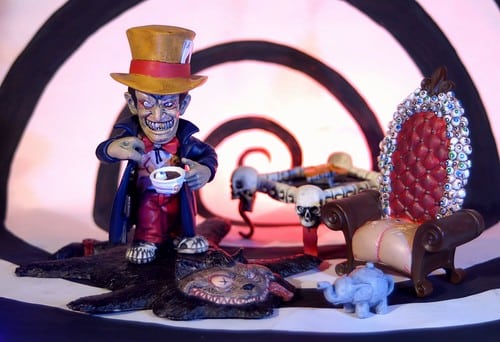 Though this one is most certain that Queen Alyss would make a face as harsh as the Chessboard Desert if she ever saw how the Mezco toy-makers indulged their "creative liberties" but what can you expect from such dark thinkers. The "White Rabbit" is rendered equally mad, looking more like a feral beast of the Boarderlands than any scholar (I am quite sure Royal tutor Bibwit Harte would not find this in any shape or form reflective of himself… and would take all day to expound on 1001 reasons why). Depending on who you ask, these colorful figurines may just show you Wonderland with its notable figures expressing their darker selves.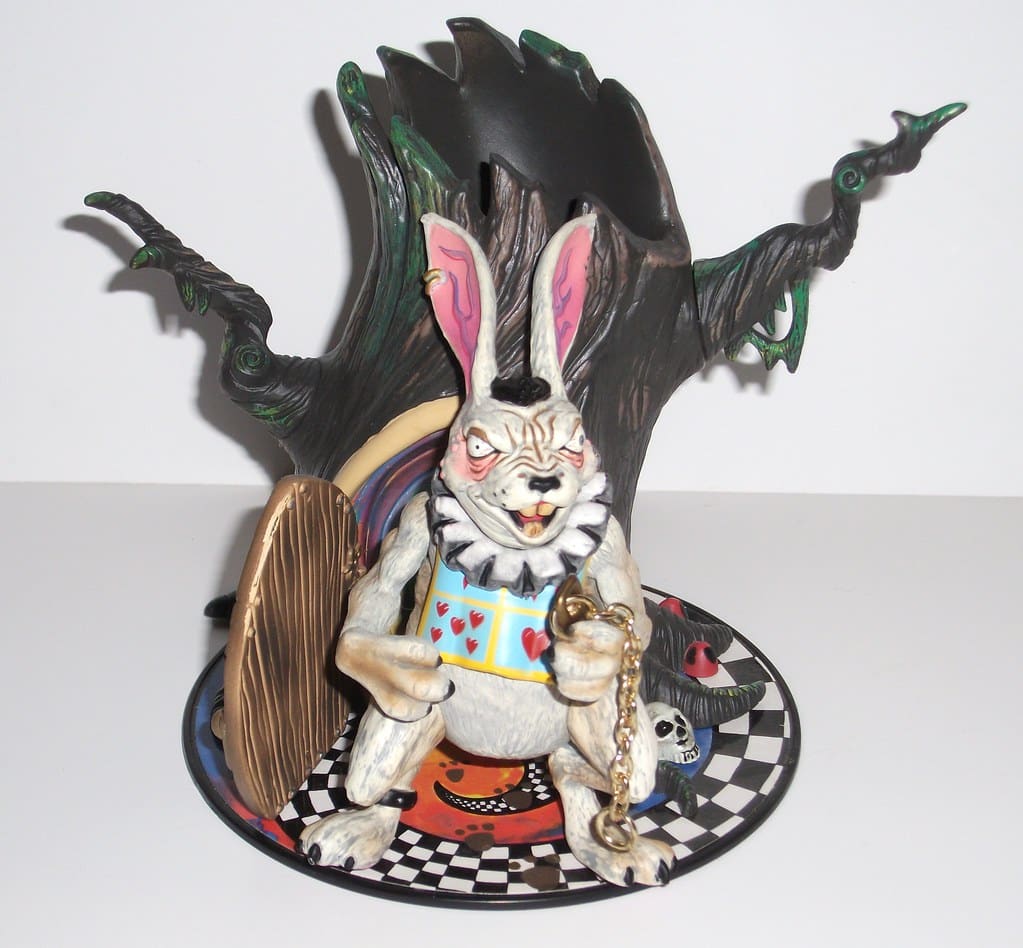 So if you have room on your shelves, this one would recommend trying to uncover one of these fiendish figurines of your favorite Alice in Wonderland characters. Just be sure to hide them when the Guardsmen come looking for all sorts of dark contraband you may or may not be holding onto for a friend.
If you are in the market for a more subtle shadow on your bookshelf, then this most novel take on Carroll's Alice in Wonderland paired along with the delightfully deranged illustrations of one Ralph Steadman, could be just the thing for your creepy collection.
If that name rings a dark bell in your memory, then perhaps you might best know Steadman as the illustrator who lent his brush to the gonzo journalist Hunter S. Thompson. The energetic, almost manic, style of the illustrations, as well as Steadman's own dry sense of humor bring a 1960s-70s wildness to the familiar words of the Wonderland novels.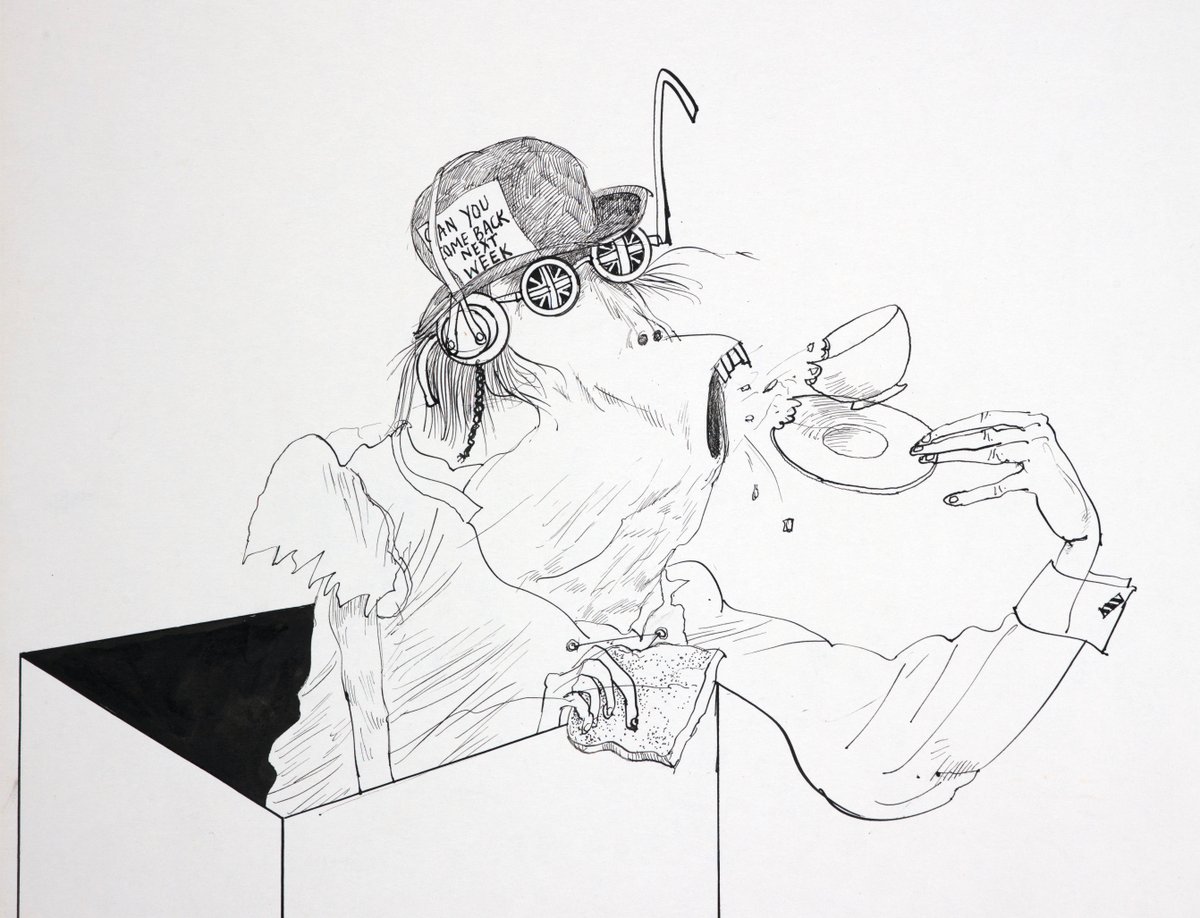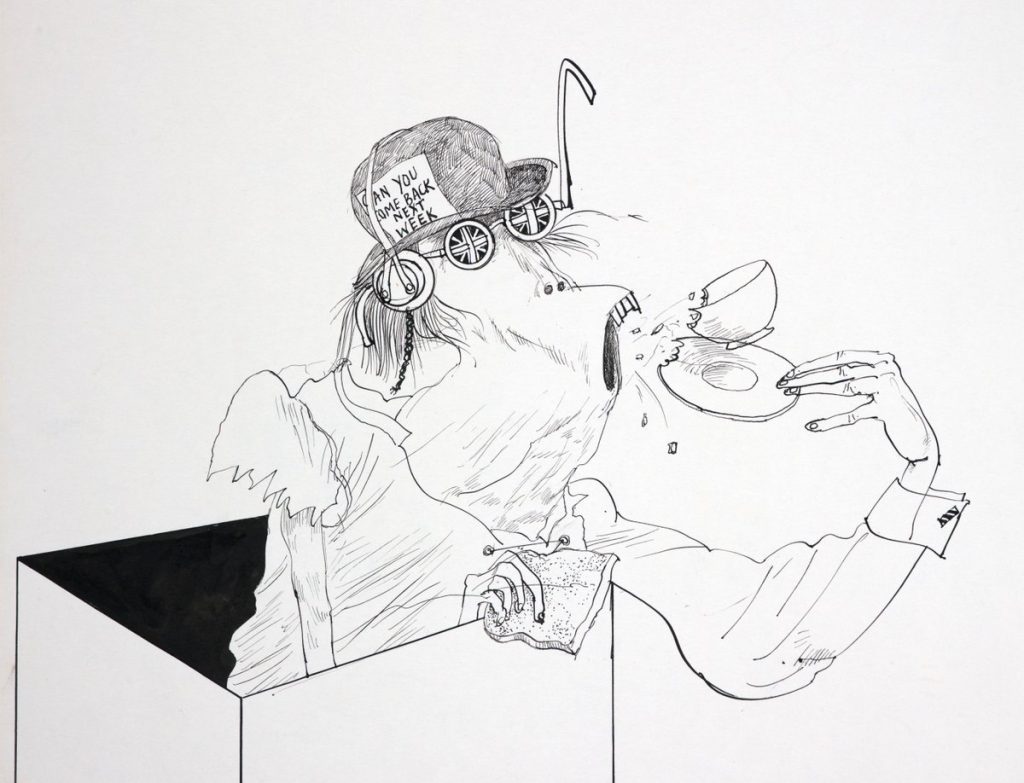 Steadman would take his inks to the pages of the Alice in Wonderland series and reintroduce us dark thinkers to an anarchic and erratic world that perhaps commented more on the rulers of his realm than those in power here. The "White Rabbit" is a modern commuter, the "Tweedle Dee & Tweedle Dumb" are nonsensical bankers, and as Steadman's illustrations take the reader through the looking glass we are presented with a harsh new Wonderland of "hippies" and new age romantics set against the unforgiving chessboard backgrounds.
We dark thinkers are quite fond of this version of Lewis Carroll's Alice in Wonderland & Alice Through the Looking Glass as they present the skewed vision of Wonderland further darkened by the elegantly mad art of Steadman. Why an unknowing reader might pick up these familiar looking books, only to open their pages and be treated to a grimly beautiful vision of Wonderland in all the shades of black-and-white one could desire.
Finally on our dreadful list is a wondrously scary vision of the young Alice in Wonderland and all the frightening choices she must make along the way in this interactive, choose-your-own-adventure gamebook that puts the reader in Alice's growing & shrinking shoes. Set several years after the events of Lewis Carroll's novels in Wonderland, the author Jonathan Green revisits the realm beyond the looking glass to find it more deranged than ever. It is up to YOU to decide what risks Alice will take, which of the strange Wonderland denizens to fight, and ultimately whether or not the poor girl will escape the nightmare darkening the realm.
Though if that proves a stretch too stressful for your liking, then you can add a touch of your own brightness to the story with the Alice's Nightmare in Wonderland coloring book. Here the alternative history of Wonderland is highlighted by the intense illustrations Kev Crossley of 2000AD and Warhammer 40K fame. There are several of these coloring books that one can acquire and reintroduce a bit of child-like darkness into their time.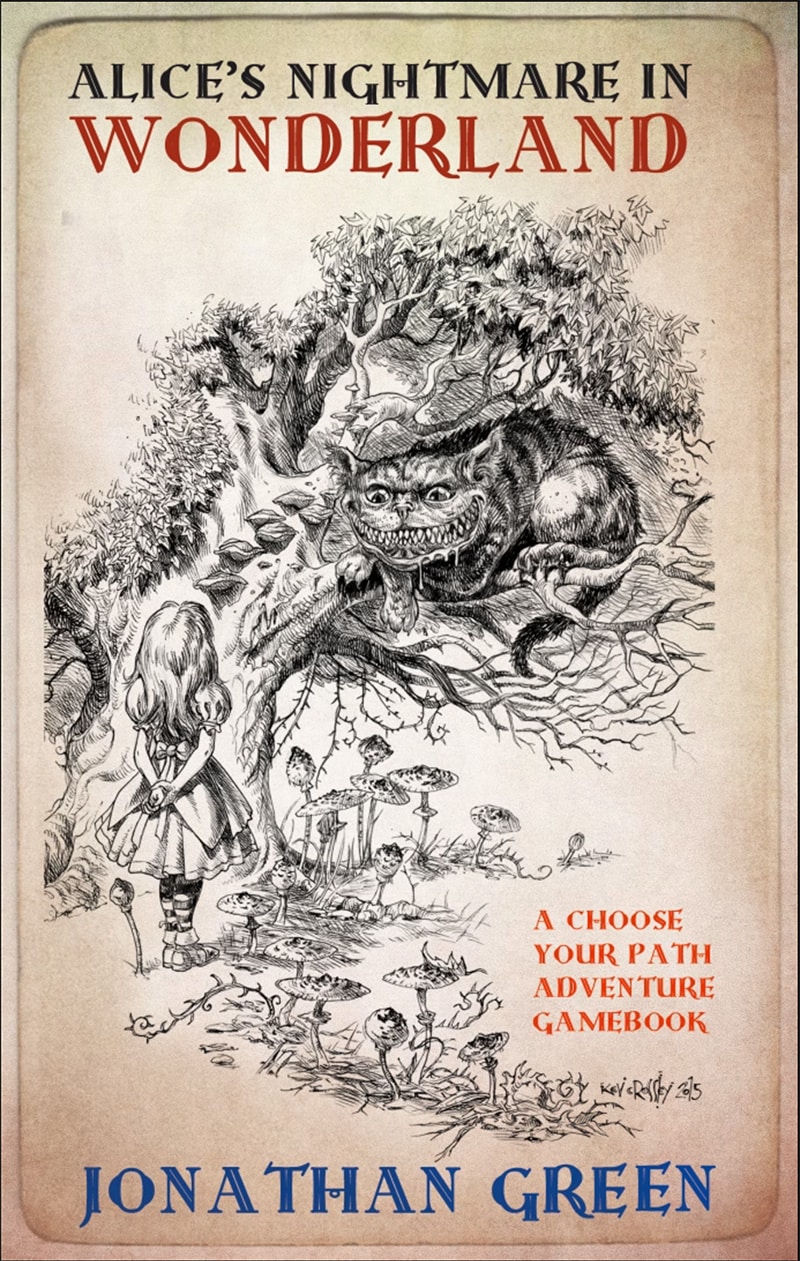 FINAL THOUGHTS
Our little society of dark imaginers hope that you have found this creepy list of all things Alice in Wonderland, and perhaps you'll find some of them in your own collections. It brings us much joy to see how the seasonal mood of Earth brings all sorts of dark delights from the imaginations of such talented makers and monsters.
If you enjoyed this taste of the spooky and strange, do show your support of society's darker imaginings and come back for more. Always remember that you need black to complement the white, and if the Watchers catch you with this list, well you didn't get it from us.
If you enjoyed this taste of the spooky and strange, do show your support of society's darker imaginings and come back for more. Always remember that you need dar to complement the white, and if the Watchers catch you with this list, well you didn't get it from us.
Meet The Author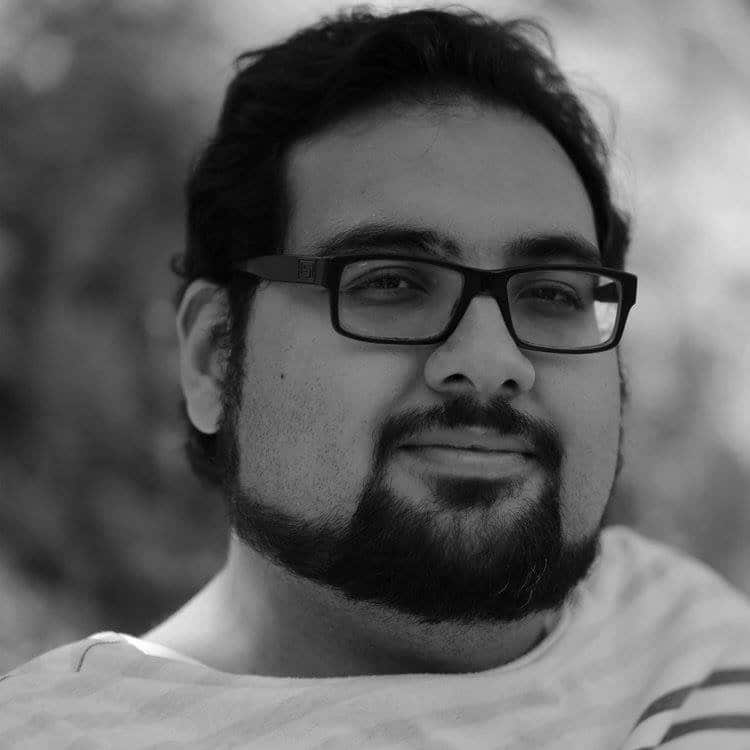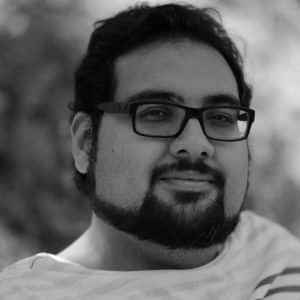 Marco Arizpe graduated from the University of Southern California and The American Film Institute with degrees in filmmaking and screenwriting. His brand of borderland gothic horror stems from his experiences growing up in a small town where Texas and Mexico meet. Culturally steeped in a rich history of all things terrifying, Marco never fails to bring forward indigenous folklore in contemporary and fresh settings.