Imagine stepping into the Red Queen's opulent palace, overflowing with diamonds, rubies, and emeralds. Wouldn't you just want to take a couple and set them into a ring or necklace? Luckily, there are plenty of talented jewelers who have brought Wonderland to our world with captivating designs and shimmering stones.
The lavish and sensational world of Wonderland provides the perfect source material for fashionable and eye-catching jewelry designs. Whether it's a diamond-encrusted Cheshire Cat or a beautiful Alice-themed tiara, the inspirations for Alice jewelry are endless. However, those two items, while amazing, aren't very practical unless you have a Queen's bank account and frequently attend coronations.

But we've got you covered. Here are seven stylish pieces you can wear any time and won't have to leverage a queendom to afford. Let's venture down this (sparkly) rabbit hole and get a look at the best Alice in Wonderland-inspired jewelry.
Alice in Wonderland Cheshire Cat Amethyst and Diamond Ring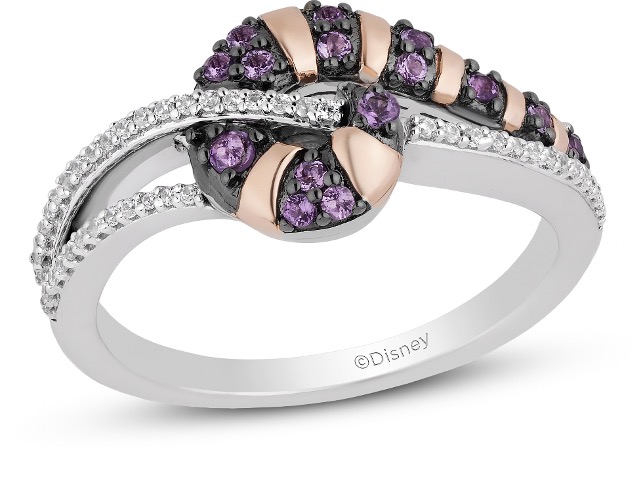 This beautiful Alice in Wonderland Cheshire Cat Diamond ring from KAY Jewelers captures the serene and enigmatic nature of the Cheshire Cat. Coming straight out of the Disney Treasures collection, this ring features round-cut diamonds which form the foundation of the piece's design. The highlight is the representation of the iconic Cheshire Cat's tail, made of purple amethysts in a black rhodium finish with alternating bands of 10K rose gold to create the cat's vivid stripes. The Red Queen would certainly want this in her collection.
This ring takes cues from the Cheshire Cat's look and color scheme but doesn't overdo it. There is no face-like design screaming its Alice origins or vertically cut diamonds to convey the Cheshire Cat's mischievous smile. Subtly is the core of the art of jewelry making and this design excels at it.
The Looking Glass Wars Emblem Necklace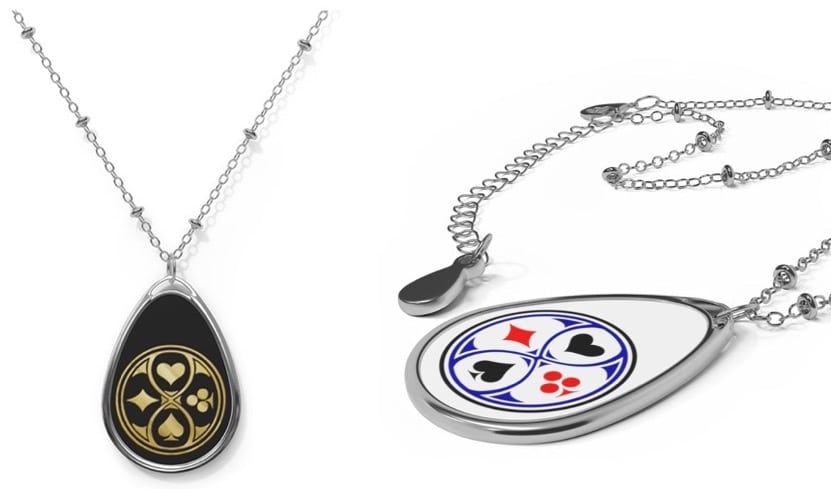 Long Live Alyss! Or maybe you're more of an "Off with her head!" type of person. Regardless of your allegiances in the War for Wonderland, our Looking Glass WarsEmblem Necklace is the perfect way to show your support for the Wonderverse. Take Wonderland with you everywhere you go with this simple, sleek, and stylish piece.
This necklace comes in three equally timeless designs – gold logo on a white background, gold logo on a black background, and the red, blue, and black "U.K." edition logo on a white background. The classic chain is punctuated by a series of silver disks for added flair while the regal teardrop pendant is a fitting base for the Royal Suit Family insignia.

Alice Friendship Day Necklace
Fandom and friendships. Two intensely personal and joyful elements of life. If you and a friend's relationship overlaps with your mutual love for Alice in Wonderland, then the Alice in Wonderland Friendship Day necklace is the perfect piece for both of you.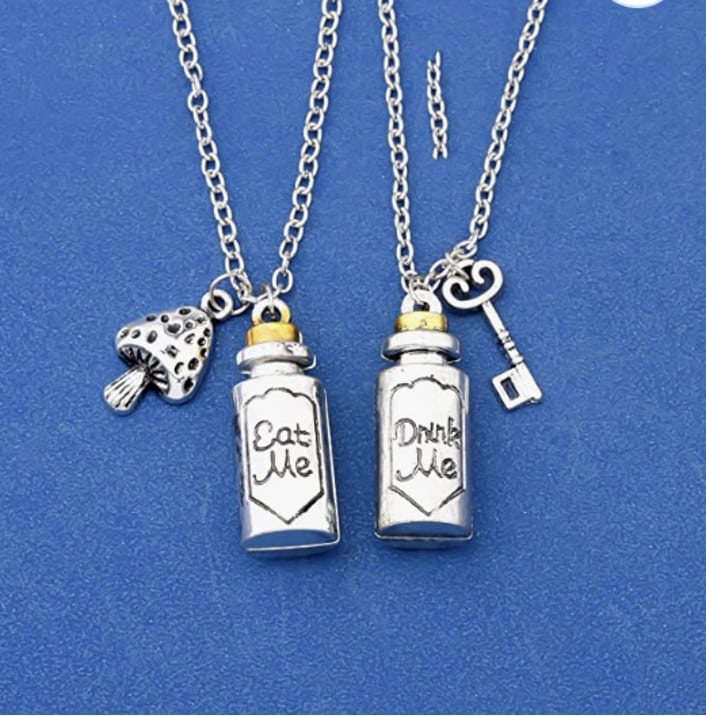 Carry a constant reminder of the most important things in your life with this unique necklace, which is both elegant and playful. It features two charms – the "Eat Me" bottle and a mushroom on one, and the "Drink Me" bottle with a key on the other. Good friendships are life-changing experiences that fundamentally alter how we see the world. The Eat Me/Drink Me designs are perfect symbols of that dynamic, referencing Alice's first moments in Wonderland as she learns that her conception of the world will be forever changed.
This necklace doesn't only look amazing, there is beauty in how it's built. The chain and charms are made from alloy, making for a durable piece of jewelry that is friendly both to the environment as well as the most sensitive skin. A great gift for friends or the Alice fanatics in your life, this friendship necklace gives everyone the option to have a personal slice of Wonderland.
Alice in Wonderland Earrings
Alice and the White Rabbit are back together again in these stunning Alice in Wonderland Gold Earrings from Etsy seller One in a Buzzillion. These handmade gold hoop earrings make for a beautiful addition to your jewelry collection and feature a minimalist aesthetic so you never have to worry about overdoing it with these as part of your look.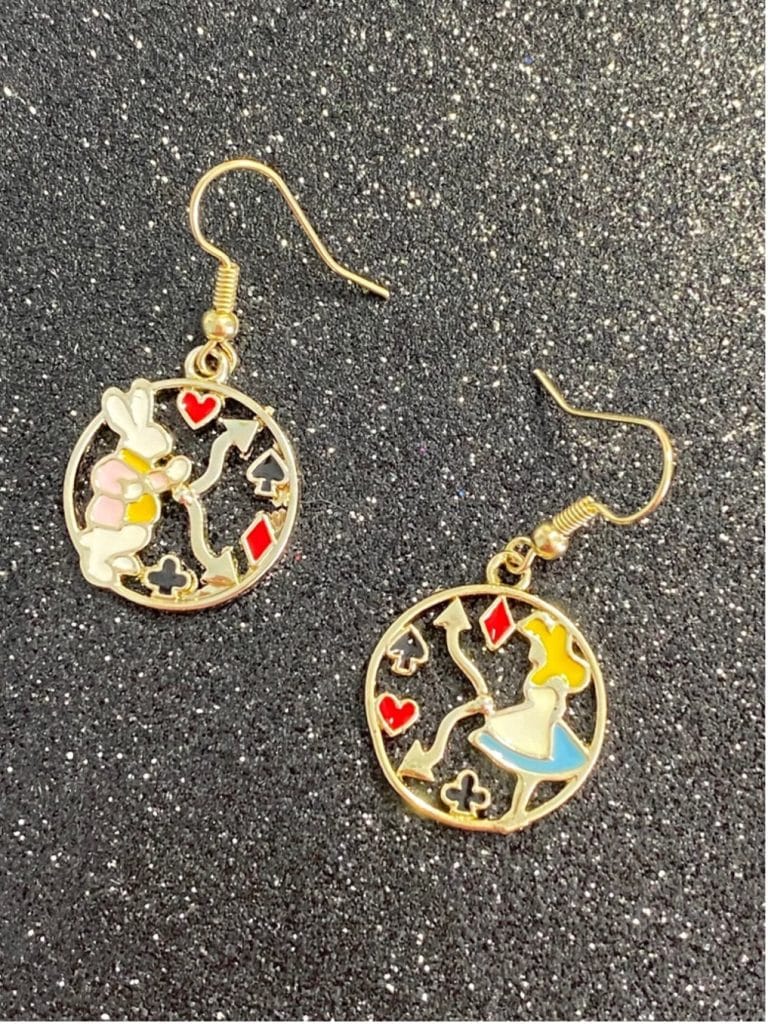 The clock motif is a perfect use of the hoop structure with the White Rabbit and Alice rendered in a classic, elegant manner. They're both the stars of the show and part of the ensemble at the same time. You can get them as a set or go for two Rabbits or two Alices if you're into a more symmetrical look. Furthermore, these earrings are nickel-free, so they're perfect for those with sensitive skin.
Alice in Wonderland Charm Bracelet
Dive down the rabbit hole into the world of Alice-inspired jewelry and wear Wonderland with this perfect piece. This Alice in Wonderland Charm bracelet is a piece of art that features just about everything you can remember from Alice's Adventures in Wonderland. From the Cheshire Cat to the pocket watch to the Mad Hatter, all of Wonderland is on display with this charm bracelet.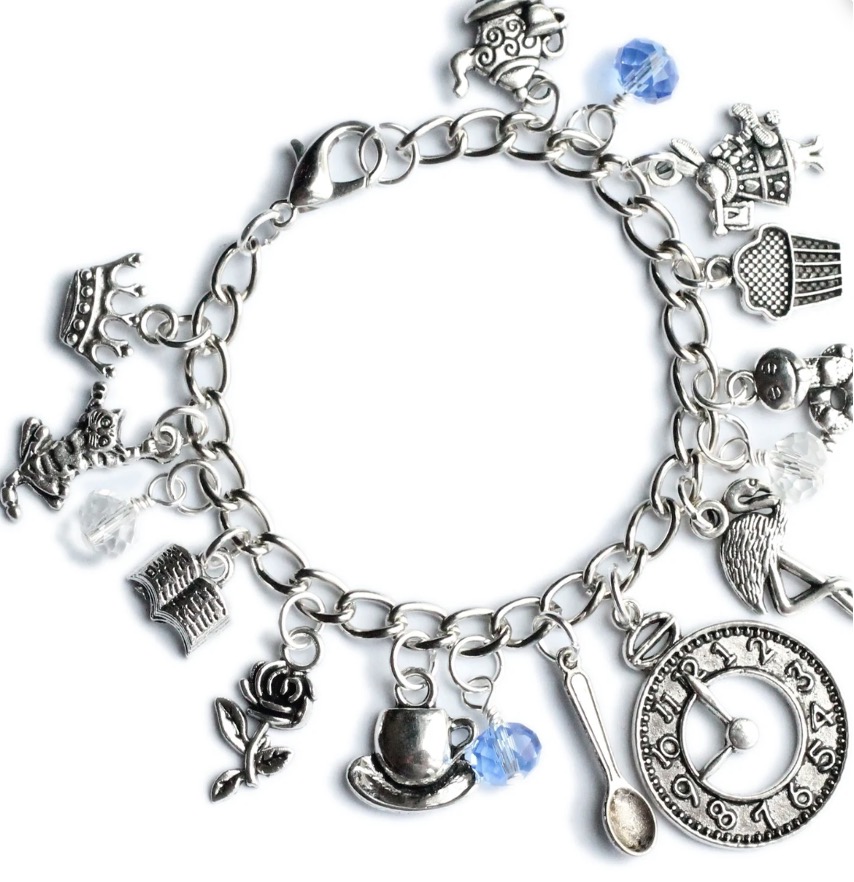 The chain is silver-plated and nickel-free with charms incorporating blue and clear crystal beads. This hand-crafted piece of Wonderland from Etsy artist IndigoChildDesigned is a must-buy for anyone who claims to be a fan of Alice in Wonderland.
Alice in Wonderland Pocket Watch Necklace
Never be late for an important date again with this Alice in Wonderland Pocket Watch Necklace. Of all the objects in Alice in Wonderland, the White Rabbit's pocket watch is one of the most iconic and this piece embraces the Victorian vibe while incorporating a steampunk style to produce an evocative, and functional, piece of jewelry.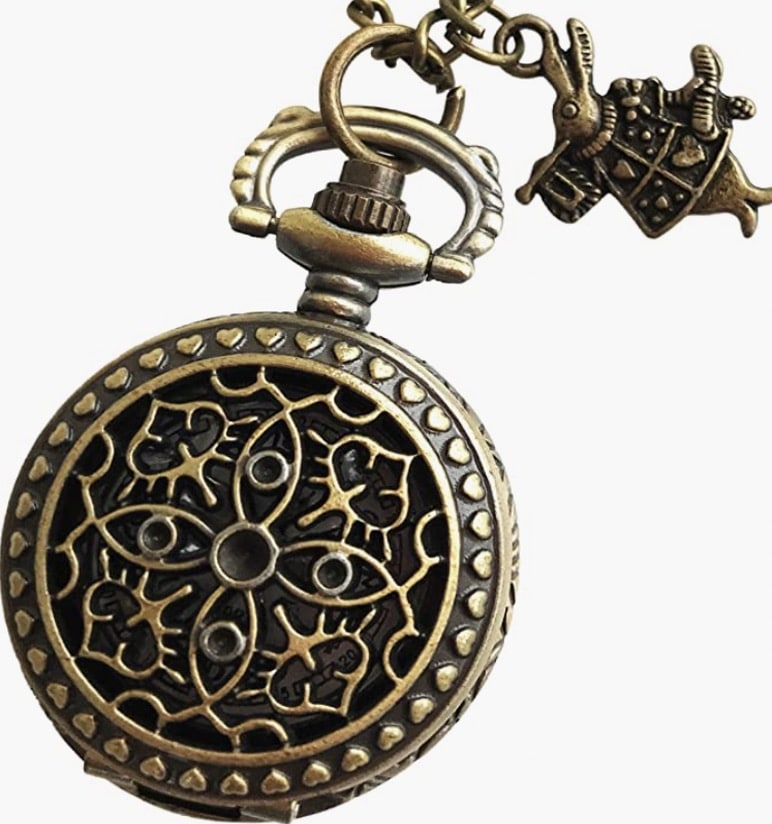 That's right, the clock is not just for show; it actually works. The quartz timepiece is battery powered so you'll be able to keep time long after your phone loses battery. Amazingly, this piece is handmade, with a beautifully intricate design carved into the Kawaii bronze tone pendant. A White Rabbit charm completes the aesthetic and adds a playful splash. This pocket watch necklace is perfect for your next cosplay, costume party, or as an everyday accessory.
How do you like our Alice in Wonderland-inspired jewelry ideas? Do you have any favorites from your own collection that you'd like us to highlight? Let us know!
---
Meet The Author: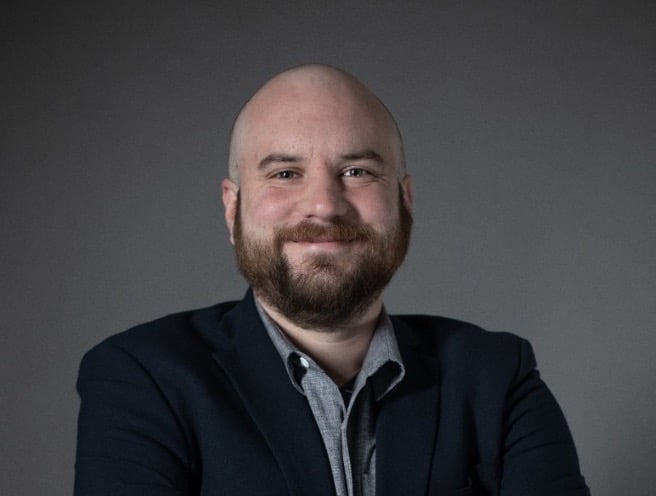 An itinerant storyteller, John Drain attended the University of Edinburgh before studying film at DePaul University in Chicago and later earned an MFA in Screenwriting from the American Film Institute Conservatory. John focuses on writing mysteries and thrillers featuring characters who are thrown into the deep end of the pool and struggle to just keep their heads above water. His work has been recognized by the Academy Nicholls Fellowship, the Austin Film Festival, ScreenCraft, Cinestory, and the Montreal Independent Film Festival. In a previous life, John created and produced theme park attractions across the globe for a wide variety of audiences. John keeps busy in his spare time with three Dungeons and Dragons campaigns and a seemingly never-ending stack of medieval history books.