Here come the holidays! The time for feasts and family. For mad tea parties and thoughtful fun. Perhaps you or your loved ones are fans of All Things Alice? After all, you are reading this blog—and so dear reader, let us take a tumble down the rabbit hole of frabjous gift giving with this collection of Alice in Wonderland trinkets and treasures to get your hands on this Black Friday.
Any gift giver would do well to support the décor of their friends with this mature and stylish "Drink Me" steampunk bottle. Departing the cartoonish Disney icons this rendering brings the famous shrinking and growing potion's vessel to the real world.
From an aesthetic point of view, Alice in Wonderland pairs more easily with steampunk than many would first suspect. The Victorian era is the fertile soil from which many steampunk staples hail, and so this curious curio would indeed fit right into Lewis Carroll's study. The Mad Hatter's hat oozes the stylings of Victorian England, and the White Rabbit's pocket watch gives the same impression.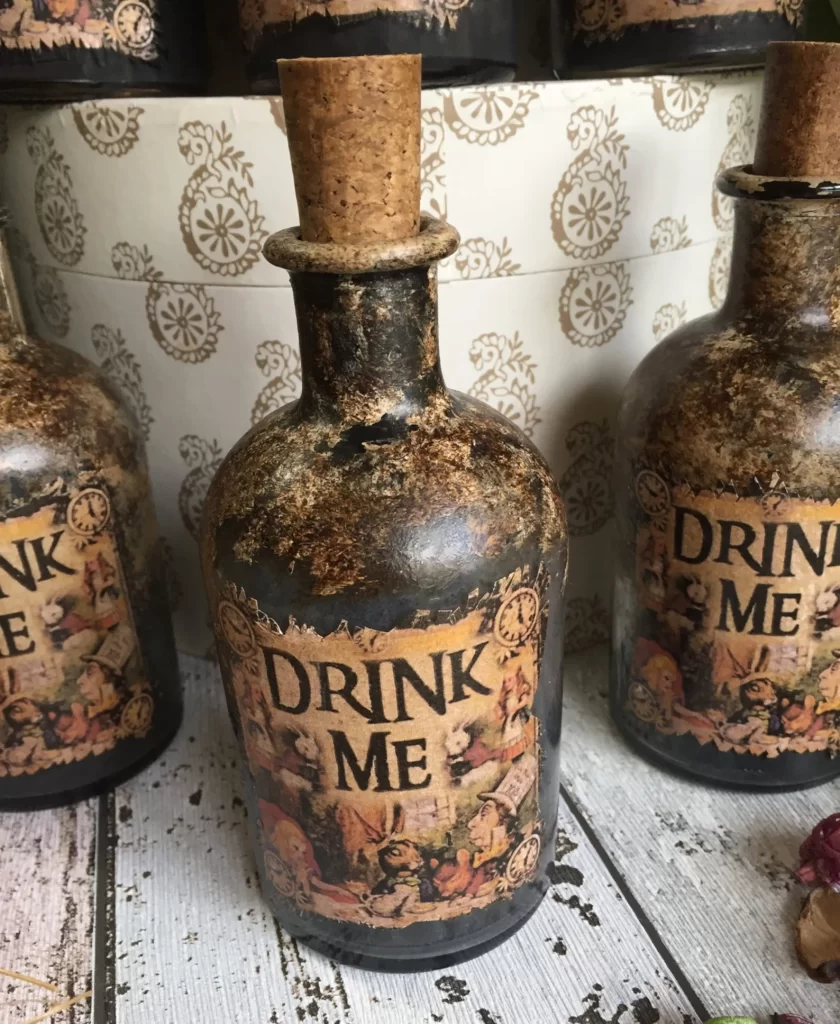 This bottle has a well-rounded shape that complements its dark brownish colour with aged-looking imprints. The box label displays a montage of the White Rabbit's pocket watch, Mad Hatter's tea party, and Alice herself (though she prefers you spell it "Alyss"). And to give this bottle a fantastically authentic feel it also has a cute cork stopper.
Available on Etsy from RubyAliceandMe, this bottle has been hand-painted, which is another plus for the Alice-art purists among you. Quality and care are evident, making this a most reasonable purchase!
It will look good as a shelf display if you're going for Wonderland's aesthetics in your living room (or your bedroom, we don't judge). It is a perfect gift for every Alice in Wonderland lover. One of the reviewers gifted it to her cousin for her Bridal shower. If that doesn't say this gift is versatile, I don't know what will.
The jewelry lover in your life will instantly fall for this stunner. The Royal Suit families would not bat an eye to see a Prince or Princess wearing this Hand Painted Alice Pendant for the new year. It is a handmade item available on Etsy at KindHeartsEmporium and greatly captures the feel of Alice in Wonderland. The ornate silver heart-shaped pendant with small paintings of Alice-related charms such as the White Rabbit and playing cards pops and twinkles under light. To add an extra garnish to the mix, the artist has also added miniature red roses to the piece and diamante rhinestone crystals to make the pendant sparkle.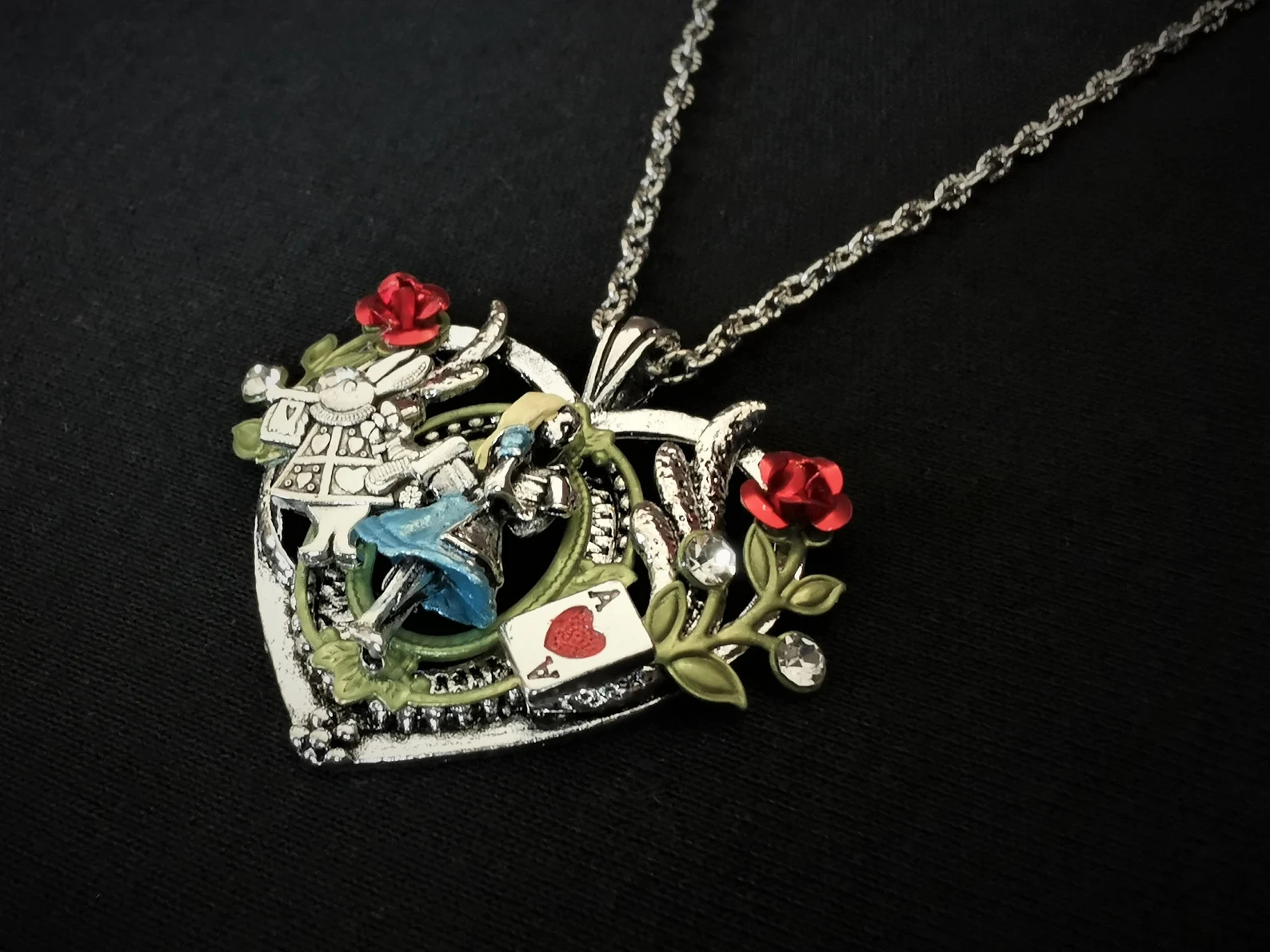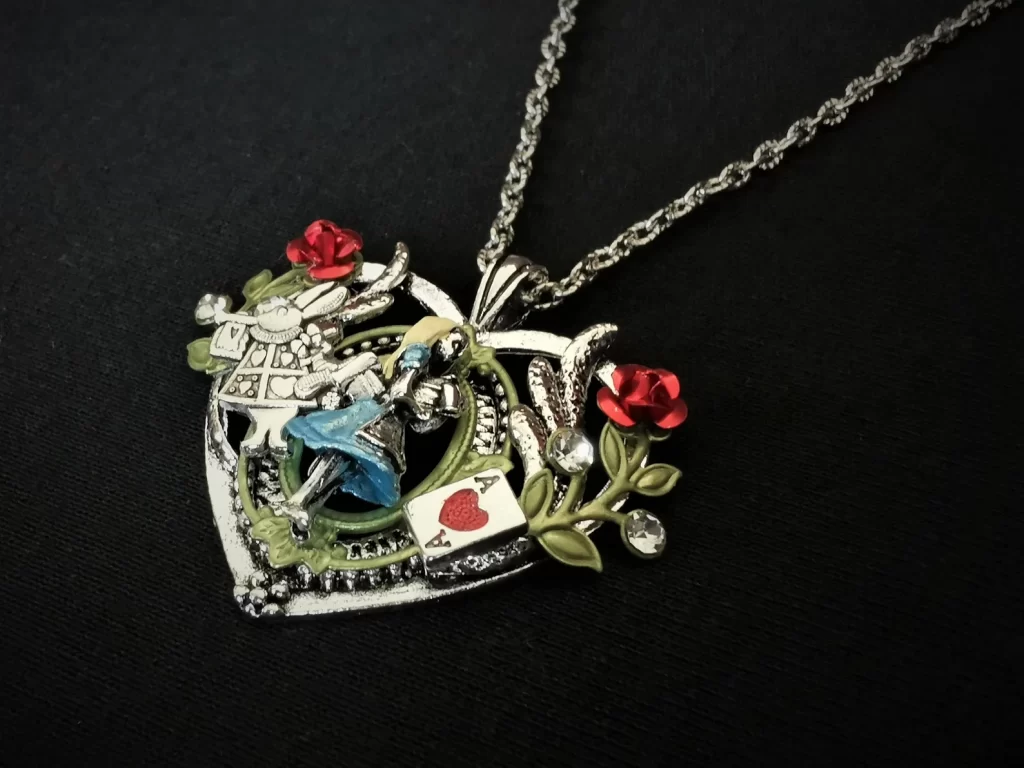 Everything about this necklace screams "we're off to meet the Queen of Hearts". And it has to, considering it is designed by Phillipa Lusty, an alternative bridal and jewelry designer who unapologetically puts her best work forward with each and every item she crafts. I wouldn't be shocked to see an offering from her turn up in the Inventor Parade someday!
Shall we turn back time to the teenage years spent perusing the dark shelves of HotTopic? Her Imperial Viciousness Redd Heart would be all about it, so know you could be in wicked company as you battle it out for the Black Friday sales!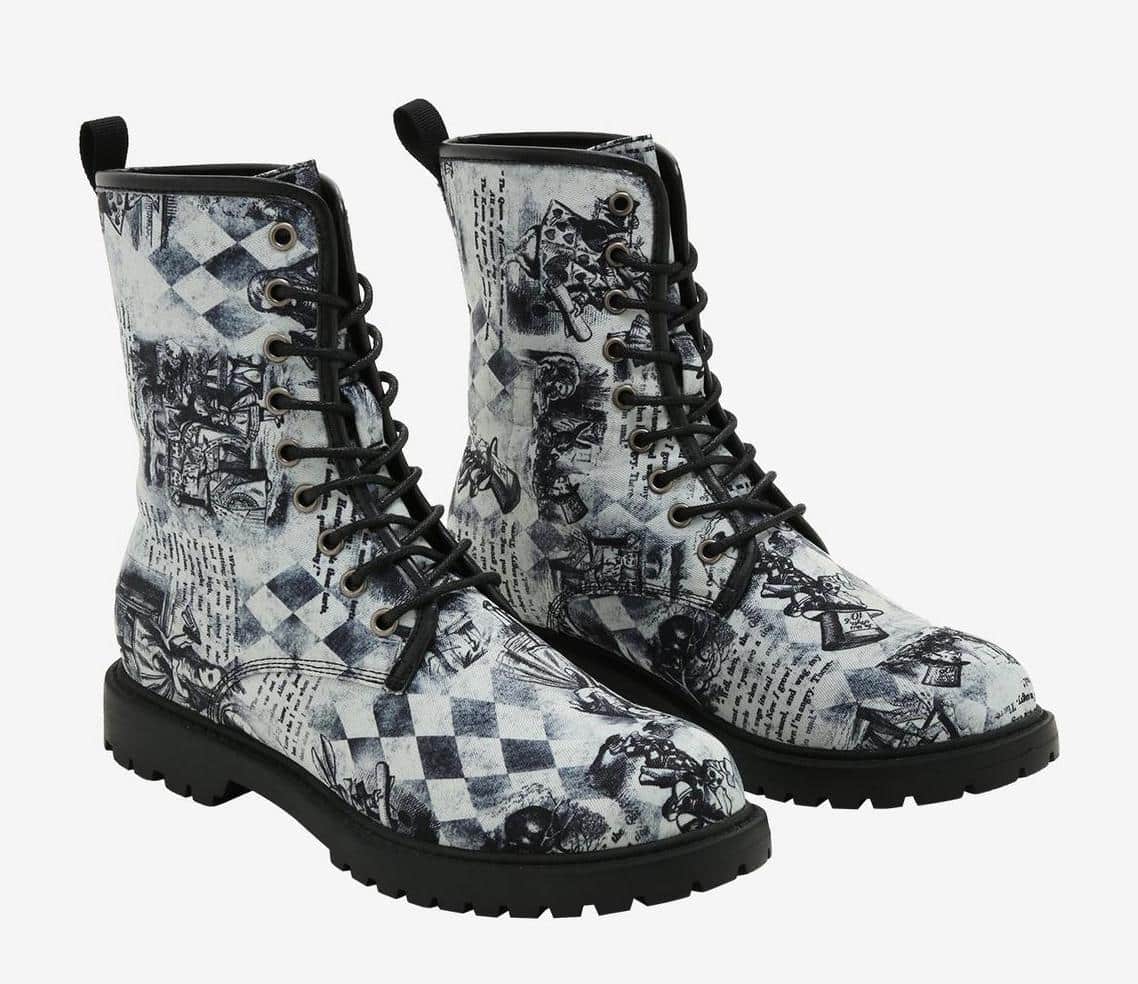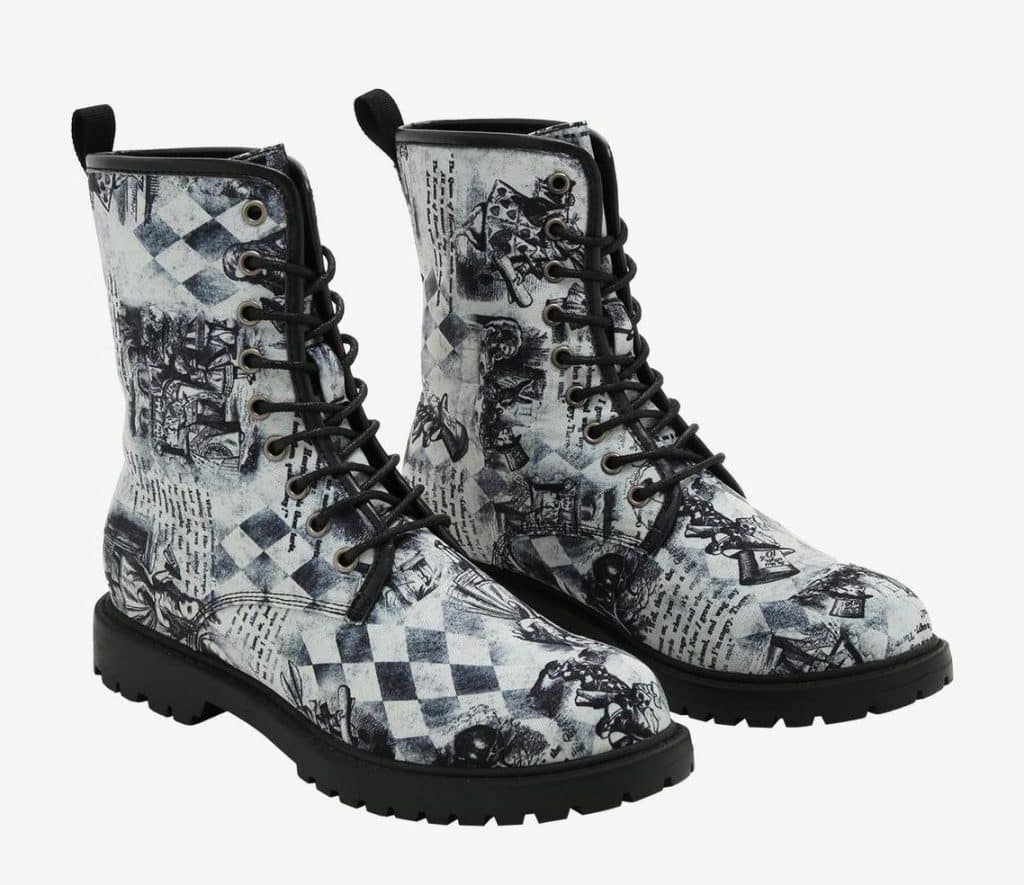 What better way to say "I wish you well on your adventures" than to provide sturdy footwear for the journey across the Wondernations? These Alice in Wonderland combat boots are just the item to fit the bill.
Distressed chessboard patterns and timeless John Tenniel illustrations adorn the battle ready boots. Distressed off white gives them a vintage feel, so no one will know they just came off the shelf. As a gift, these combat boots are amazing. But if you're a bit selfish and want to keep it for yourself, no one would blame you.
There are so many ways to gift Alice in Wonderland, but perhaps most obvious would be to give a reading experience that nods at the literary classic. However, for a fresh spin, one might wish to try a graphic novel, such as this absurdly exciting collection of Hatter M. paperbacks, from Frankbeddor.com (home of The Looking Glass Wars and All Things Alice).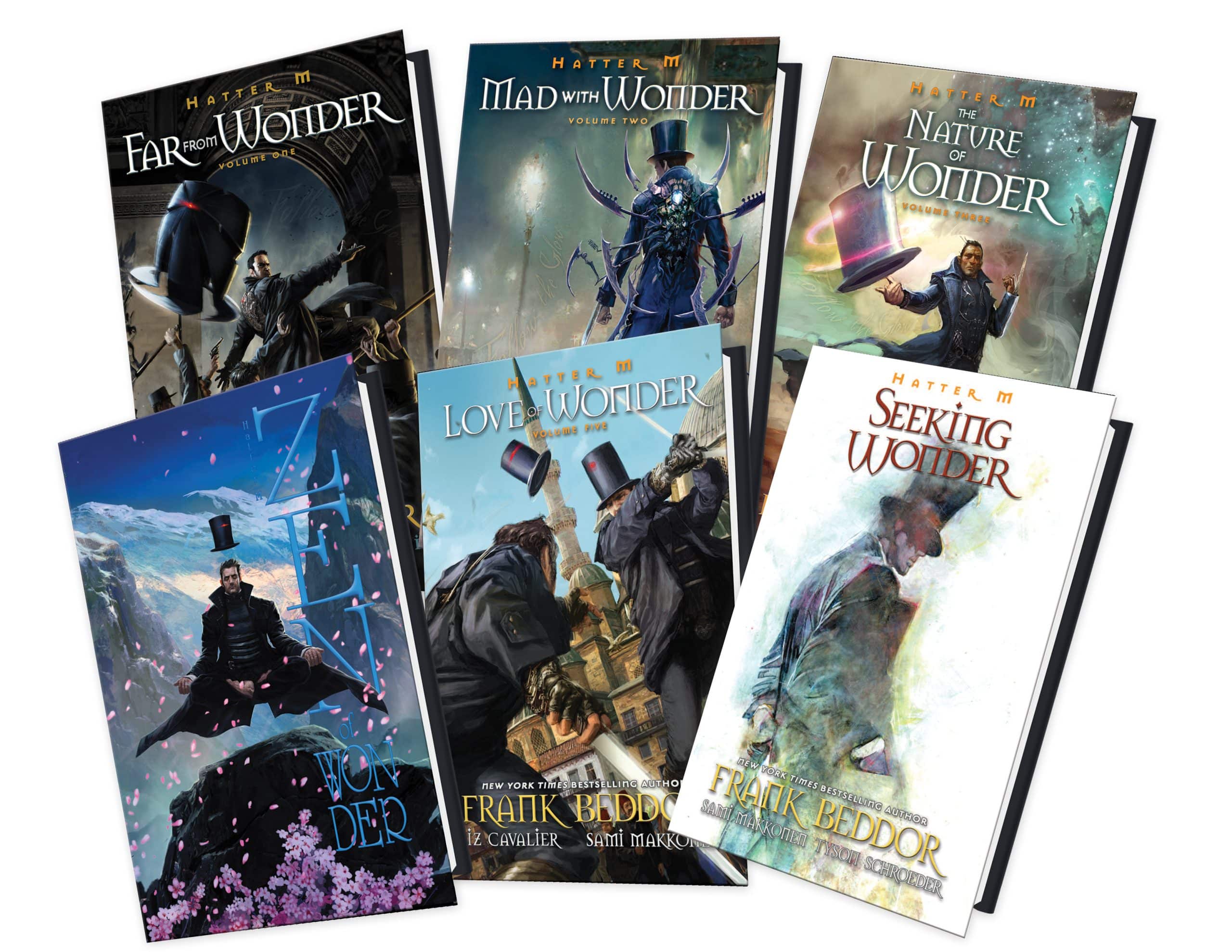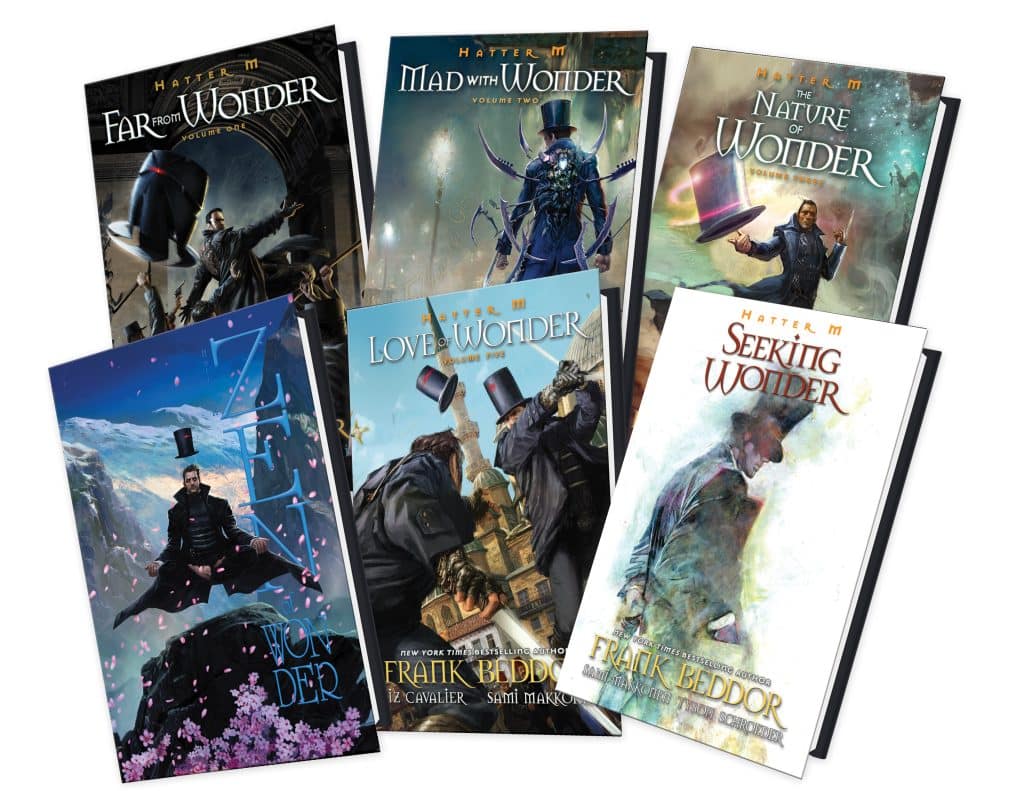 Bundling together ALL of Hatter Madigan's exploits into one tidy collection, these graphic novels will keep readers of all ages turning the page. Six books (and some special goodies) are included for a hugely discounted price. Join the real Mad Hatter as he quests to find the lost Princess Alyss Heart—future Queen of Wonderland.
Who doesn't love Tim Burton's contorted creations in the movie Alice in Wonderland? The Batman Returns' director's quirky, unapologetically fantastical approach to Alice overshadowed even our expectations. So, if you find yourself in need of a potential stocking stuffer this winter season, perhaps you might snag this tiny door inspired by Tim Burton and Disney's Alice in Wonderland.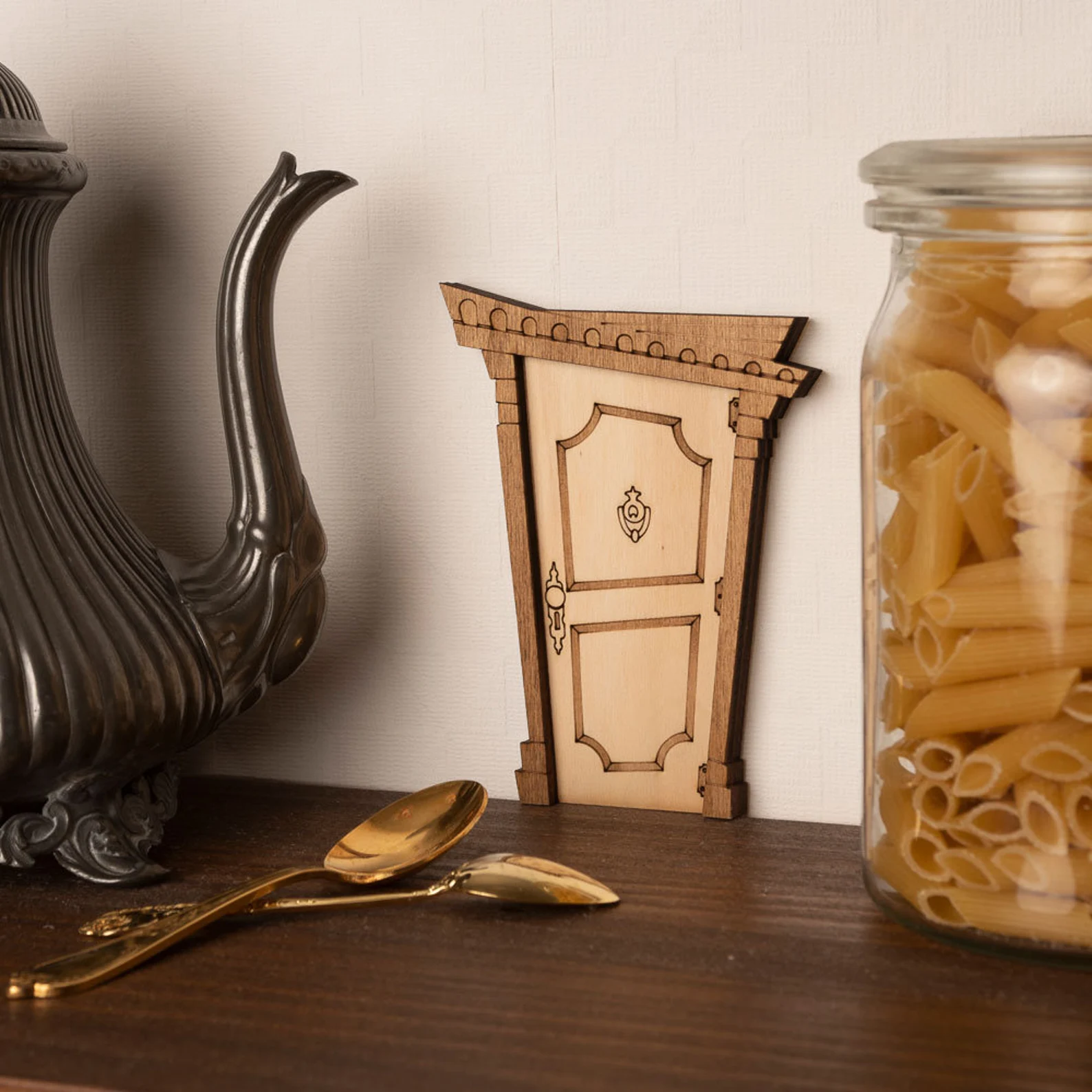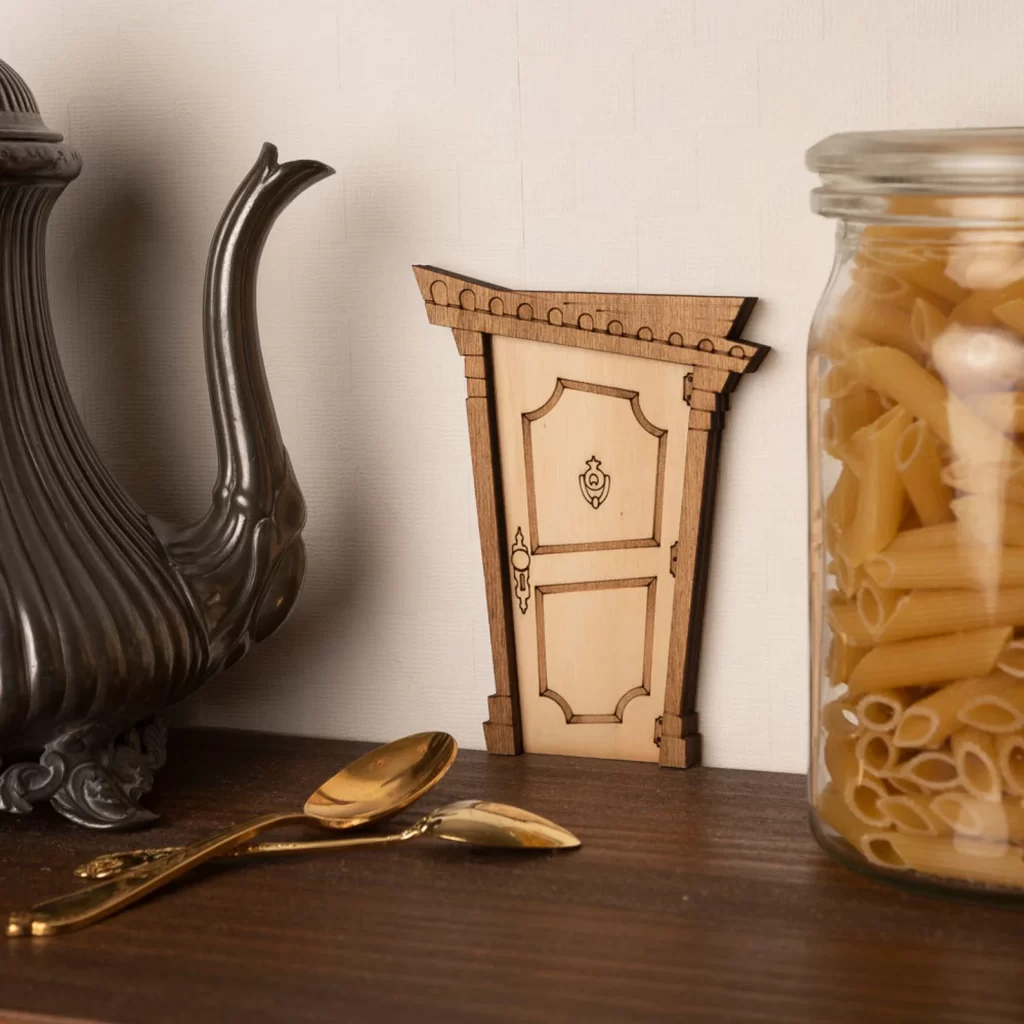 Fit for a Dormouse, or perhaps a slightly mis-sized person the little plywood creation is made with love and care. Cartoonishly asymmetrical and whimsical, this decorative piece will look great on your shelf. But be careful! Who knows where you might land if you attempt to squeeze through it yourself!
Should you desire to make it a set—there are also variations of this item that take cues from the animated Disney Alice in Wonderland. Swing by the massive hub of Alice-in-Wonderland.net to grab the mini door to Wonderland, complete with talking doorknob!
The Alice in Wonderland Gifts Are Too Many to Count
Remember dear reader, this Black Friday as the savings and deals crop up, the gifts you give are only as good as the imagination behind them. Your friends and family and fellow Alice aficionados will be delighted with your thoughtful trinkets and treasures no matter the cost. A small gesture can feel like giving a Queendom when love and care accompanies the gift.