Cold Open:
A seven-year-old girl, clutching the hand of a man dressed in a long, flaring coat and top hat, runs through the dark woods. An overly muscled humanoid-feline with a nasty grin pursues them, leaping from tree to tree, all of which seem to whisper and whine in complaint. The girl stumbles. The man picks her up and races out beyond the edge of the woods to a cliff overlooking a swirling, rainbow-colored pool. He holds the girl tightly in his arms, jumps as—
Behind him, the feline beast lunges from the trees, arms outstretched, dagger-sized claws gleaming.
Splash!
Man and girl plunge into the pool's depths, deeper and deeper. Panicked, the girl flails, causing the man to lose hold of her. We stay with the girl as her bodyguard—for so the man is—shrinks to nothing in the liquid distance. Currents shift. The girl starts rising, ever upward until she comes flying out of a puddle in the middle of Victorian London.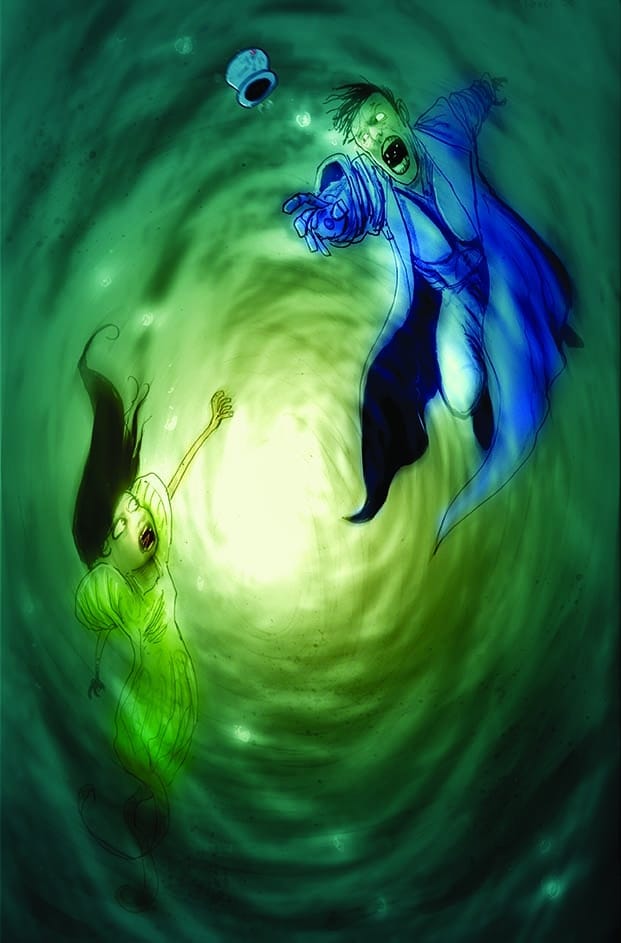 Oxford, England. 1872.
ALICE LIDDELL (20) jolts awake in bed, scraps of this troubling dream still flashing through her head as her sisters EDITH and VIOLET, singing "Happy Birthday," enter her room with a cake. Though Alice enjoys local fame from having been Lewis Carroll's muse years earlier, she appears to be an ordinary middle-class young lady of the era, though in temperament—and in so much else, as we'll learn—she isn't the least ordinary.
In Wonderland, Alice (or rather, Alyss) would have been ascending to the throne on this, her twentieth birthday. In our world, the day proves hardly less weighty, her adoptive sisters and mother busying themselves with preparations for a party that will introduce her to society—and, more particularly, to potential suitors.
While others work to marry her off, Alice strives to better the lives of "street urchins" and of children in orphanages/workhouses. Her plan: to open an orphanage that values children's welfare above profits. In this, Alice is motivated by her own experience (after landing in our world) of living on the streets as a child, then in a foundling hospital, and by her knowledge that not everyone was as lucky as she, to be adopted into a loving middle-class family.
But hallucinations keep plaguing her. Burning eyes and the angry hiss of a cat. Card soldiers being dealt over a palace wall. A queen in white yelling for her to run.
Alice's persistent visions cause her to think of LEWIS CARROLL, from whom she's been estranged for years. She long ago suppressed the reasons for their estrangement, but the restless truth still resides within her: that she felt Carroll had betrayed her. Why? When the awful facts of Wonderland were still clearly in her mind, before they had been questioned, denied, and finally driven from her consciousness by the necessity of surviving in this new world, Alice had confided to the shy, retiring Oxford don who worked for her adoptive father. Carroll had seemed to believe that she was indeed a princess of a realm in which imagination was a magical, palpable force. He had seemed to mourn with her over the violence and murder that had upended her formerly charmed life, forcing her and a bodyguard to flee to Earth through The Pool of Tears the night her aunt Redd seized control of Wonderland.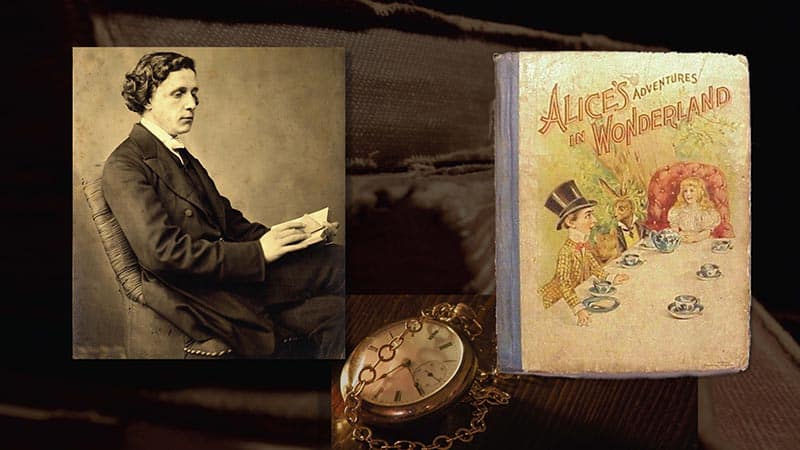 But then Carroll, who had actually thought Alice's tale the result of traumas she experienced as an orphan and believed he could rid her of such demons by rendering them as laughable figments, had turned her history into drivel and published it to great popularity.
Living chessmen, a woman in gown of writhing, toothy, roses—
Alice tries to shake off these visions, and as she strives to make her kinder, gentler orphanage a reality, she angers members of the clergy overseeing foundling hospitals, makes an enemy of gang leader JESUS JONES, yet unwittingly gains the support of PRINCE LEOPOLD, Queen Victoria's youngest son.
Leopold is a fan of Lewis Carroll's Alice's Adventures in Wonderland. Sickly in his youth, the prince had spent much his childhood isolated from the world, gazing out of the castle windows, and imagining an adventuresome existence. He had lived vicariously through Carroll's characters; meeting the woman he knows to have been the author's muse, he can't help being instantly captivated.
Spinning blades caught by an expert hand. A man with a top hat disappearing into a liquid distance. Alice finds herself more and more troubled: there's something familiar about her visions, that she can't quite place—or perhaps, deep down, refuses to. Which is particularly problematic because, back in Wonderland, Queen Redd becomes aware that her niece Alyss Heart, whom she had supposed dead, is alive.
To eliminate any future threat of Alyss vying for the throne, Redd sends The Cat, a shape-shifting assassin, to Earth through The Pool of Tears. Like the Terminator on the hunt for Sarah Connor, The Cat begins the hunt for Alyss Heart as…
Thousands of miles from Oxford, in a San Francisco asylum, a dirty, disheveled figure rots slowly in a dark cell. Shadows seem to move, and we recognize HATTER MADIGAN, the man in top hat and flaring coat from the series' opening scene.
Hatter is a soldier in the Millinery, Wonderland's elite security force. He formerly possessed astounding martial abilities, but ever since he emerged from a puddle where no puddle should be in the Namib Desert, alone, his skills have steadily lessened.
In his cell, Hatter mentally relives the night of the coup, when he abandoned Queen Genevieve (at her urging) to Redd's wrath, promising to save Princess Alyss so that she might one day return to Wonderland and rule it by the principles of Light Imagination. We get only glimpses of what he remembers. Throughout the season, we'll see snippets of the coup through the eyes of the characters who were there—just flashes of scenes, giving us hints of that event's horrific violence without a clear picture of how it all went down. Not until we near our season finale, when Alyss remembers the coup, will we see it in full, from her POV.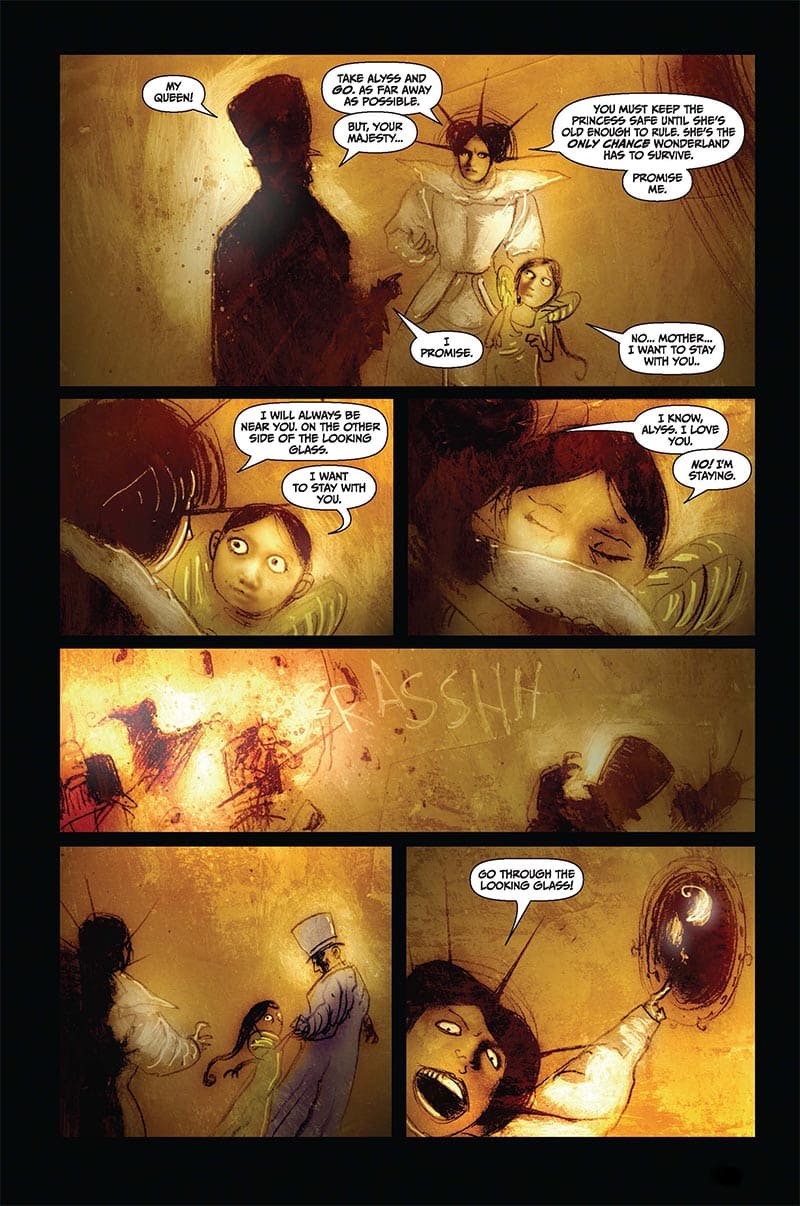 For now, Hatter's recollections of that night provide us insight mostly into his own psyche.
He had failed to protect Princess Alyss, his sworn charge, losing her in The Pool of Tears. He had searched the globe for her, following the glow of imagination. Yet lack of success, and years of self-laceration took their toll; the longer he lived with his failure, the more the best parts of him were eaten away until he was weak enough to be subdued by authorities. As a menacing individual spouting insane tales about a lost princess, he was locked in this west coast madhouse.
Hatter's top hat, the sidekick of a weapon that he can flatten into coptering blades with a flick of his wrist and send slicing through enemies, is essentially locked in its own cell elsewhere in the asylum.
But with the gradual return of Alice's Wonderland memories comes her power of imagination (the magic of our series). She inadvertently calls forth this power in a tense scene in an old theater, illegally used by Jesus Jones' gang, that she intends as her orphanage.
And like entangled quantum particles, a supernatural sequence reveals to us that Alice and Hatter are imaginatively entangled. Haunted by her visions of Wonderland and Hatter, she presses a hand directly through a looking glass; half a world away, in Hatter's cell, that delicate hand emerges from a small mirror.
"Alyss!" Hatter cries.
To be continued…
For More of the World of the Looking Glass Wars, Read These:
Part One: Wonderland's Imagination Empowers
Part Two: Wonderland Beginnings
Part Three: Roadmap To Phantasia