From the halls of Heart Palace to the dorms of the Millinery, furniture fills the lives of Wonderlanders. Art and whimsy influence everything from simple tables to the most lavish of thrones. From functional and fabulous to outlandish and ornate—everyone can take pleasure in expressing themselves through their decor.
Now, even if you can't get your hands on the finer materials (like caterpillar thread or whispering wood timber) you too can still have a home that sparks your imagination. These Alice in Wonderland inspired furniture pieces take their cues from Lewis Carroll's classic (a retelling of the truth as many of the keener minds will know)—and can add a touch of magic to your everyday.
1.) Alice in Wonderland Bedside Table
The perfect place to put your tea as you sit in bed and read about the little girl who fell down the rabbit hole and discovered whimsical Wonderland. Round with adorable little legs – the best part of this bedside table is that each one made is completely unique and hand crafted. Three drawers provide plenty of space even in the tiny table. Featuring Alice illustrations from John Tenniel this piece evokes Victorian times filtered through the looking glass.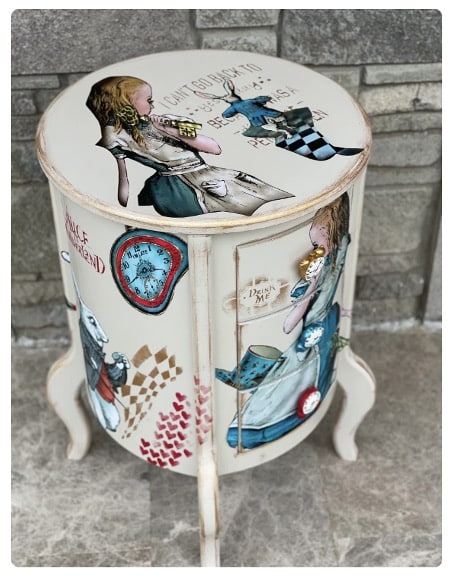 This unique piece is perfect for the Queen of Clubs or other suit family royals that drip in jewelry. Featuring the anything but ordinary illustrations of Benjamin Lacombe's darkly whimsical Alice, this Jewelry Chest (or mini-dresser) will steal the show in any room. Hand made in the decoupage style each piece is one of a kind. With slots for rings, hooks for necklaces, and drawers for everything else – this Jewelry Box will instill a little order to your accessory madness!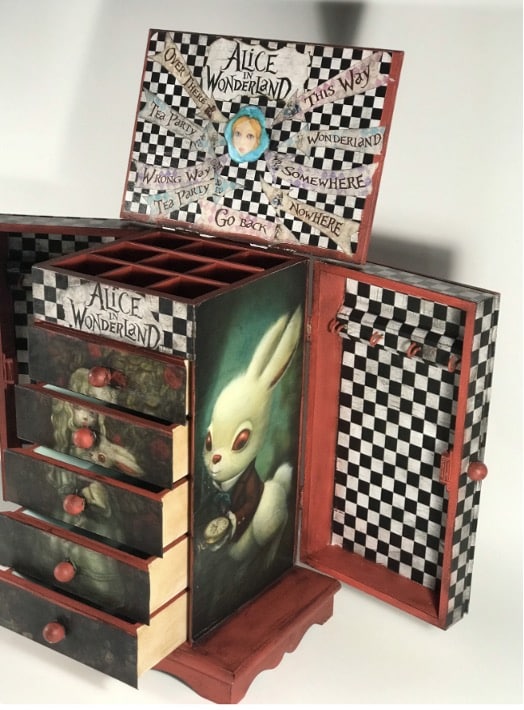 In Wonderland, functionality is subjective. After all, not everyone's knees bend the same way! But, even on Earth, this Sofa is a showstopper than warrants a spot in any home. Truly a piece of modern art, it slopes and crawls up the wall, creating a dose of nonsense to break up the drudgery of even a dreary day. And as a bonus, the jaunty curvature certainly makes it easier to sweep beneath! (Your Walrus Butler will thank you, believe me.)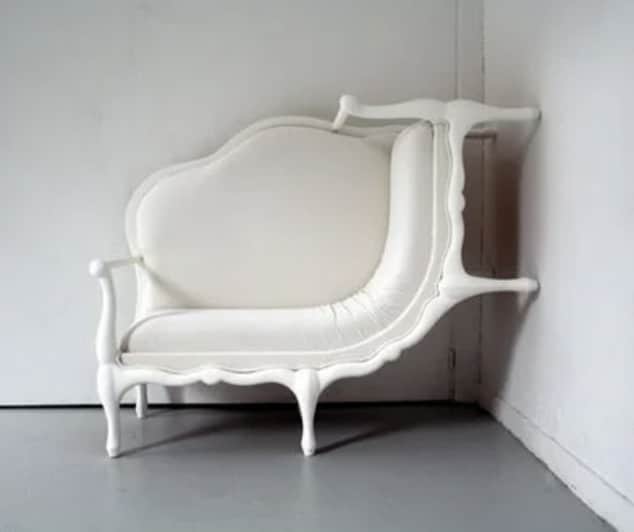 Naturally you will need a place to keep the many books you collect. From Alice in Wonderland, to the more accurate Looking Glass Wars – it's important to keep your tombs stored well for future enjoyment. Any Albino Tutor will tell you it's critical to use your preferred alphabetical system to create some order in your intellectual chaos—and this Bookcase will do just that. Bendy and beautiful, you will be the envy of your friends once you own this brilliant piece of furniture will blur the line between fun and learning.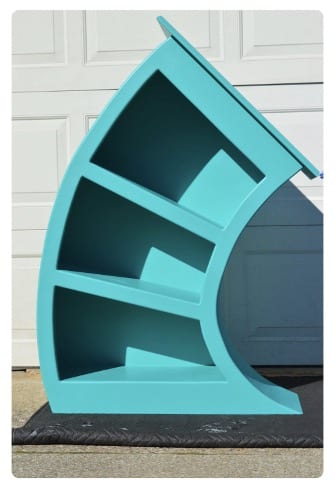 5.) The Looking Glass Wars Logo Table
Long live Queen Alyss Heart! Show your pride for the once lost Princess of Wonderland with this Looking Glass Wars Logo Table. Hand crafted and one of a kind, it features the carved insignia of the Royal Suit Families in raised gold, and a backdrop as deep blue as the Pool of Tears. No matter your allegiance you will see your favorite characters represented at this artistic expression of Wonderlandian pride.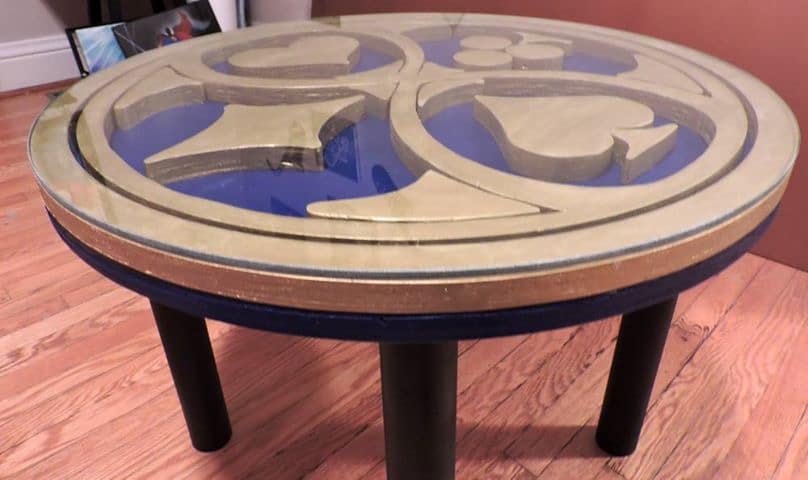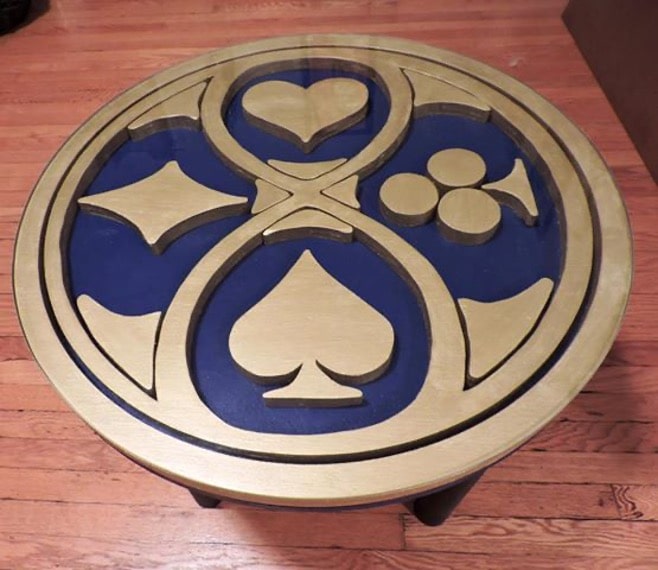 For the Mad Hatters among us, channel a whacky tea party 24/7 with this unique lamp. Stacked ups create a (thankfully unshakable) pillar to hold up a beautiful lamp shade, complete with a bowtie that Hatter himself would envy. Like all rulers of the Queendom of Wonderland, you will have your pick of patterns – at present black and white checkers, polka dots, and stripes are on offer—or perhaps you would prefer the more colorful pastel pink and spring green variation? Whatever your taste, it doesn't need to be dark as you tumble down the rabbit hole and create your perfect Alice in Wonderland space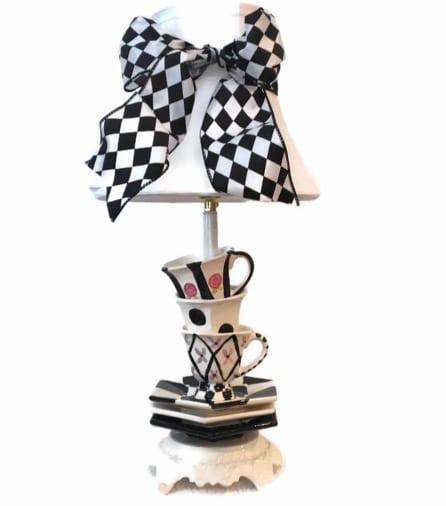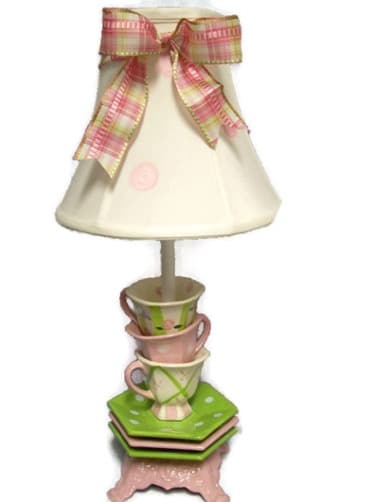 Do you require some privacy? Are you unable to disappear like a certain grinning cat? Well, fear not. This elegant room divider featuring Alice's encounter with the Cheshire Cat will serve you well. On the flip side you will encounter a familiar hookah smoking oracle as Alice peeks over the edge of a massive mushroom to speak with the Blue Caterpillar. The screen has a delicate trifold design that allows it to open or close to meet the needs of any space.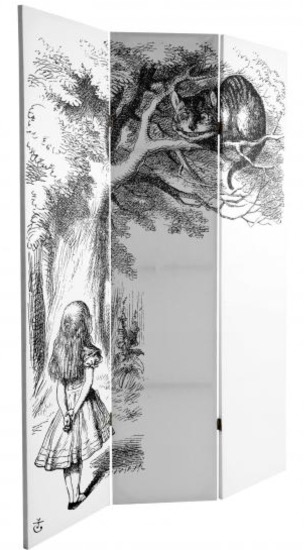 8.) Tea Cup Stools
At your next Mad Tea Party you simply must provide enough seating for your guests—and what better place for them to rest than on a Tea Cup Stool? Sturdy and colorful, these simple seats are endlessly diverse in their handy uses. Take a seat, use as a side table, or just add a special accent to your space—you are the ruler of your very own whimsical realm. Take your pick from a variety of vivid colors, buy a set or mix and match.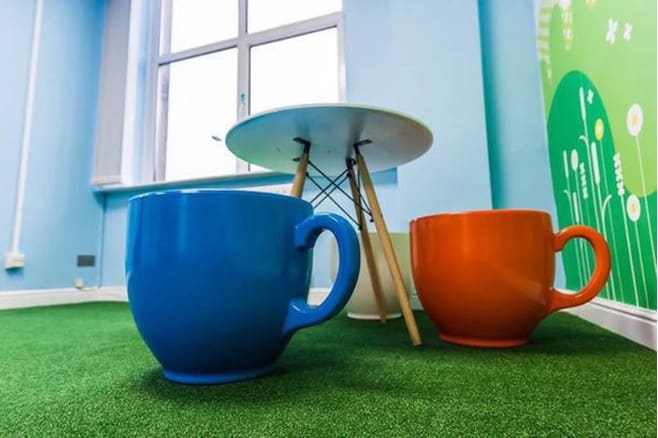 Don't ever find yourself late for any important dates! Every room could use the regal touch of Wonderland, and the suit emblem of The Looking Glass Wars is just the way to do it. For added style points this clock is printed with the royal gold logo of Alyss Heart's Queendom.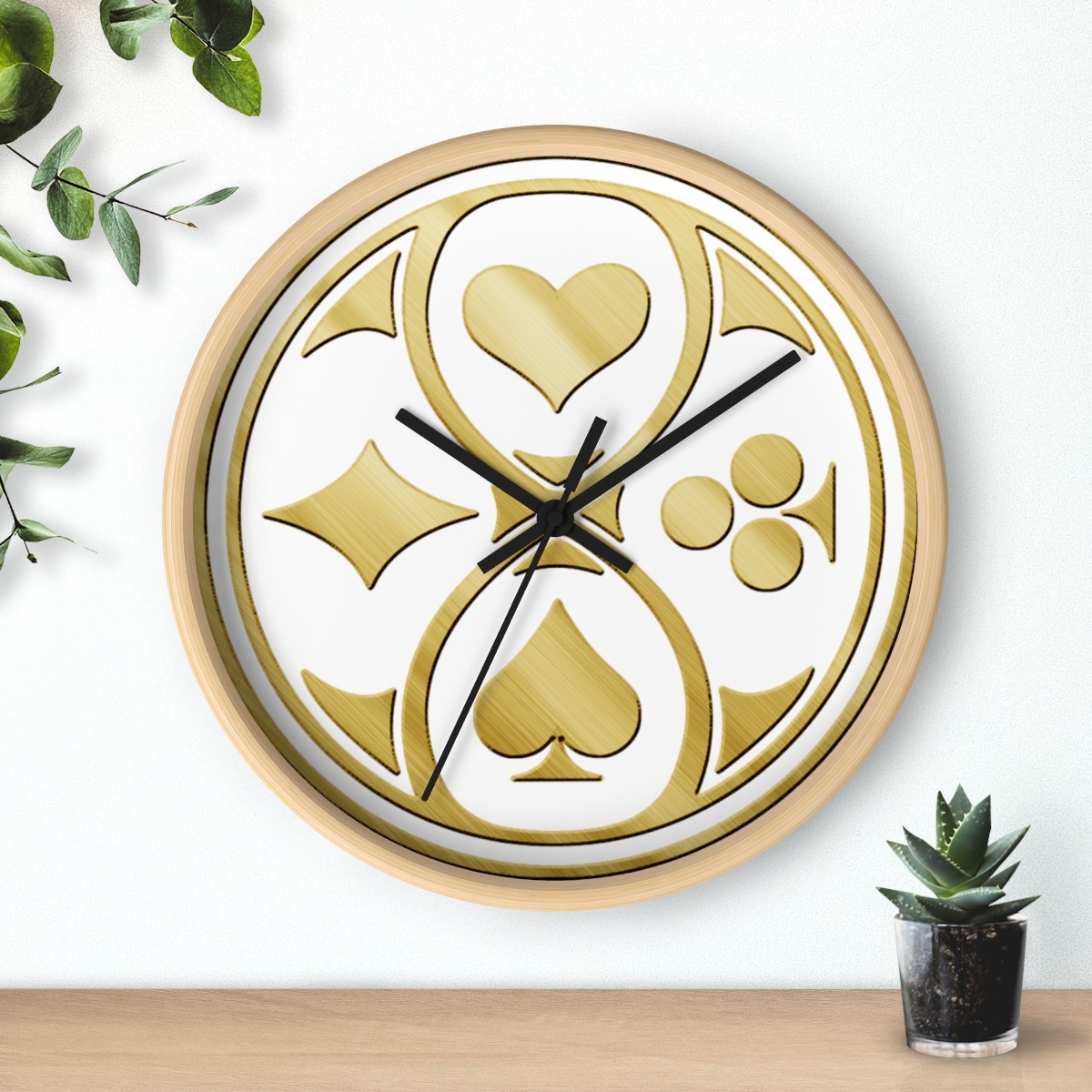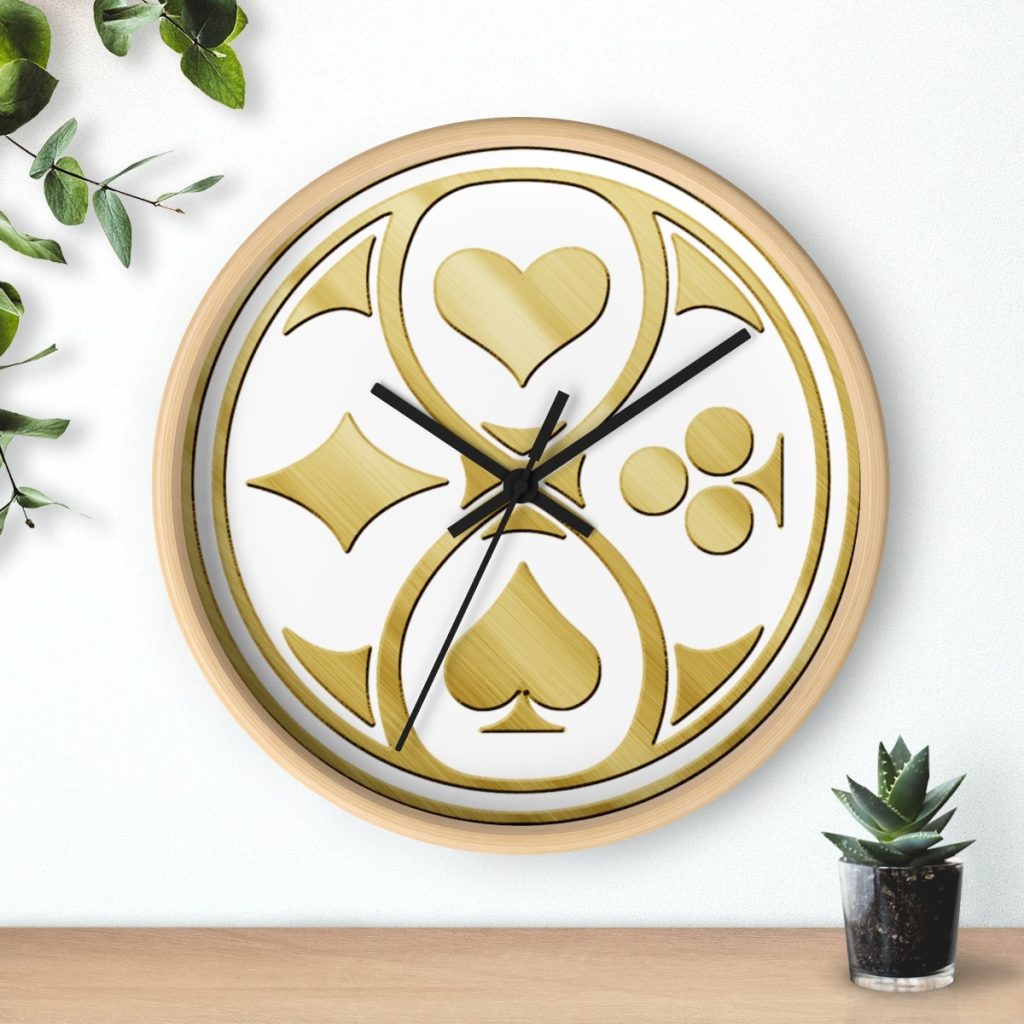 What castle is complete without a decadent chandelier to light up the room? For those who envy the house of hearts, channel your inner royalty with this Queen of Hearts Chandelier. The piece measures 18" high and 23" in diameter with three feet of chain included. Shades are sold as option for $60 for a set of five, and the beautiful fixture can even be made with three arms or four (some of Queen Redd's creations came with the same option—imagine that!) The center globe is a delightful checkerboard pattern that will remind you of the chessboard desert, while the outer arms are adorned with bright red hearts. Be warned—the crystals that hang from the base are of the ordinary variety, and do not explode, emit voices, or perpetrate any other sort of shard-like magic—but they are certainly beautiful regardless.