Before I started writing The Looking Glass Wars, I did a lot of research on the cultural impact of Alice's Adventures in Wonderland. I was struck by the depth and richness of the music influenced by Lewis Carroll's books. Artists from Jefferson Airplane and Bob Dylan to Tom Petty to Gwen Stefani have used imagery based on 'Alice' in their songs and videos. I wondered what would it sound like if the true story of Alyss Heart of Wonderland was told through contemporize music?
What if I could expand the intellectual dimension of reading my book into a heightened sensory experience using music to open aural portals connecting our world to Wonderland? Considering my book is set in two dimensions and so much of the story unfolds in Wonderland, it came to me that for the reader to fully experience my characters and their world, I should extend the mental dimension of the page to the aural dimension to make it more sensory and emotional. Acting on this imaginative impulse I decided to create an 'aural novel' of sorts, by producing a soundtrack much in the same way a director would for a film. It was an abstract concept, but one that I felt held a secret, a locked promise if faithfully and artistically pursued. The musical landscape offered an incredible choice of talent and within a short time several artists were at work on their songs.
I called Canadian music supervisor Androo Mitchell, a friend and colleague who I previously worked with on the film Wicked, to help select and collaborate with the artists for the project.
Androo was intrigued by the idea, and we got to work.
My primary directive to the artists was to take my characters and the themes and write music that is personal to them.
One of many standout songs is "Puddles," – "This is no ordinary water/ Do not be fooled" – it took shape after English electronic soundscaper Grant Baldwin (aka Phontaine) and Gemma Luna imagined themselves as Alyss jumping into puddles, desperately searching for the one that would take her home. A reference to the Pool of Tears, (a portal between Wonderland and our world) Alice must find 'a puddle where no puddle should be' if she is to ever return to Wonderland and claim her rightful place on the throne.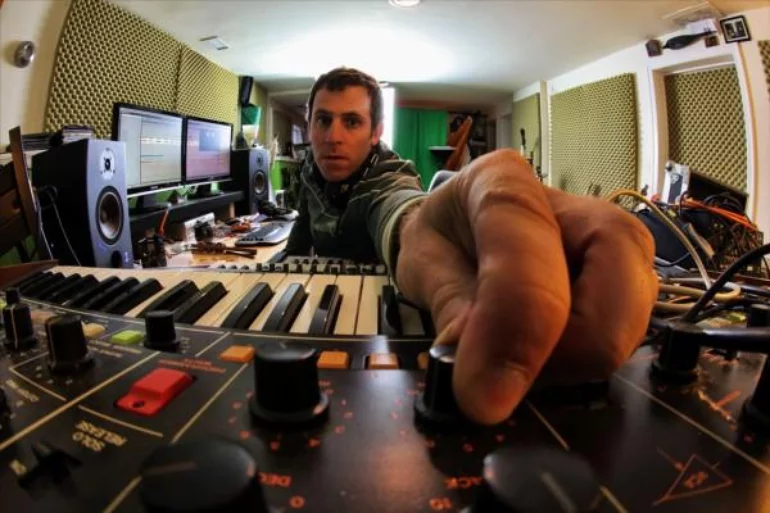 Another artist, Julianna Raye – whose music Entertainment Weekly critic Ken Tucker described as "languidly gorgeous," remarked, "[She] has the bruise of heartbreak in her blue voice": "My contribution to the soundtrack is called 'Mirror.'  I was moved by Alyss' romance with [the guardsman] Dodge and began thinking about the things that separate us.  We can cut ourselves off from our past and essentially become separate within ourselves.  Loving someone can help you reconnect with your true, whole nature.  Of course, what we believe is our 'true' self is forever changing.  I thought 'The Looking Glass Wars' did a wonderful job of exploring those themes."
Hypnogaja's Looking Glass is morose and stylish and manages the capture the essence of the world beyond the mirror with a unique, abstract approach. And within one beat, the song jumps to another mood, one of survival through the battle. Their song reflects both Carroll's fiction as well as the true story of Alyss/Alice found in my research and books.
One of the coolest things Silence did with the song "Shattered," was take sampling from The Looking Glass Wars audiobook voice actor Gerald Doyle's reading and distort it with a heavy echo effect distinguished by a tense cello sample.

One of my favorite songs is "To Another World," produced by the audio Ninja and performed by Velvet front man Kuba, who earned gold honors at the Canadian Music Week national songwriter's competition. The song has become the anthem for every school visit talk I have with students. "Welcome to wonderland / Welcome to my world."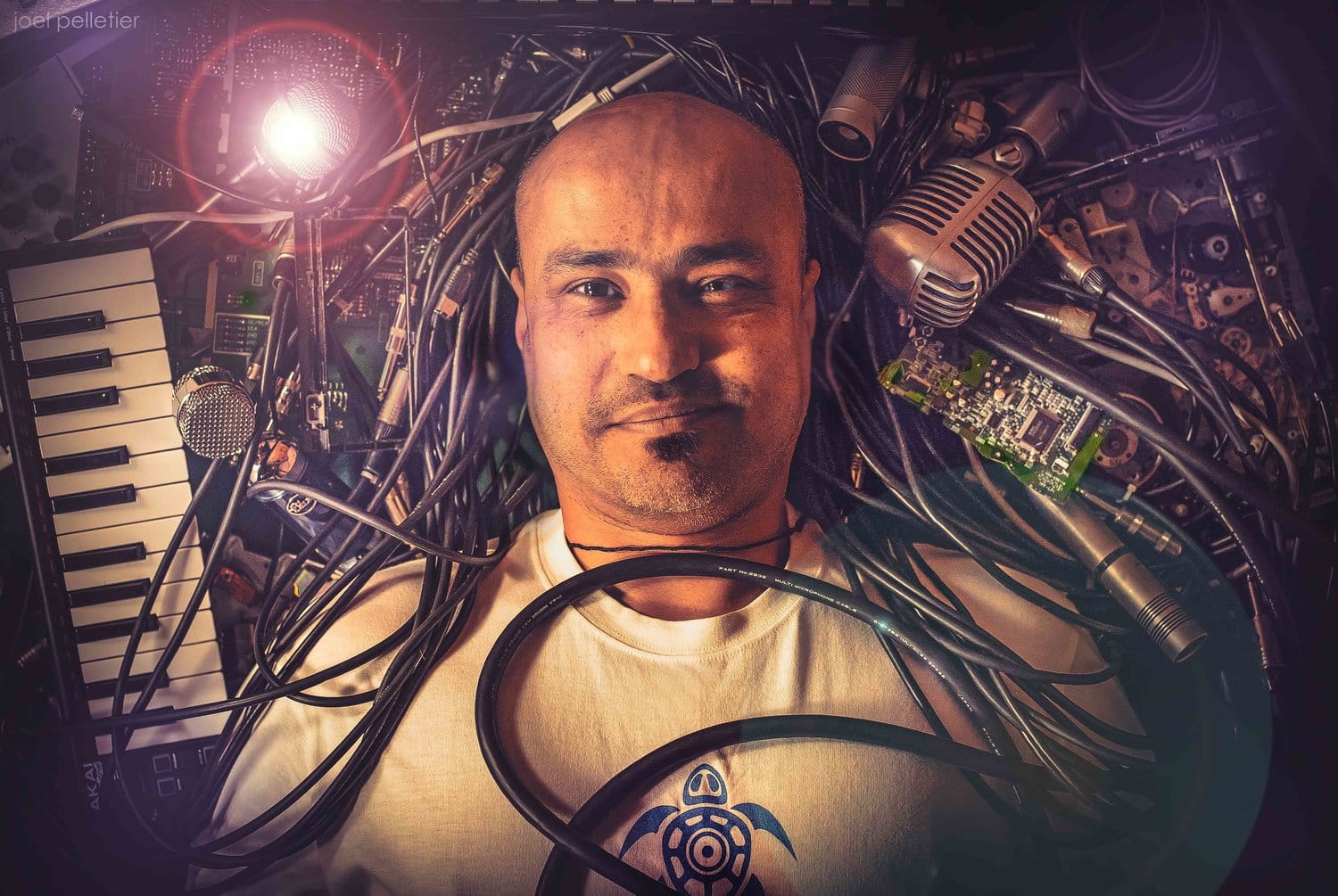 "Through the Looking Glass," from composer/producer/2006 Juno Award nominee (World Music Album of the Year) Adham Shaikh.
"Courier Heart," from Eccodek (brainchild of producer/songwriter/remixer Andrew McPherson) featuring the seductive vocals of Ambre McLean; Silence's grooving, glockenspiel-spiced "Deadly"; "Sea of Redd," rendered by Phontaine featuring the rare-groove croon of Nadia; Intrepid listeners may also discover an otherworldly "score" excerpt composed by Nick Young, leader of forward-looking Los Angeles rock combo A.i.
Androo was amazed during the germination of the soundtrack how the artists showed him how some of the pieces fit together. "Music has the power to distill emotions and ideas and I saw that over and over during this process,"
"I was the 'live' conduit between two very creative forces, the writer of the novel and the people behind the music," Mitchell elaborated, "and did I ever get electrocuted!"
"The artists were constantly coming to me with their works-in-progress, and I'd hear a lyric or a fragment of melody that would make me feel something about one of the characters I hadn't felt before. I came to know these characters on a much deeper level, which frequently left me speechless."
All the songs present a kaleidoscopic view of my books and themes set against a sonic backdrop of trip-hop, modern rock, and a psychedelic sound collage. Because of the diversity of music, the album is a beautiful, haunting representation of Alyss's world and the narrative of my book.
Ultimately, though, I was more concerned that each song evoking an emotional response, rather than adhering to any storyline. Likewise, listeners need not be familiar with The Looking Glass Wars to lose themselves in The Looking Glass Wars Soundtrack. First and foremost, the music had to come together as an album, a work of art independent of the book. However, I discovered once people get into any part of The Looking Glass Wars, they want to figure out how all the pieces fit together.
And this is where it all became strange. As the music came together and the tracks were compiled, I came to know these characters, my characters, on a much deeper level. Ultimately, I found it both shocking and exhilarating to so intimately experience the anguish and passion of the heroic, monstrous, vengeful, and loving denizens of Wonderland.
I couldn't quite get over how fully the artists were able to connection with my book, there was extraordinary collaborative synchronicity. And the idea that they had taken a product of my imagination and articulated it into these magical songs was incredible.
Androo said at the time, "It's easy to be inspired by a story like this. After all, one of the book's most important ideas is about broadening the horizons of our imaginations."
All the musicians' creativity and innovation inspired by Alice in Wonderland, rely on a rich heritage of prior intellectual efforts, revisiting, re-envisioning, and reimagining Alice of Lewis Carroll's Wonderland. Alice/Alyss is aware of the depth of her roots and owes her identity to all her various artistic incarnations, shaped by our changing social fabric and morals.
The world of The Looking Glass Wars is complex; it is messy. It leaves behind the childlikewonder of Wonderland by pitting Alyss Heart – the princess of Wonderland – against the "real" world on Earth.
The Looking Glass Wars soundtrack takes you through a journey that's relaxed at times and sometimes exudes climax. It is a simple tale and an abstract musical journey for the listeners.
The album dually reflects our ideals and horrors. Today truth is relative—we all live in our own version of the truth. How we view the world depends on how we look through the looking glass.
I've been humbled by my good fortune in enlisting these creative souls to further cultivate my Wonderverse, I must have taken the right magic mushrooms.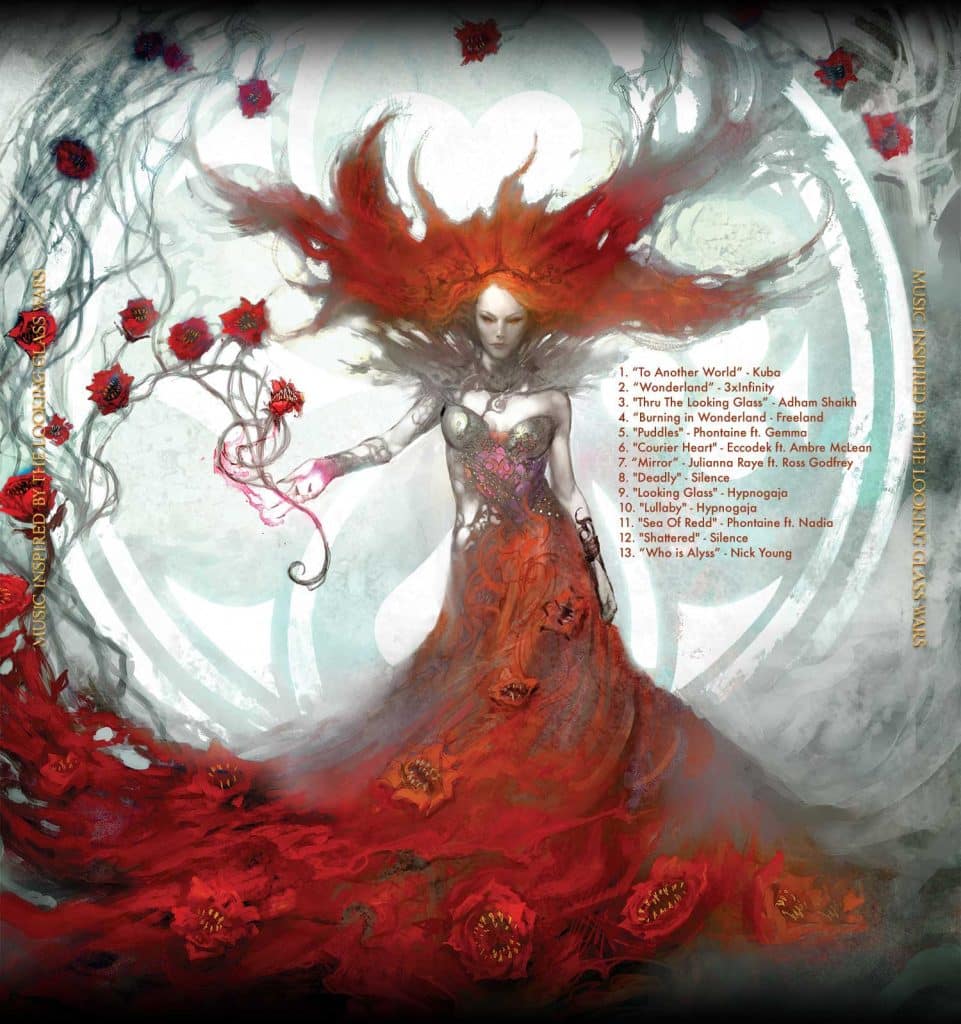 ---
Visit the Music page to listen to samples of The Looking Glass Wars Soundtrack, or visit the store to purchase your copy of the CD.
---
Lyrics – "Shattered" by Silence
The Looking Glass Wars unabashedly challenges our Wonderland assumptions of mad tea parties, sleepy door mice and a curious little blonde girl to reveal an epic battle in the endless war for imagination.

The Looking Glass Wars…

Imagination

Alyss Heart
A fairy tale life was shattered
Behind the fantasy

Wonderland

Parallel worlds
True story
Forget all you know

Now discover the truth

Shattered
Lies
True Story
This is no tea party

Shattered
Lies
You may have heard of this dear old book

Shattered
Lies
True Story
This is no tea party

Shattered
Lies
Uncover the truth
Forget all you know

Now discover the truth

The real Wonderland is a world torn apart
Where imagination is power 
Forget all you know

Now discover the truth

The real Wonderland is a world torn apart
Where imagination is power

Alyss entrusted Lewis Carroll to tell the truth
Shattered
Lies
The true story is no tea party
Shattered
Lies

You may have heard of this dear old book
Shattered
Lies
The true story is no tea party
Lies

Uncover the truth
Forget all you know

Now discover the truth
The real Wonderland is a world torn apart

Where imagination is power

Forget all you know
Now discover the truth

The real Wonderland is a world torn apart

Where imagination is power
---
Lyrics – "Sea of Redd" by Phontaine
It's all in my head
they said, they said
but all I see is redd
a sea of redd, a sea of redd. 
She killed off all I loved
in a moment of time
now she's mine 
and all I see is redd
a sea of redd, a sea of redd…

Heiress to the throne
forget everything,
erase the known. 
The army of me
fighting evil, a horrible disease. 
My body's full of fear
revenge is ready, the time is here. 
My heart is beating bold
strong and steady, ice cold. 

It's all in my head
they said, they said
but all I see is redd
a sea of redd, a sea of redd. 
She killed off all I loved
in a moment of time
now she's mine 
and all I see is redd
a sea of redd…

The shape shifting feline
is no friend of mine
his ways are wicked to the mind.
The palace, the crystal mines
the lord of diamonds, don't forget this time… 
Black and white, good and bad
with shades of grey I've never had 

Wonderland's a pool of tears
once a puddle 
now it's up to our ears. 

It's all in my head
they said, they said 
and all I see is redd
a sea of redd, a sea of redd