On Cyber Monday 2022, the web will be brimming with deals, some so good a shopper may think they've fallen down the rabbit hole into Wonderland itself. Keeping our favourite fandom close at hand is a must for the savvy Alice In Wonderland aficionados—and what better day to procure the items to do just that? (And all from the comfort of home! Simply frabjous!)
Among the many amazing Alice inspired goods one might acquire, handbags, purses, and totes boast some of the most incredibly Imaginative concepts. Some take small cues from the stories, putting in a few quotes; others take a more explicit approach, sculpting the bags as if they are taking inspiration sent from the Heart Crystal itself.
Which one would suit you best out of them all? Can you be satisfied with bags that take a subtle approach, or do you want something more robust for your collection? Read on and perhaps this list can help you answer these questions just in time for the marvelous deluge of deals on Cyber Monday & this holiday season.
This one is for bookworms. For those who love the literary beginnings of Wonderland, with an instantly recognizable twist. Loungefly never fails to deliver a quality product, and this "Book" Bag (not to be confused with a bag for books) lives up to the brands highest standards.
The first feature that will jump out at you is its shape. It looks like a book that opens up to the pages highlighting Alice's journey across Wonderland, from when she went tumbling down the rabbit hole to when she encountered the Red Queen.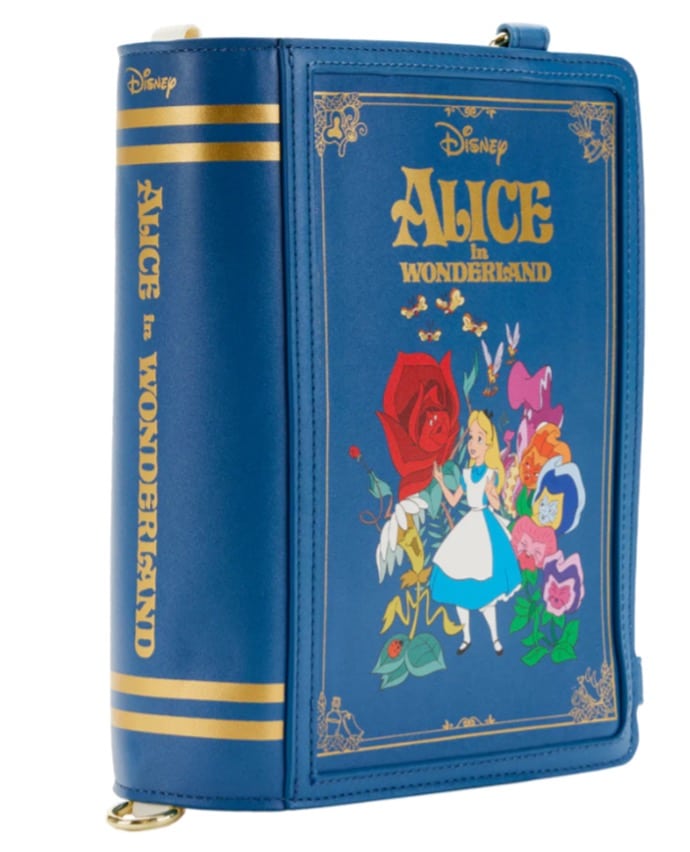 From an aesthetic point of view, this is as far as you can go trying to replicate a book in the form of a bag. Loungefly has taken great care in giving this bag a bookish feel – adding layers upon layers of luxurious high-quality vegan leather to replicate to make three-dimensional art.
On the front, you'll see the cover page with Alice (from the Disney animated movie) surrounded by singing flowers. And at the back, there is a grinning Cheshire cat. The artwork does well to highlight the underlying theme of Alice in Wonderland: not everything is as it looks.
Let us not talk about practicality because, despite the outlandish design, this is a highly functional creation. You can alter the straps to make it more like a backpack.
Without departing the Loungefly brand, let us dive a bit deeper into the rabbit hole we've stepped into. This cross-body bag is for the collectors, the holy grail hunters, the bargain bin divers that have an eye to know value when spotted. Though this Alice in Wonderland Red Rose Crossbody Bag is now discontinued, do not lose heart!

Scour the right nooks and crannies of the web such as OfferuUp, eBay, and Mercari— perhaps luck will allow you to snag this prized possession that often makes an appearance on such sites. Not only is the exterior exquisitely designed to look like the singing flower from Disney's Alice in Wonderland—the interior lining is brimming with card soldiers and red roses.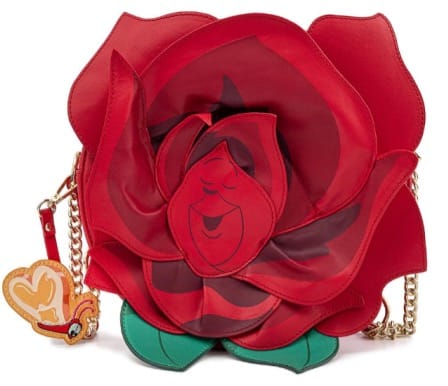 The thrill of the chase makes the quarry twice as sweet (as Redd Heart would fully agree). Loungefly's designers have implemented a multi-layer design to add depth, while red petals on green leaves emphasize the fairy tale-esque aesthetic further. While this handbag is suitable for a collectors shelf, it is also a great party bag – a great companion for attending your next Mad Hatter Day tea party.
Minimalist-but-thorough are the magic words that comes to mind when you first look upon this Alice in Wonderland Mad Hatter purse. Inspired by Johnny Depp's iconic Mad Hatter Hat, this bag could go with so many outfits it is difficult to believe.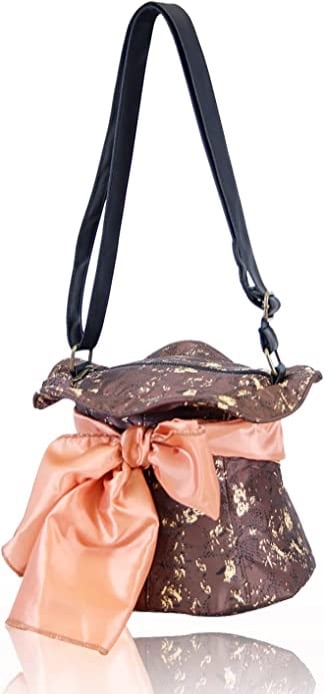 Hanging upside-down, with a zipper opening, this purse makes you want to pull the White Rabbit out of it. An orange ribbon circles this bag, and though it is lightly stitched in place, even a novice Milliner could remove it to swap for other colors as the mood demands. Versatility and whimsy will be your constant companions when carrying this purse (and all for a very reasonable price).
Much like the previous entry on this list, this Mad Hatter inspired shoulder bag is a must for any mercury maddened milliner. Evoking the Hat worn by the Hatter in Disney's animated movie, this pouch adds a silky touch to your daily carry.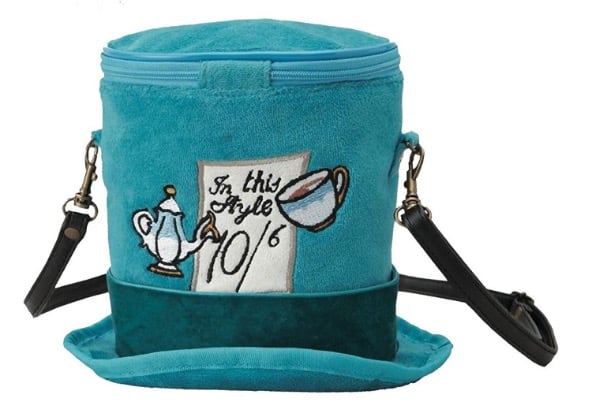 Simple and elegant, this bag opens at the top with the zipper built around the edges. So, if you're in the market for something more practical but still retaining the mad influences of Alice Wonderland, go with this one.
If the hurrier you go, and the behinder you get—this bag might be for you. Though it will not keep time, the delightful clock design and gold coloring will more than make up for any tardiness to the tea party. Beautiful ornate faux leather lacework adorns the clock-face and is sure to make your friends notice your new bag.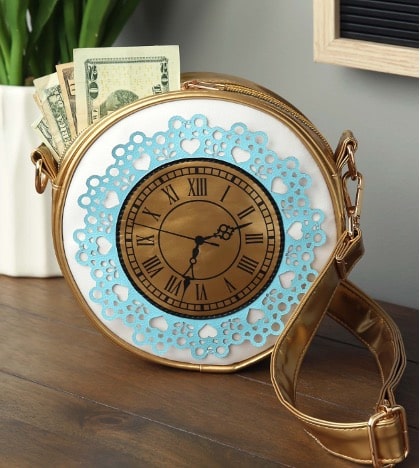 Built of 100% polyester, this clock purse has a detachable and adjustable strap and a metal zipper at the top. This big handbag is great for daily carry. However, if you want just to put it up as a collectible work of art, no one would blame you.
We now dive into a more mysterious and mature take on an Alice inspired travel bag.
This Black and Gold travel bag puts the dark themes of Alice in Wonderland front and center. The black backdrop accentuates the dark roses; at one end, you can see a gloomy Alice contemplating where she is. (We won't spoil the motif on the opposite side—go check it out for yourself!)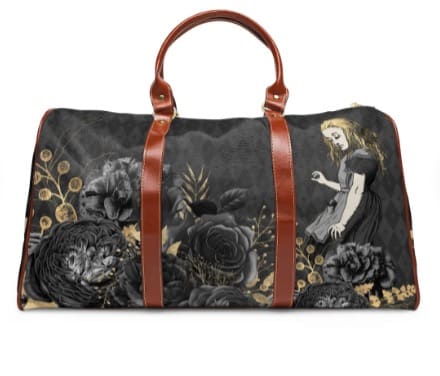 This gothic-esque melancholic approach to designs is common for black handbags. But since Alice in Wonderland is the subject of the painting, the message you get is even more profound.
Supporting this sophisticated painting is the high-grade waterproof fabric. Inside the bag, you will find multiple compartments. Since it is a travel bag, meant for long-term use, the creators have taken special care when designing the sturdy straps. Snap this personalized bag up quickly from Etsy before they are all sold out.
Alice in Wonderland has many unforgettable quotes. When combined with modern collage-style artwork, you get designs that you can print on literally anything. That's the idea behind this Large Tote Bag. Featuring famous quotes from Mad Hatter, the simple yet stylish tote bag is one of the more affordable options you might run across this shopping season.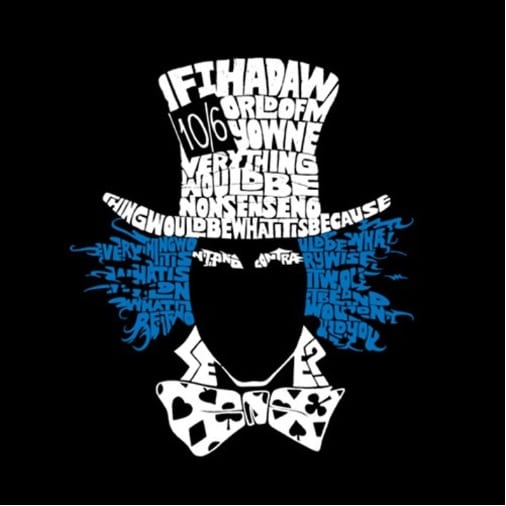 This simple bag takes a modern approach to art style – one that pairs well with Tim Burton's movie. Available in many colors, this bag has a uniform design that you can put your groceries in when you go out shopping the next time.
For the more practically minded amongst those who wish to keep Alice (or is it Alyss?) close at hand—we entreat you to look at this adorable crossbody bag from PoisonedAppleGoods on Etsy. Though perhaps this design is too cute for those as tough as Hatter Madigan, the delightful depictions of Alice, The Cheshire Cat, and The White Rabbit make for perfect companions on your daily outings.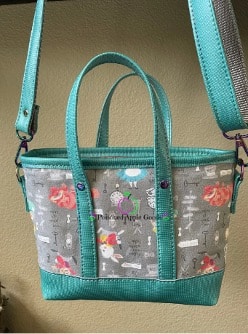 Let's end this list with custom-made backpack. Sporting the classic illustrations of John Tenniel, this bag is a marriage of modern and classic. Available with and without mesh side pockets this bag is a true work of art by CustomizerCottage on Etsy. If you are carrying this backpack, you will never again find your items jumbled and mismatched—the internal slip pockets are fit for a White Queen.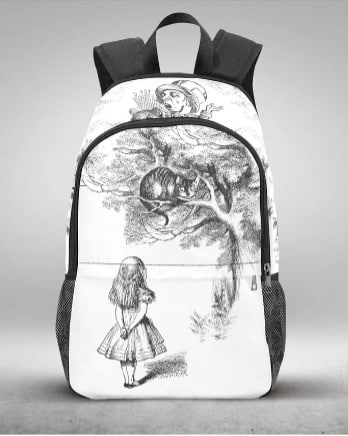 We hope you like this unique list of Alice in Wonderland-inspired bags, totes, and purses a wish you all the best of luck on your bargain hunting on Cyber Monday 2022. Follow the glow and surly the forces of Light Imagination will bestow their beautiful creations on you (for a very good price)!