As a lover of All Things Alice in Wonderland I am absurdly excited whenever granted the chance to anticipate the launch, release, or premiere of anything Wonderland. Today I find myself lucky to be patiently waiting for a wild and modern adaptation of our favorite story at the Liverpool Playhouse. Appropriately, it will be opening on July 4th (International Alice Day)!
I cannot express how inventive this adaptation sounds – it "follows Alice, a music-loving girl who falls into "Wonderland" when trying to repair her father's stereo. She meets some unlikely new friends, and battles against the Queen of Charts". And if you want to experience the work of a top tier cast – look no further.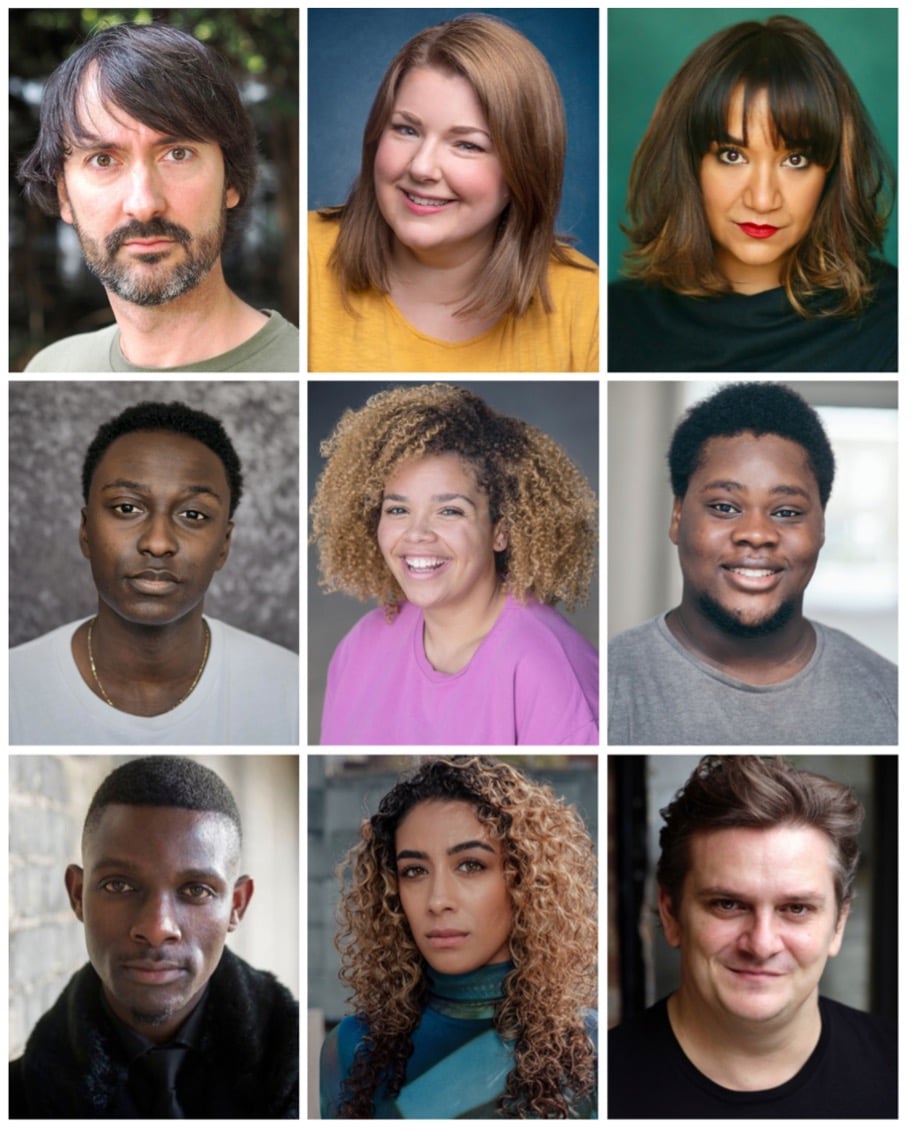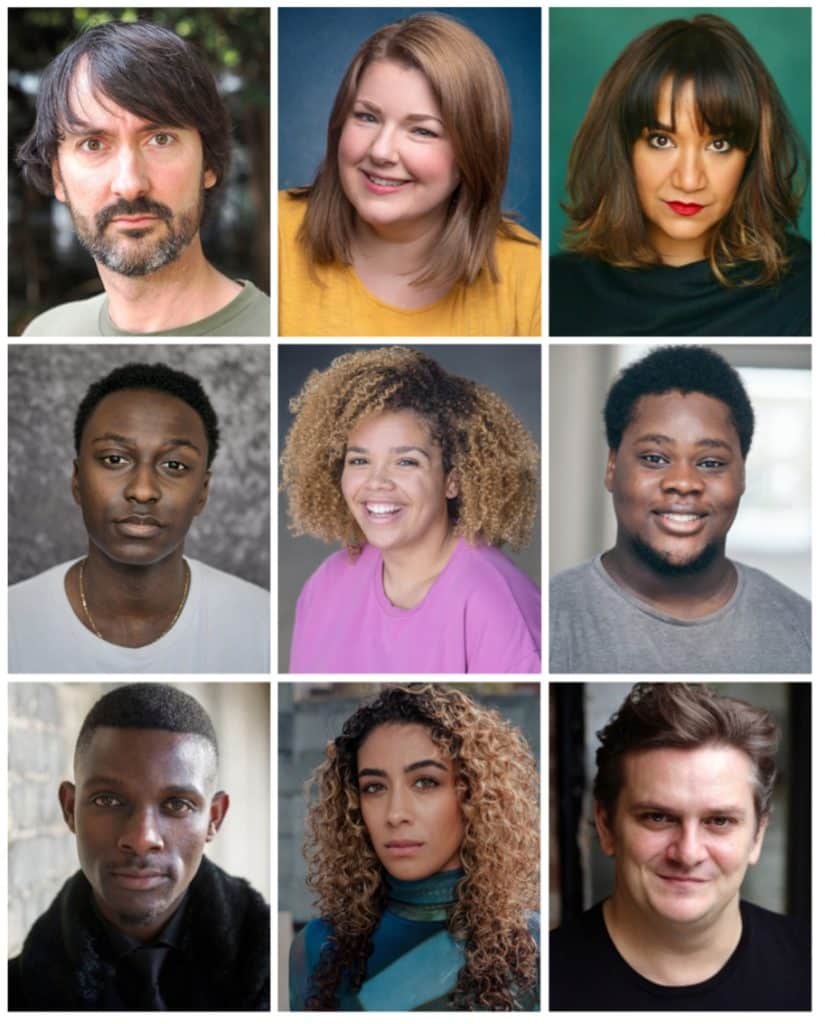 Olivier and Critics' Circle Award Winner Leanne Jones will star as the Queen of Charts, alongside Liverpudlian actor Paislie Reed (CITV's The New Worst Witch) as protagonist Alice. Supporting cast members include Daniel Carter-Hope (Dad Hatter/Play/Fast Forward), Natasha Lewis (Bibi/Queen of Clubz), Jerome Lincoln (Volume), Zweyla Mitchell Dos Santos (Lewis), Tomi Ogbaro (Bez/Jabberwock), John Pfumojena (Eject) and Steve Simmonds (Rewind/Record).
A really unique element that I find fascinating about this production is that the book for the show is by Stockroom—which is a creative hub with over 25 years of experience. It's like an incubator for the most influential writers in the UK. I am certain the cumulative creative power of a group like that has crafted something beyond even my high expectations for this adaptation. My Wonderverse has certainly taught me the value of inviting others and their voices into creative collaboration.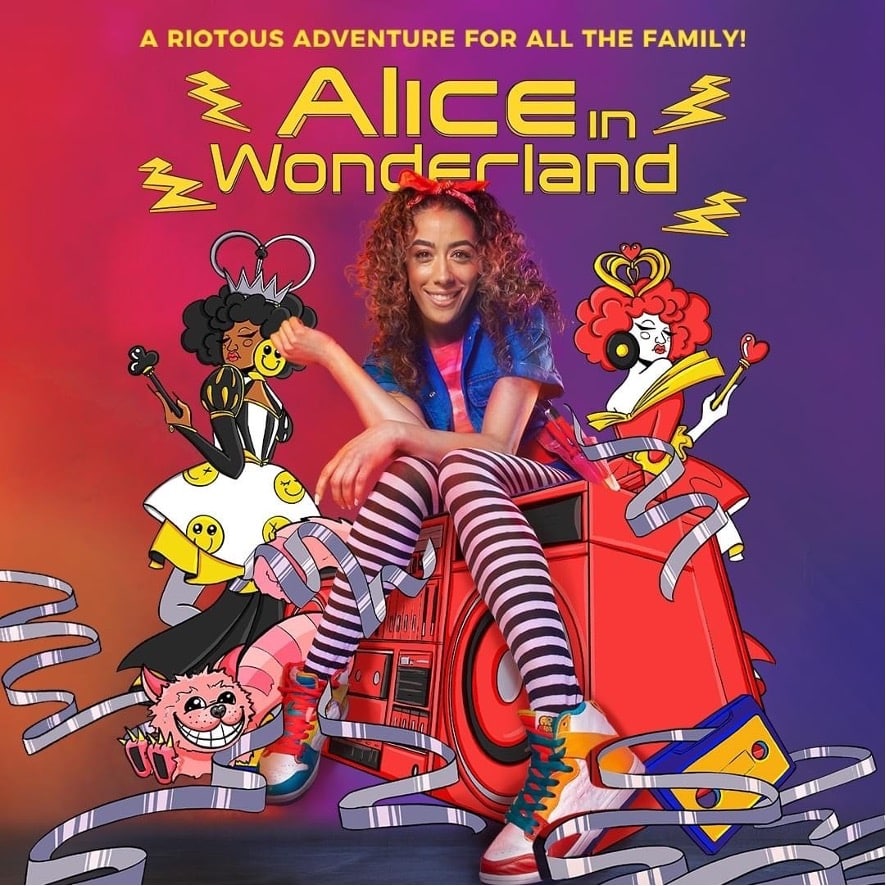 Let's not forget that a musical is nothing without the actual songs and lyrics, which are by Vikki Stone. I simply don't have enough space to gush about her credentials—but 2023 has been a big year for this multi-talented creator. She's on a hot streak for classic adaptations, bringing Aladdin, Peter Pan, and Cinderella to the stage.

This modern take on our beloved classic got me thinking, as I always do, "what is it about Alice?" Why can we skin any story in the cloak and shorthand of Wonderland regardless of when the retelling takes place?
First, let's talk about Alice and storytelling in general. Personally, when I was writing The Looking Glass Wars I found Lewis Carroll's original work very easy to access in my creative process because it was so episodic. I was on a quest to create a linear story – but the very nature of the classic as a series of vignettes allowed met to mix then remix, reimagine and recreate. I could entertain the idea of putting individual elements, be it the Walrus or the Hatter or any other Wonderland oddity, in any scenario. It was as if Carroll had provided elemental building blocks, and any creator might pick them up, mix them together, and create amazing new matter!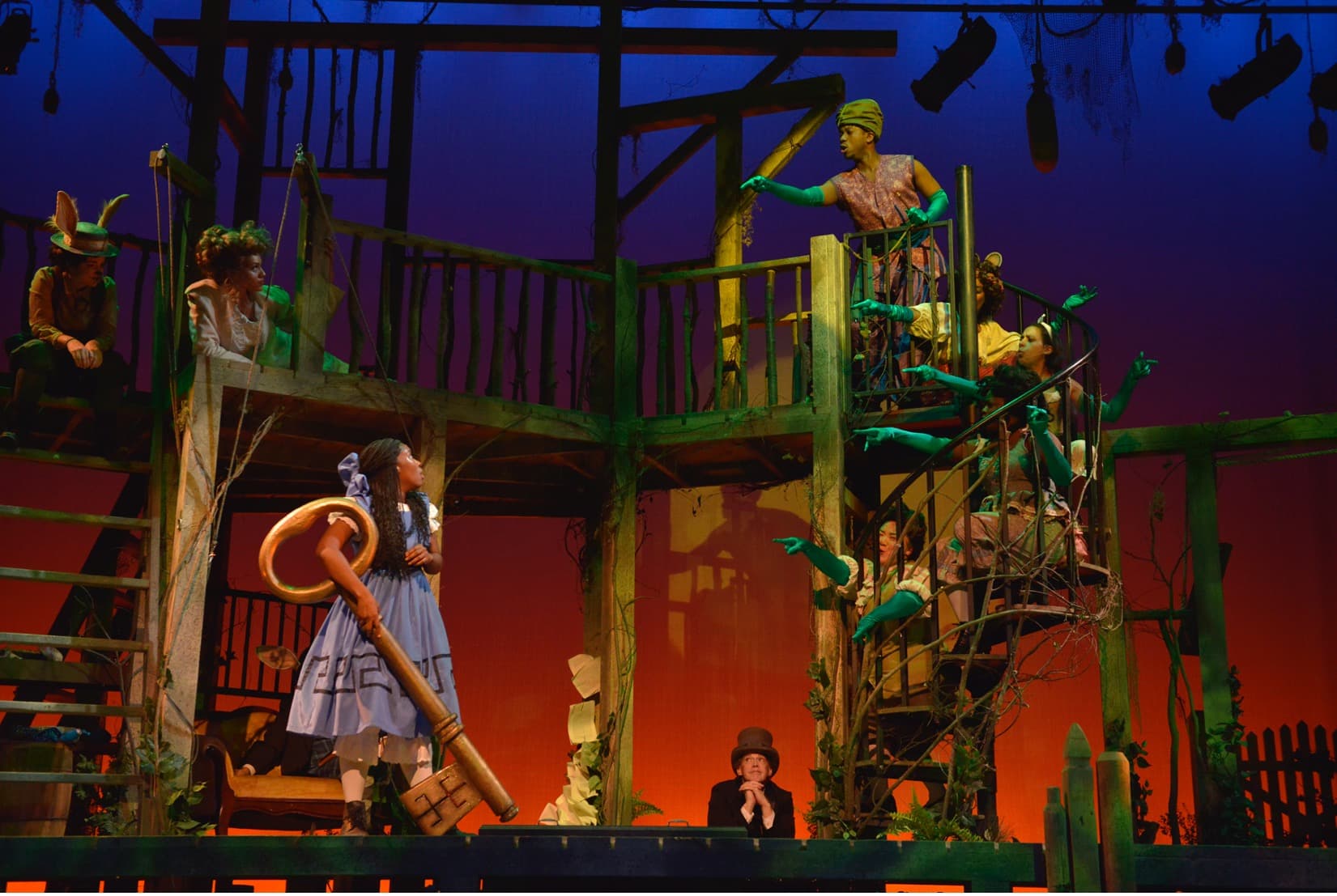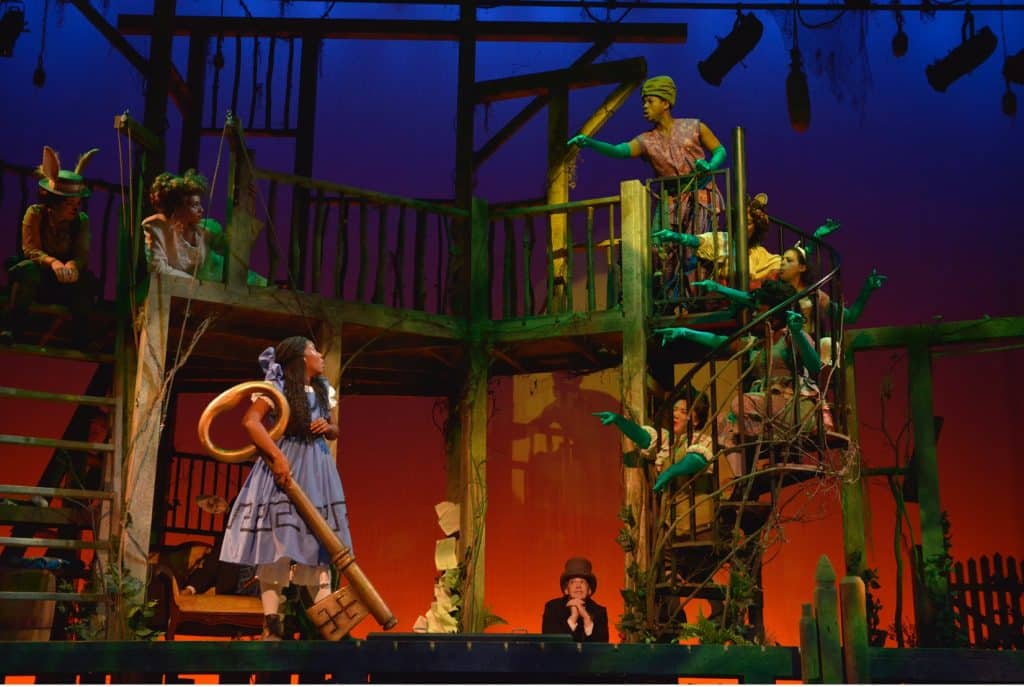 The episodic format also provided opportunities for diverse tone. Each episode could have its own distinct atmosphere, ranging from whimsical and lighthearted to surreal and thought-provoking. I chose to take it down a darker path, but it was freeing to have the whimsy be just as warranted. After all, what is wonderland without the weird and wild? It allowed for a rich tapestry of experiences and emotions—and I should think this brings it much closer to reality than most of us might thing. The real world is a rollercoaster of diametrically opposite experiences, and divergences from the norm.
Now, let's talk about why Alice in particular is just so good for the stage! In my life before being a novelist (and after being a champion skier) I produced There's Something About Mary and Wicked – and these projects hammered home the golden rule of visual storytelling: "show don't tell"! This tenant applies to stage just as much as it does to the screen, while presenting a litany of logistical challenges.
A novice might suspect that the constraints of live performance demand monologues that expel unwieldy exposition or internal emotions, but I assure you this is not so. Every participant from the book writer to the director to the production design to the actors themselves need to get creative to convey the most nuanced of themes and feeling.
In the case of this intriguing adaptation Mark Bailey will be providing the set and costume design. A quick peak into his portfolio is enough to get anyone excited. He's done a remarkable job working in theater, opera, musicals, and dance. While his grander musical stages are colorful and befitting of song—I also enjoy his more abstract handling of his dramatic sets. It leaves me very excited for a fresh and modern look at Wonderland.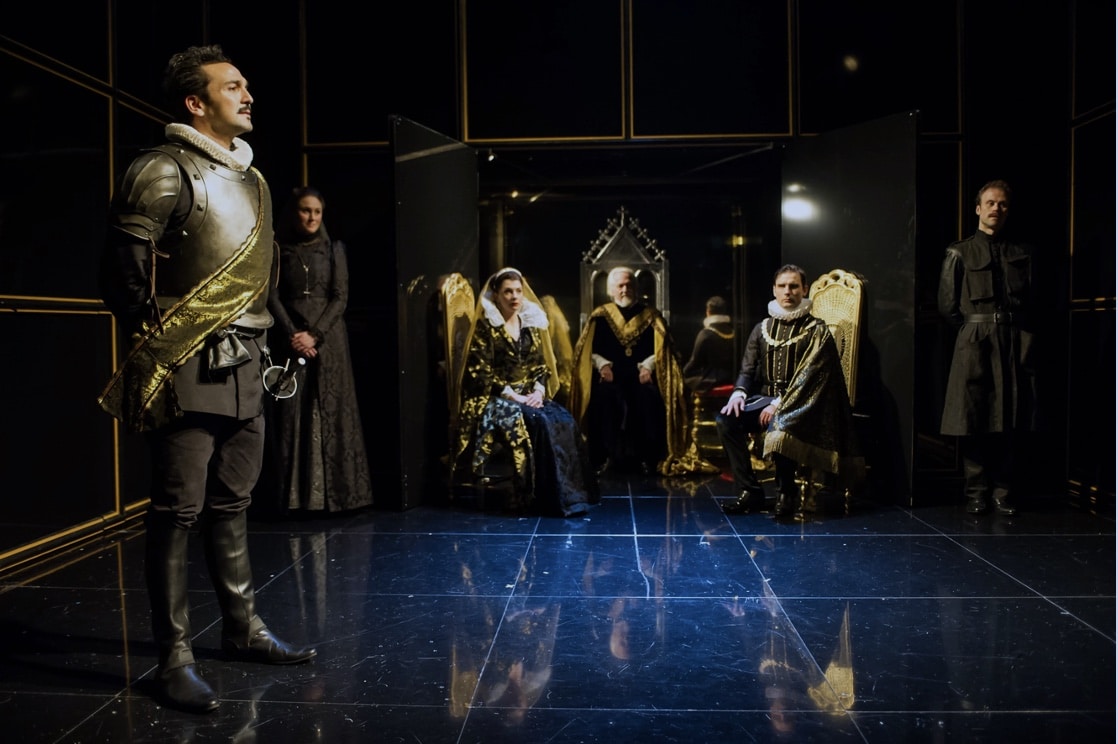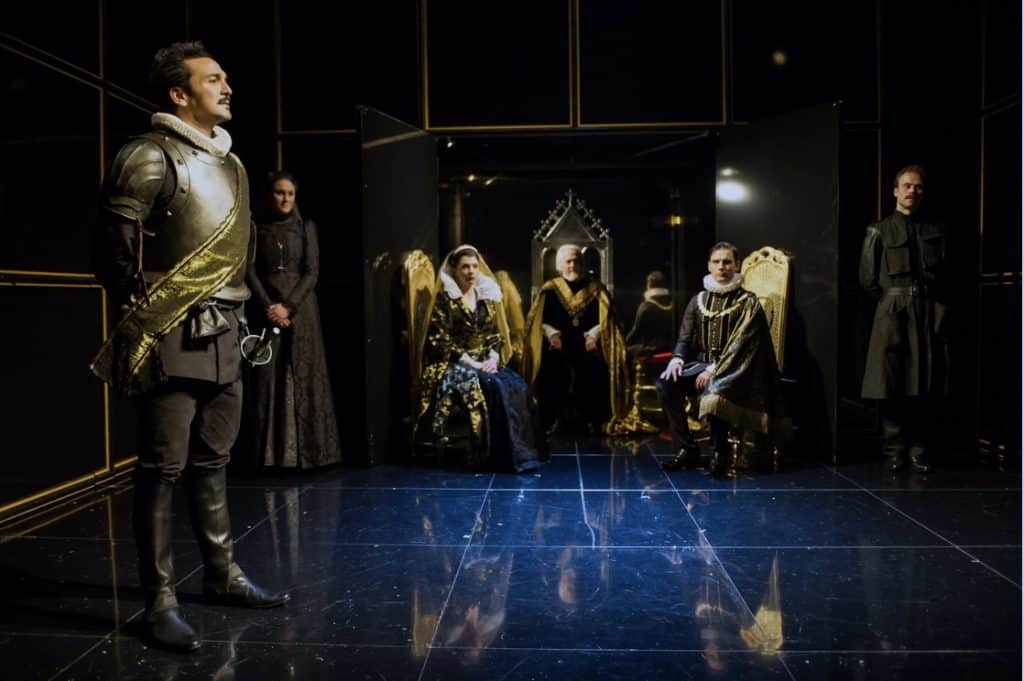 When we think of whimsical Wonderland it immediately explodes in the mind's eye as a visually vivid and fantastical experience. The door is kicked wide open by the nature of Alice in Wonderland for the stage to be transformed into an immersive realm the audience can engage with. Imaginative set design and lighting can be a colorful dive into Lewis Carroll's creation, or a divergence from the tried and true version of the classic story. The same can be said for costuming and characterization.
Of everything I have read about the Liverpool Playhouse's upcoming Alice in Wonderland it's the reinvention of the Queen of Hearts as "The Queen of Charts". It titillates the imagination with modern possibilities—and makes me wonder what has become of my other favorite Carrollian characters.
My questions about and hopes for this adaptation are endless, and so I will content myself to wait for the premiere—I only wish I could be there myself! It would be a great joy to take it in with my own eyes. However, I know it would only spark me to generate more questions. I would need a long interview with the creative minds behind this wonderful creation—and so I do extend to any and all involved with the Liverpool Playhouse's adaptation of Alice in Wonderland an open invitation to join me on my podcast All Things Alice.