As an amateur scholar and die-hard enthusiast of everything to do with Alice in Wonderland, I have launched a Podcast that takes on Alice's everlasting influence on pop culture. As an author that draws on Lewis Carroll's iconic masterpiece for my Looking Glass Wars universe, I'm well acquainted with the process of dipping into Wonderland for inspiration. The journey has brought me into contact with a fantastic community of artists and creators from all walks of life—and this podcast will be the platform where we come together to answer the fascinating question: "What is it about Alice?"
For this week's conversation it is my pleasure to have Chad Evett join me. Read on to explore a sampling of our conversation and check out the series on your favorite podcasting platform to listen to the full interview. For the full transcript with exclusive content, join our private Circle community.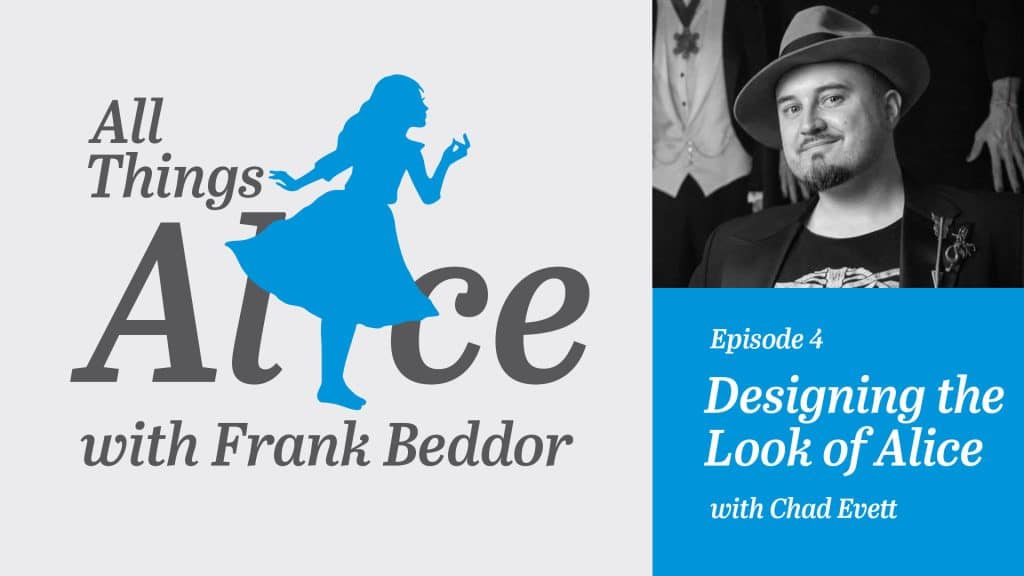 ---
FB:
I remember the stories that you told me and the will that it took to get out here to LA. I deeply admired the fight that you put up to make it and the struggle to find your way to do the work that, as it seemed to me, you felt destined to do. Which is: create amazing costumes and work with super-talented people. That humanity of growth through the fear and the difficulties is somewhat similar to Alice in Wonderland and what Alice goes through. That search for identity. You know, when you're young and you have dreams of what you think you want to be. Then those get stifled, and another door opens up and there's another set of dreams. Then there's obstacles. I thought it was pretty powerful the obstacles you had to overcome.
CE:
Alice is a fascinating piece of literature. For a story that is so straightforward, the amount of analogy you can pull out of it. You mentioned the idea of doors opening and there is a moment in the book where she is literally trapped in a hallway of doors and none of them will open except for this one that she physically cannot get through. Looking at that as a framework, I grew up in an incredibly small town where being a person who is riddled with imagination, you spend a lot of time creating a reality of your own. Which also lends itself to the idea of Alice. As you get older the people around you start to lose their magic. For a lot of grown-ups, they forget. Rohl Dahl has spoken at length about what it is like for most adults to forget what it was like to be a child. For those few of us who retain the magic, that presents a series of challenges of trying to deal with reality.
FB:
That is what Lewis Carroll was writing about too right? There was part of his writing about the idea that adults lose that childhood imagination. That ability to see through a child's eyes. He was making fun of adults so we could look back and see how powerful those childhood eyes can be.
CE:
It's interesting. You look at the way kids behave from the adult perspective, and you think, "Oh they're so small and ridiculous." But children look at grown-ups and think, "Oh, they're so big and ridiculous." It's latching onto a piece of that insanity and finding a way to harness yourself to it and then make it work.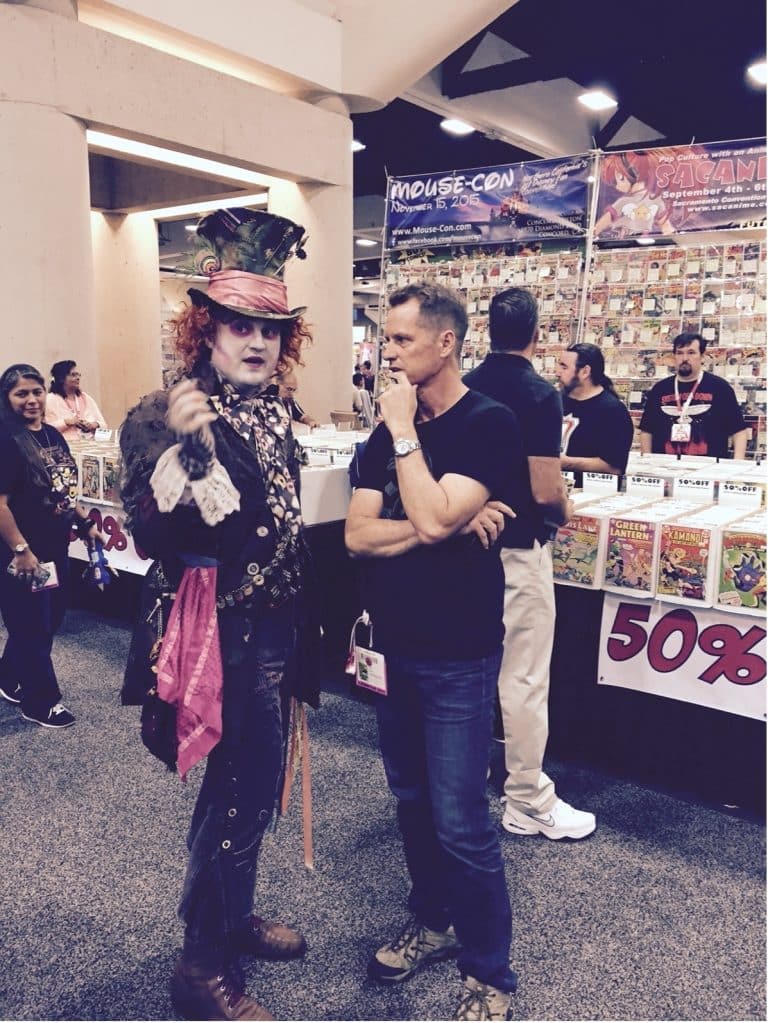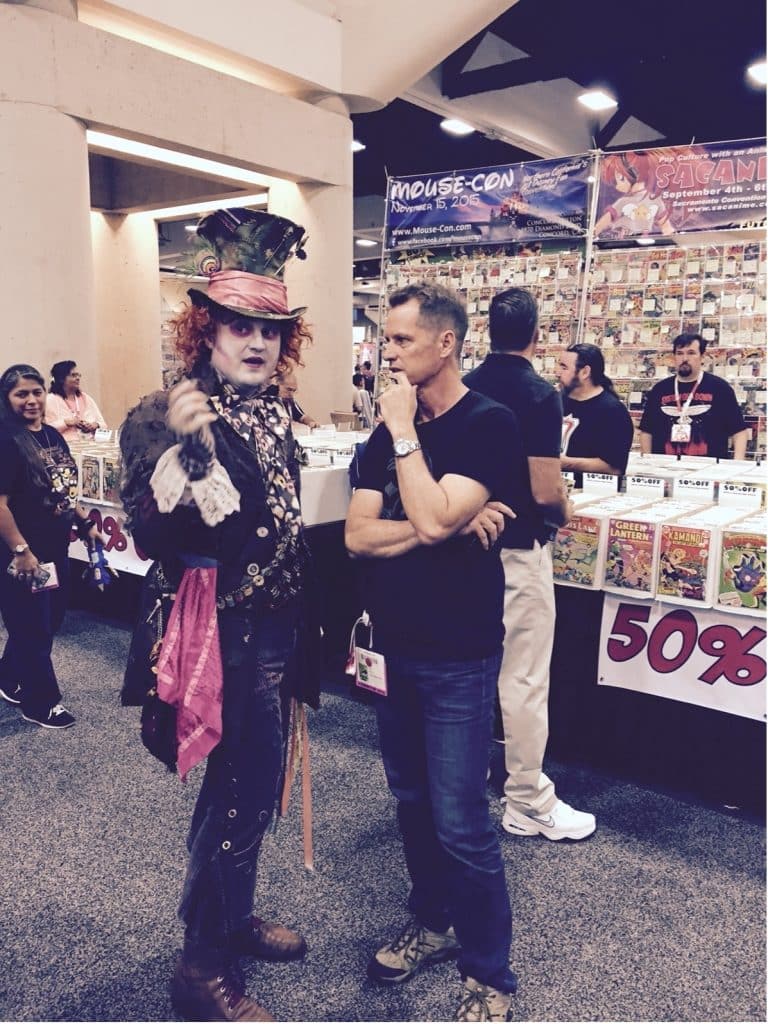 FB:
Let's talk about working together. We did a lot of fun things. I mean you are an expert promoter, by the way. It wasn't just the costumes. It's like, "Okay, how are we going to promote stuff?" And you dressed up as Johnny Depp's Mad Hatter and took my books and wrapped them in these beautiful presentations and you went to Comic-Con and books stores and gave them to the buyers in hopes that they would buy the books and sell the books. You're so brave about going right out into public. I mean Comic-Con is one thing where everyone else is dressing up in cosplay. But you go and cosplay in the middle of the afternoon. It's like, "Man this guy's ballsy."
CE:
Well, it's weird, we're in the middle of entertainment central and then you do something entertaining, and people clutch their pearls. They're confused and they don't know what's going on. We live in the land where movies are made and I go out in a costume and people are like, "Oh are you in a play?" Not once have I ever gotten, "Oh, are you on set, did you sneak away, are you on break?" No, the idea of that is such a novelty and it's so foreign. At the end of the day, I've been cursed my entire existence with being surrounded by people, who in my opinion, don't do things big enough. One of my favorite quotes is, "Reasonable people are not the ones that change the world." You only change the world by being unreasonable. Because if you're reasonable you're going to deal with what is going on but if you're unreasonable you're going to want to change it.
FB:
We had that amazing connection through Alice and then the idea of creativity and wanting to escape. I was in a small town as well. It didn't seem like I could do the things that I wanted to do. I couldn't create. I needed a bigger canvas, it felt so stifling. I think I saw that in you as well.
CE:
There's this notion in part of the book of taking a minimal space but making it feel bigger. By extension, how could we take these big ideas, make them smaller but keep the idea of the size. That was where you mentioned me taking your books around and creating presentations. I thought about this idea of cross-world promotion. Between Wonderland and our world. If you were to send something from Wonderland here. Through the Crystal Continuum. What would it look like when it got spat out the other end? For those of you listening. We made these wooden crates that were packed full of straw and bits of paper. The books were packed into them, but they weren't just books. There were bottles of caterpillar silk and bits of—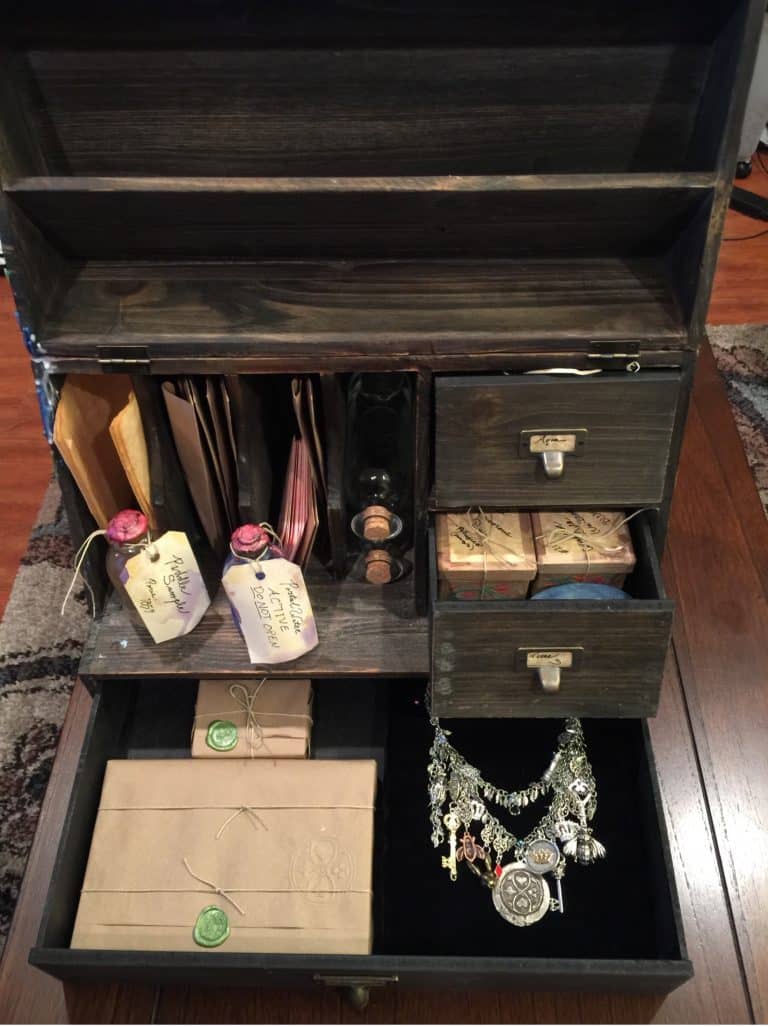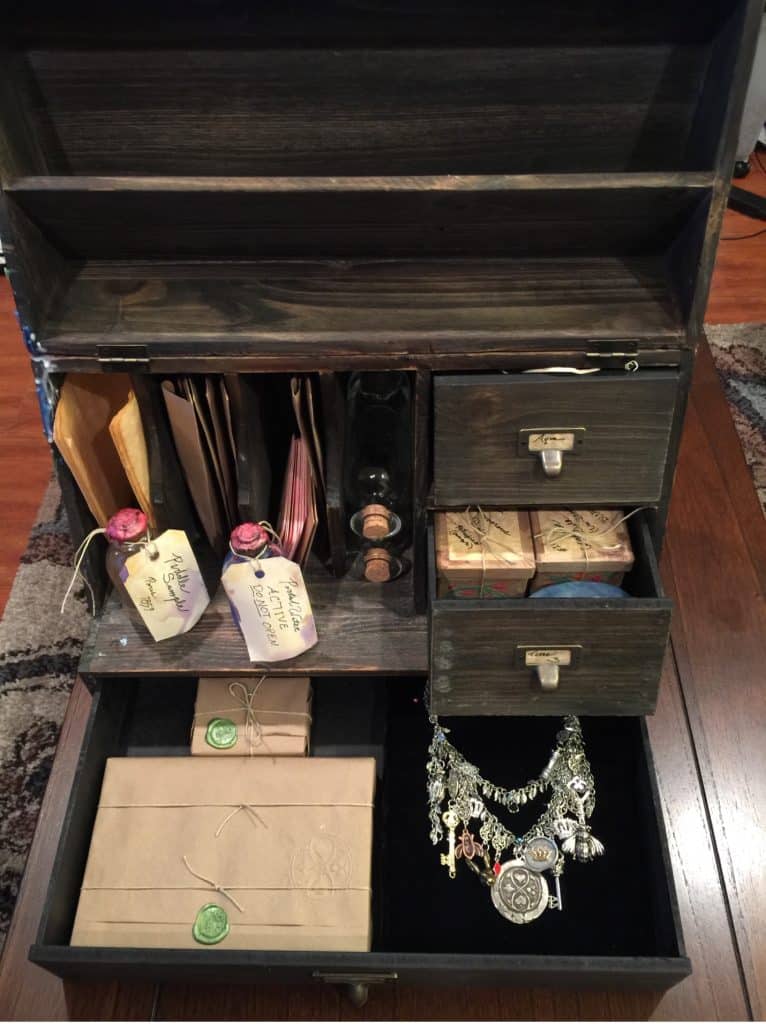 FB:
There was the "Drink Me" the blue and the red.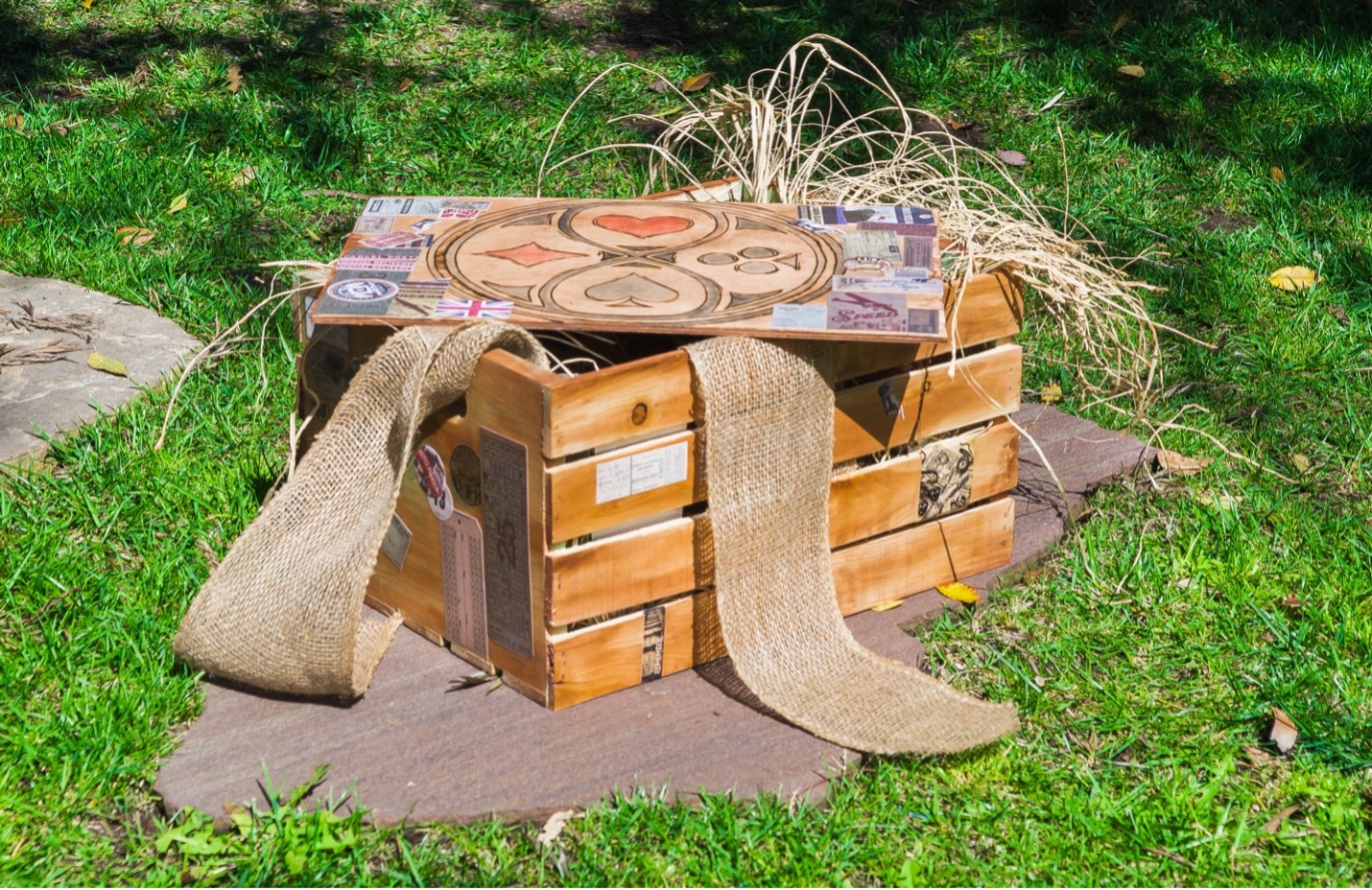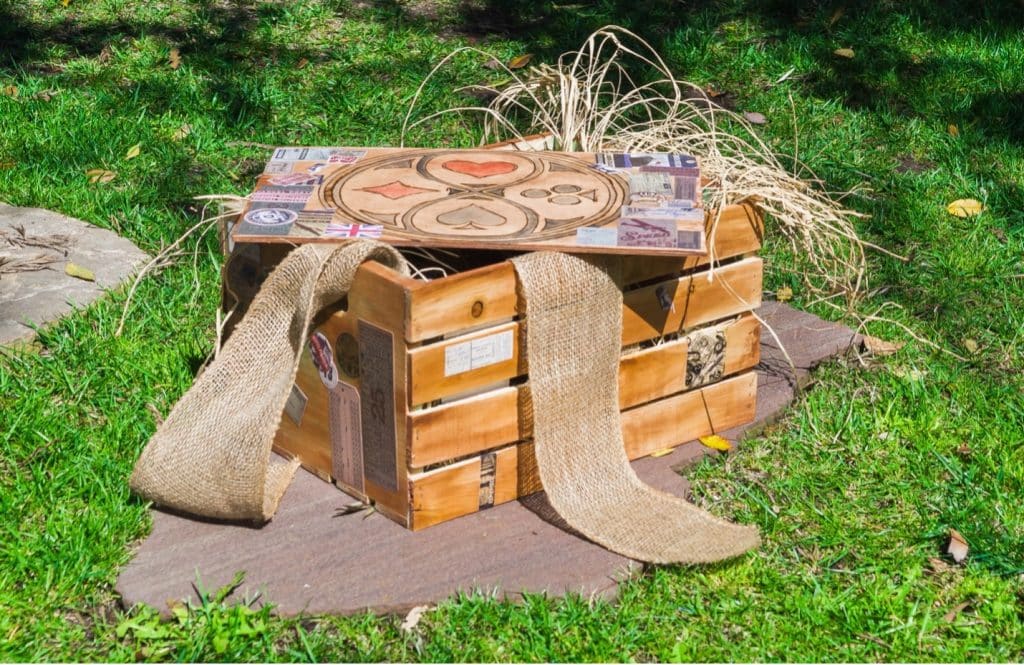 CE:
There were Queen Redd's roses. Sewing kits, we did sewing kits from the Millinery. We did Victorian sewing kits. Then we nailed them shut with coffin nails. At the time, Loot Crate was really big. I went to Loot Crate dressed as the Hatter and I walked in like I owned the place. Carrying this wooden crate that had been antiqued and beaten up and it was covered in travel stickers. All of the travel stickers were locations that were relevant to Hatter Madigan's journey throughout his story, Alice's story, places in London. Stuff like that. I handed it to the head of Loot Crate, and he looked at it and he spent forty minutes trying to find a hammer so he could get it open. By making it difficult for them, by making them go out of their way, it sticks in the memory. It's not just, "Oh I got a bag full of stuff." And it gets put into the corner and forgotten, like so many Comic-Con promotions. No, it's a legit wooden crate. For two or three years after that, whenever he would post a selfie in his office the crate was always in the background. It was there, he stuck it in his office, and it stayed there. People don't do stuff like that, and I don't understand why. It's just so fun.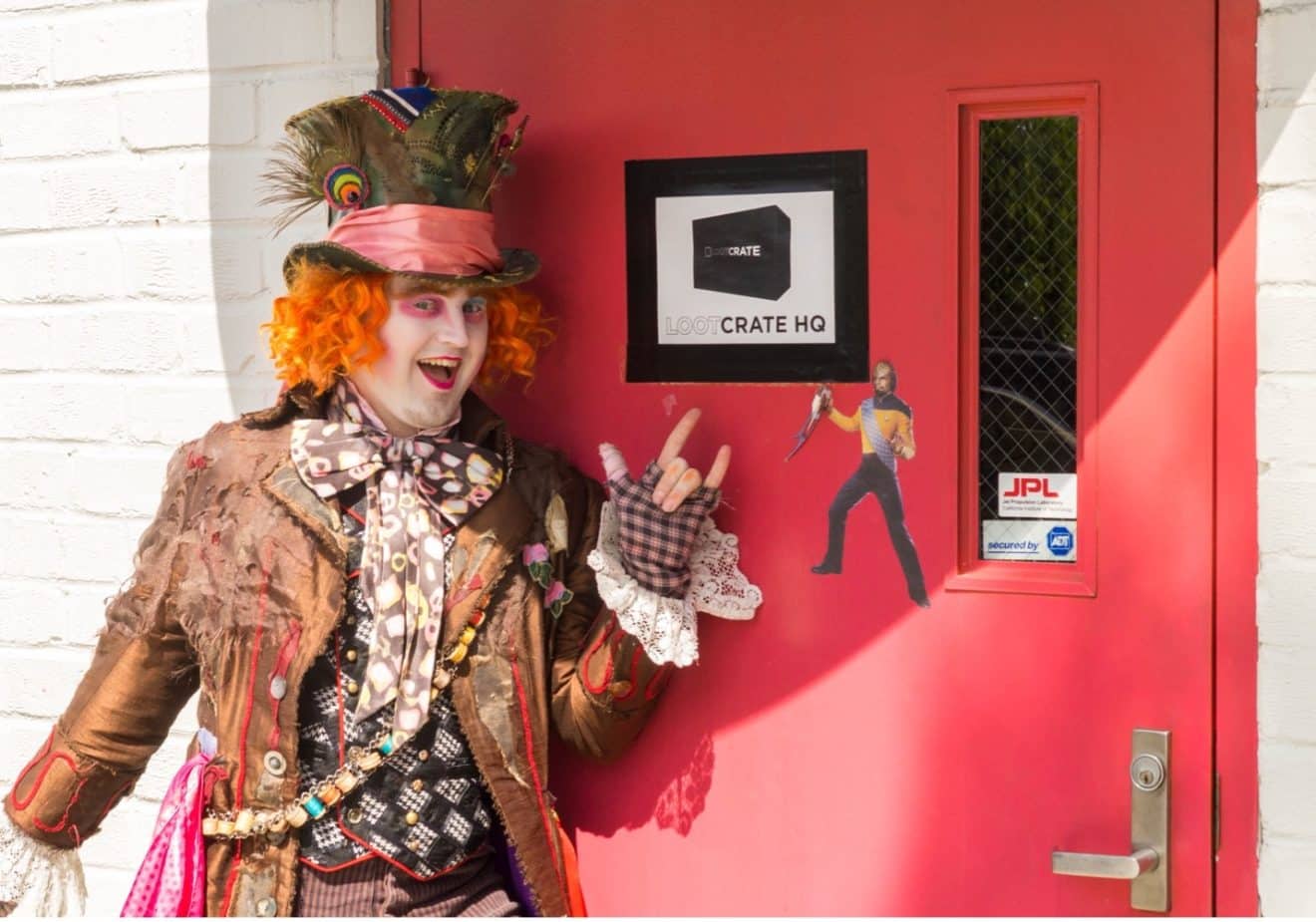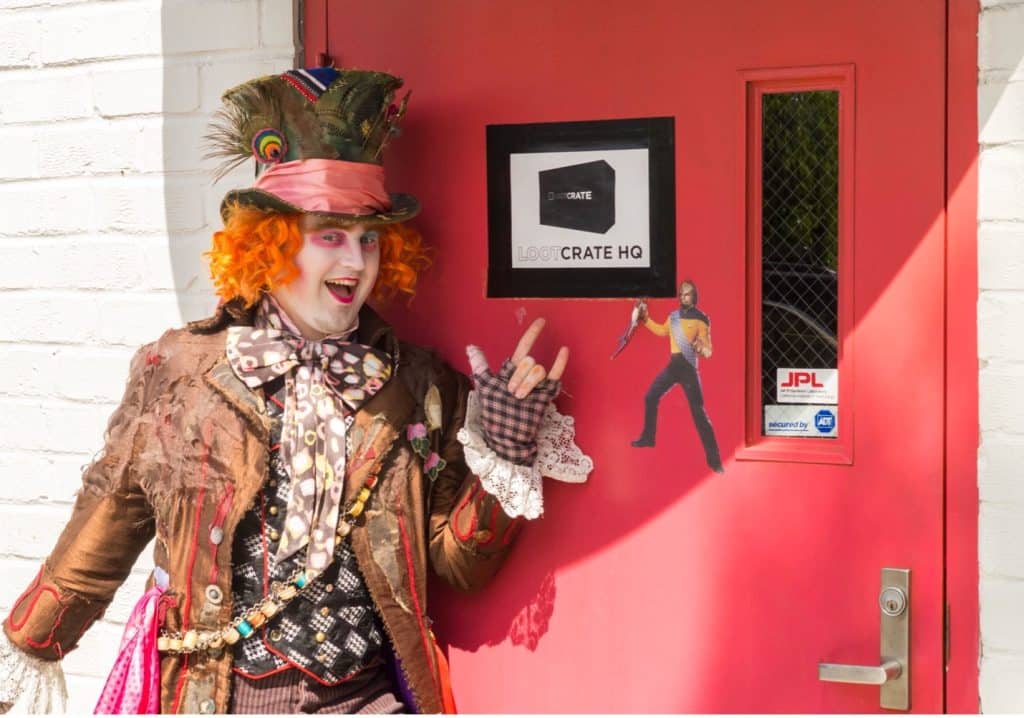 FB:
It's so thematic. As you were saying, we were trying to make the connection from The Looking Glass Wars where there are two worlds that you can go back and forth. That this came as a gift to our world, and you were gifting it and you were the messenger. You also did, when we were promoting, Hatter Madigan: Ghost in the Hat Box. You created those hat boxes where you tied a ribbon and when you took off the top, the book was pulled out of that.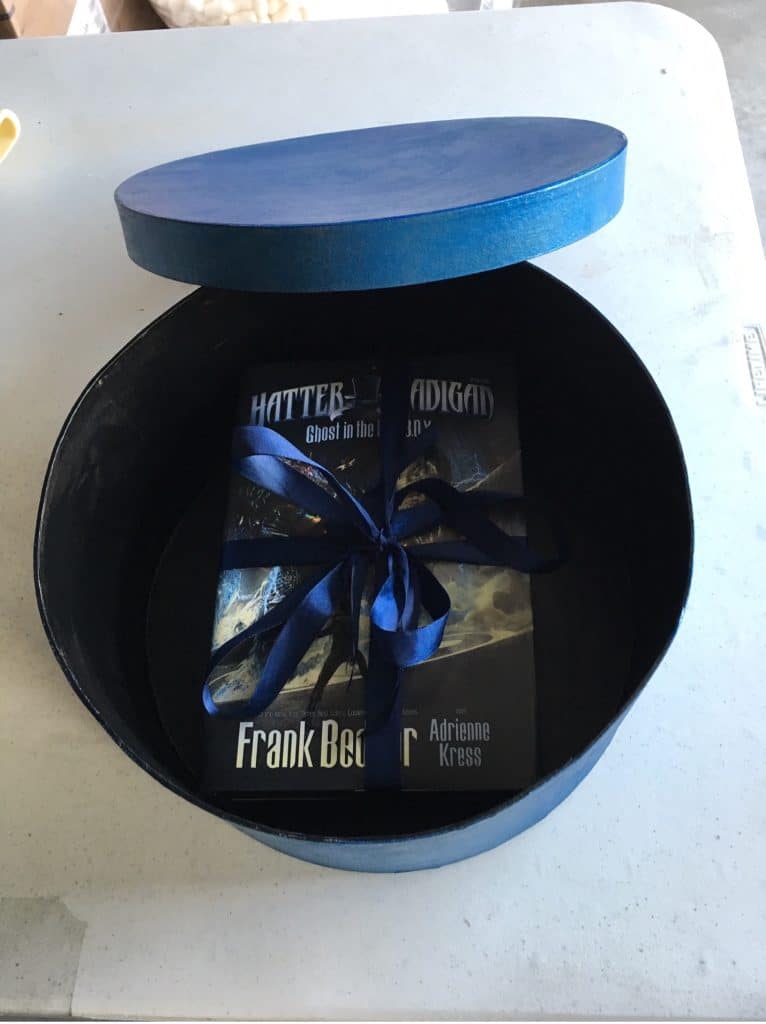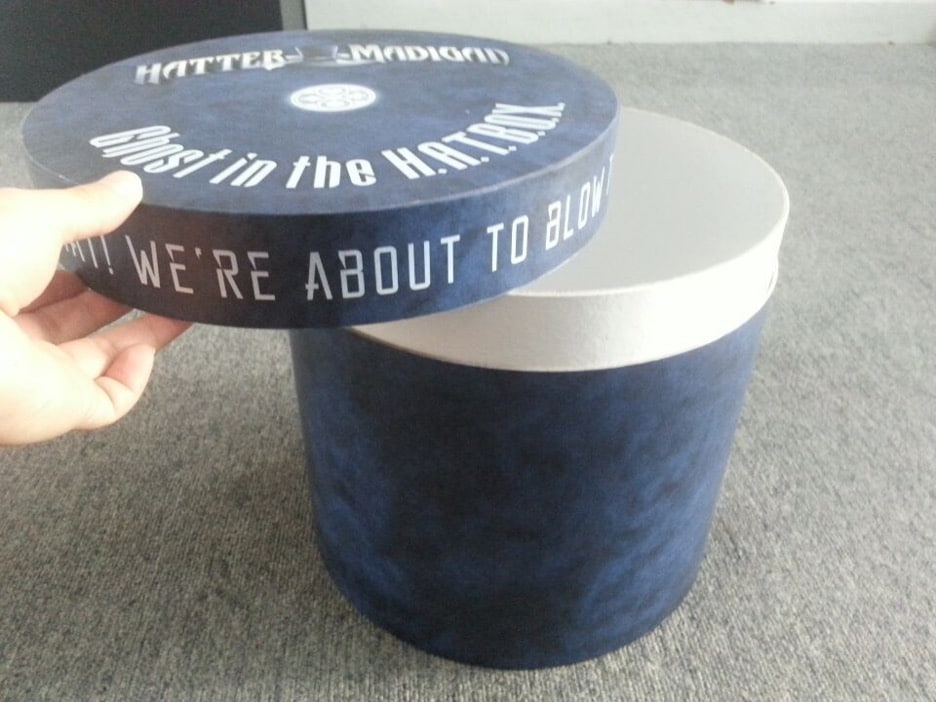 CE:
I forgot about that! It was inspired by a Chinese puzzle box. When you open the hatbox, and you lifted the provided handle it lifted the book up. If you left it in the box, they're not going to be inspired to pull it out and look at it. It will get put somewhere. I thought, "I'll be damned if they're not going to see this entire book." Not only that but the cover. The cover of Ghost in the Hat Box, with young Hatter, fighting the big Jabberwock and it's all fractal-ey and pixelated. It's such a beautiful image. It's so beautiful.
FB:
Yeah! Let's not forget the most popular character in my book. The Mad Hatter as Hatter Madigan. You took good care of him. Because the coat that you put together, it's just amazing. Then the hat. You found a guy who could actually create the blades. It was real. The blades would come out, the hat would collapse. That became an amazing prop.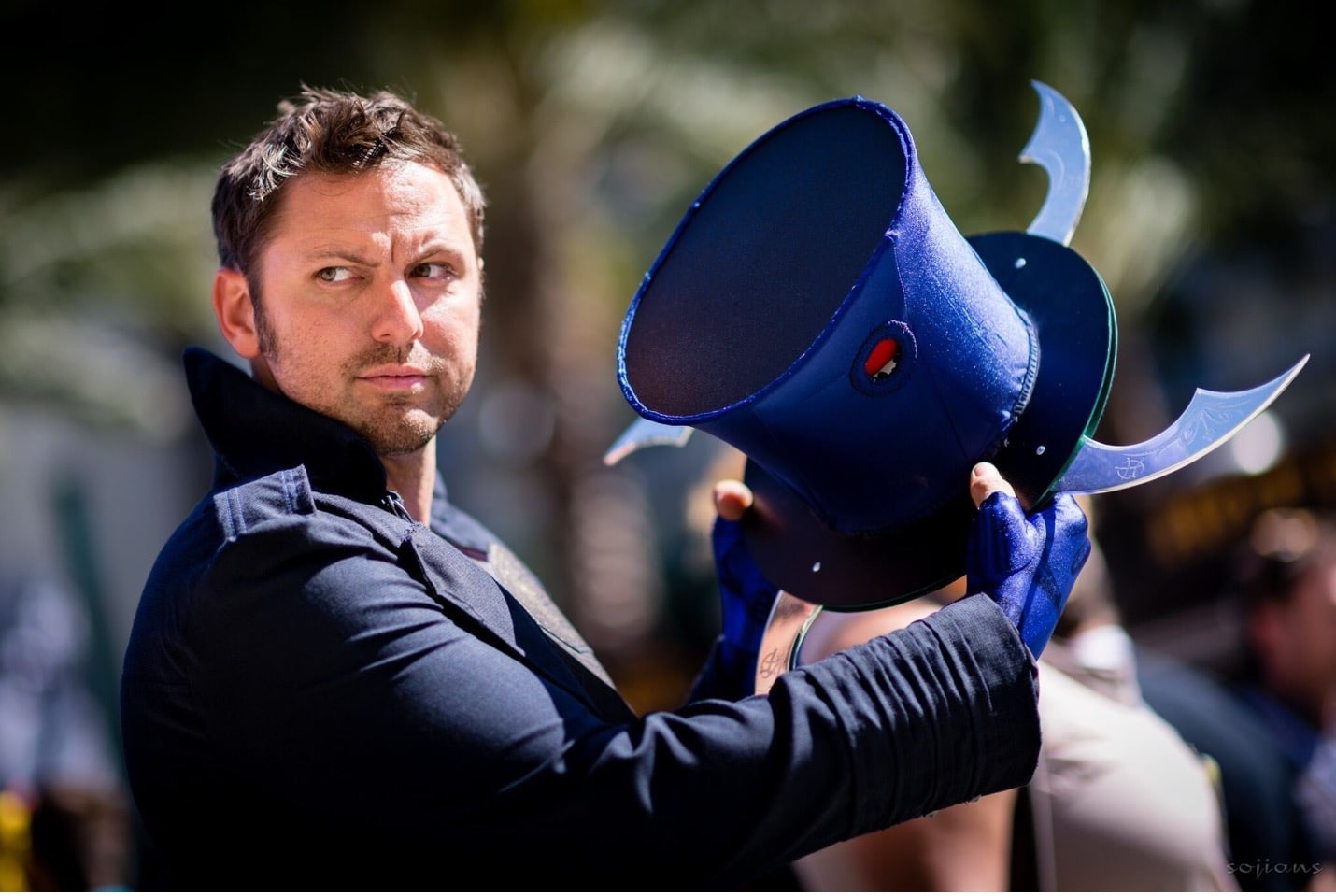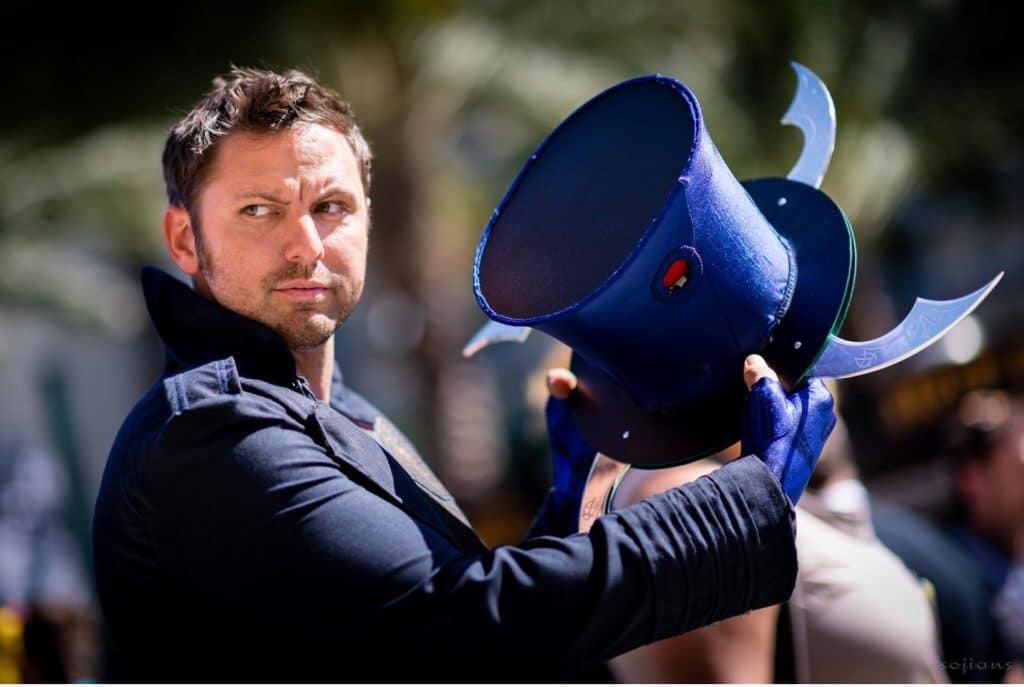 CE:
You presented me with that beautiful piece of concept art of Hatter on the streets of New York and it's windswept and he's mid hat throw. Translating that into a real costume was extremely difficult because a lot of times when concept designers they're not creating it thinking, "This is wool, this is silk, this is polyester." They're not thinking in those terms. They are thinking of what suits the character. Which is exactly how costume designers think. Looking at that image and thinking, "How am I going to do this?" I remember the waistcoat, his vest, had this beautiful, really intricate pattern on it. I remember thinking, "How am I going to execute that?" The way that I did it, is that I took sheets of red faux leather that had a Victorian wallpaper design in it. Then I hand etched it with a wood burner. Then I backed it with a layer of satin. Then his coat had metal fittings and it had all this water damage. This whole thing was made to be somewhat to be permanently wrinkled. Because he's always jumping in and out of puddles. The idea of him having residual water damage was really important.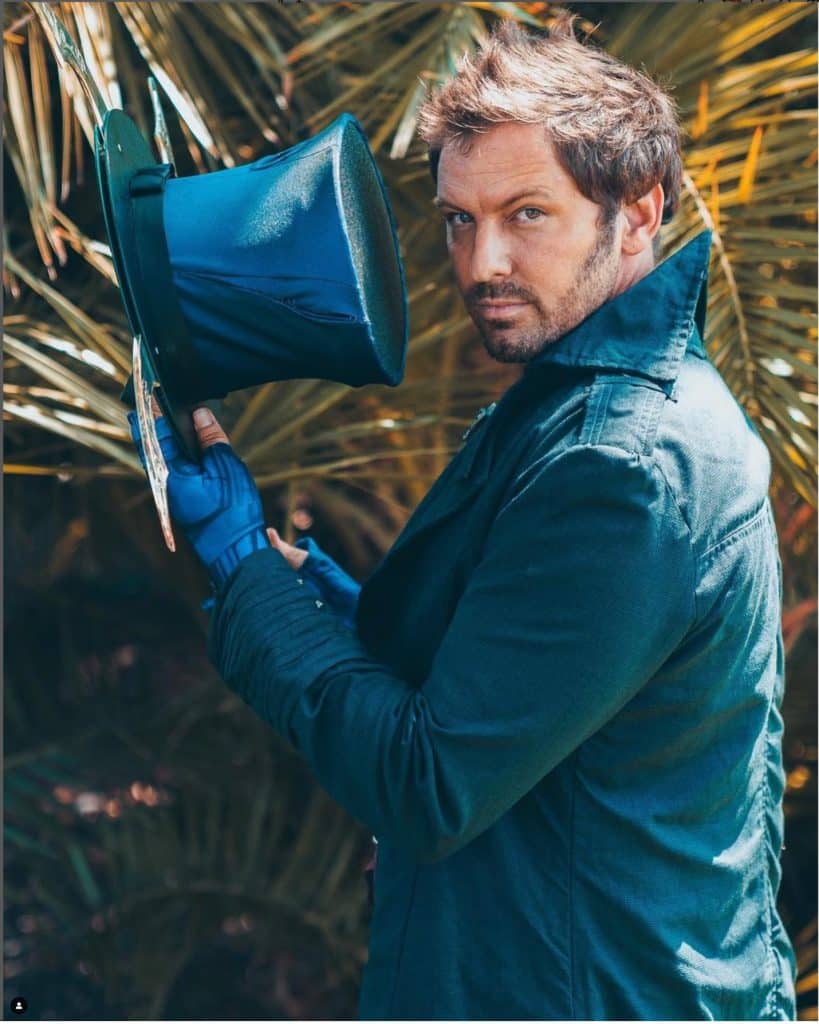 CE:
Then that hat, the person who made that hat, an associate of mine by the name of Igor Pinsky. Who is the probably the most brilliant prop maker I have ever met, apart from Adam Savage. I called him up and I said, "I need a top hat that can collapse, and I need blades to come out of the brim so that it can be thrown as a weapon." And there was a pause on the other end of the line, and he just goes, "Uh huh." And he goes, "How soon do you need this?" And I believe that was January and I said, "We just need it by the summer for Comic-Con if we can figure that out." And I don't know how he did it. He found an antique collapsible top hat. There was a period in time where you couldn't wear a top hat at the opera. So, they made them collapsible, you would collapse then you'd slide it into a shelf under your seat. He found one that was in terrible condition, but the mechanics were intact. He took that and he devised this gear system where there's this little tiny dial on the side of the brim and you slide it with your thumb and four blades that were chromed. These chromed plastic blades would slide out. When he and I were talking about what it needed to be.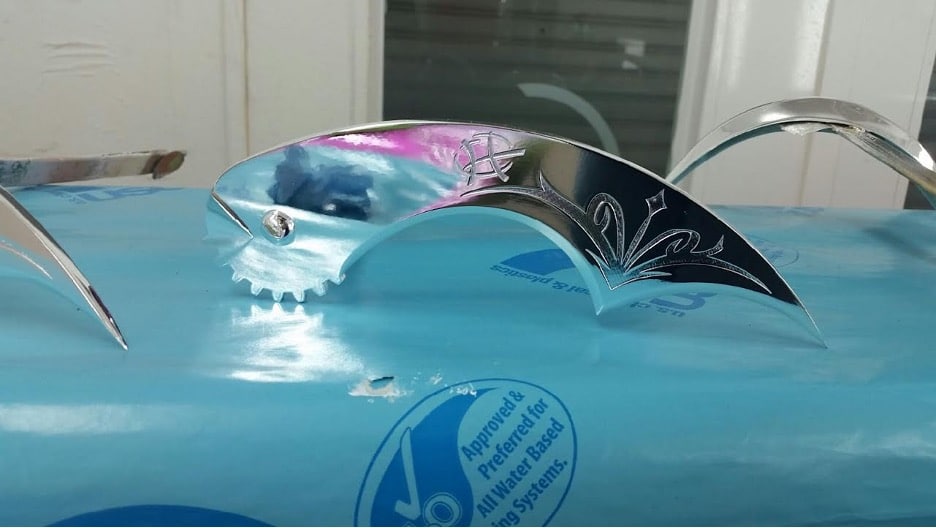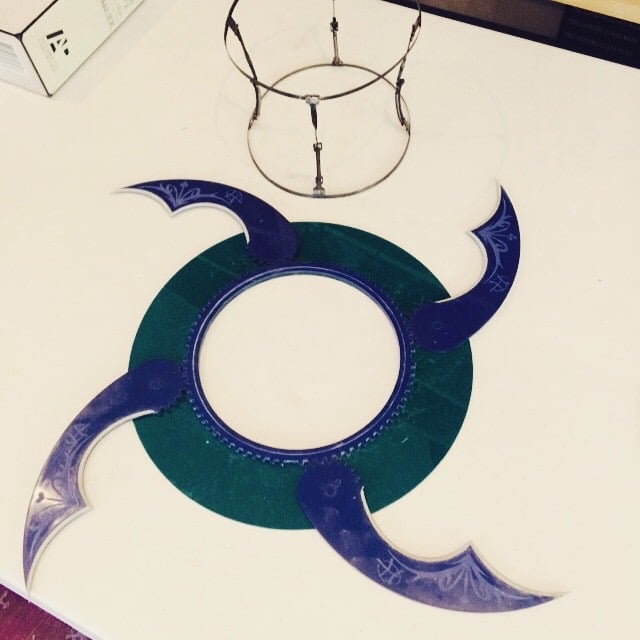 CE:
I think Hatter really needs to embody all of the suits of a card deck. So, diamonds and hearts and clubs and whatnot are intrinsically woven into every element of Hatter Madigan's costume. His boots, his big boot covers have hearts and clubs and diamonds and spades in them. His wrist guard with the blade that comes out. It has functioning gears on it, but the gears are part of clubs and things like that. Then the hat blades had the same thing. The idea that the Millenary creates bodyguards and assassins for the royal families of Wonderland. All of them were reflected in that design. I don't know how he did it. His brain works on a frequency that if you were to listen to it, I'm sure would sound like old-school dial-up. Even though he has a voracious intellect. Just brilliant, absolutely brilliant. One of the top three scariest men currently living. He built that hat, and I will never forget when I brought it to you. I said, "Okay Frank look at this." And I collapsed it and the blades popped out and you just stared at it. It was as if this thing you had created in a book that you never thought you would see in real life had somehow broken through the veil and was now in front of you.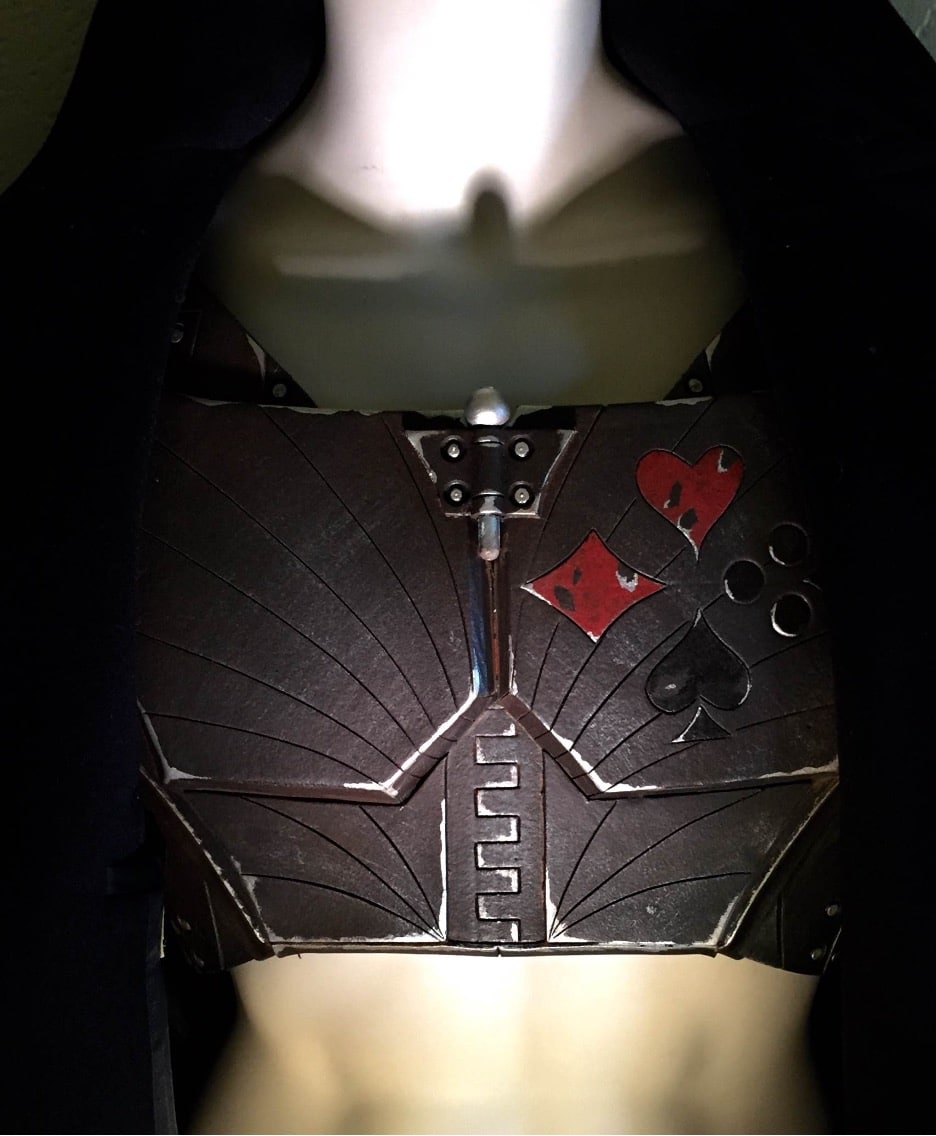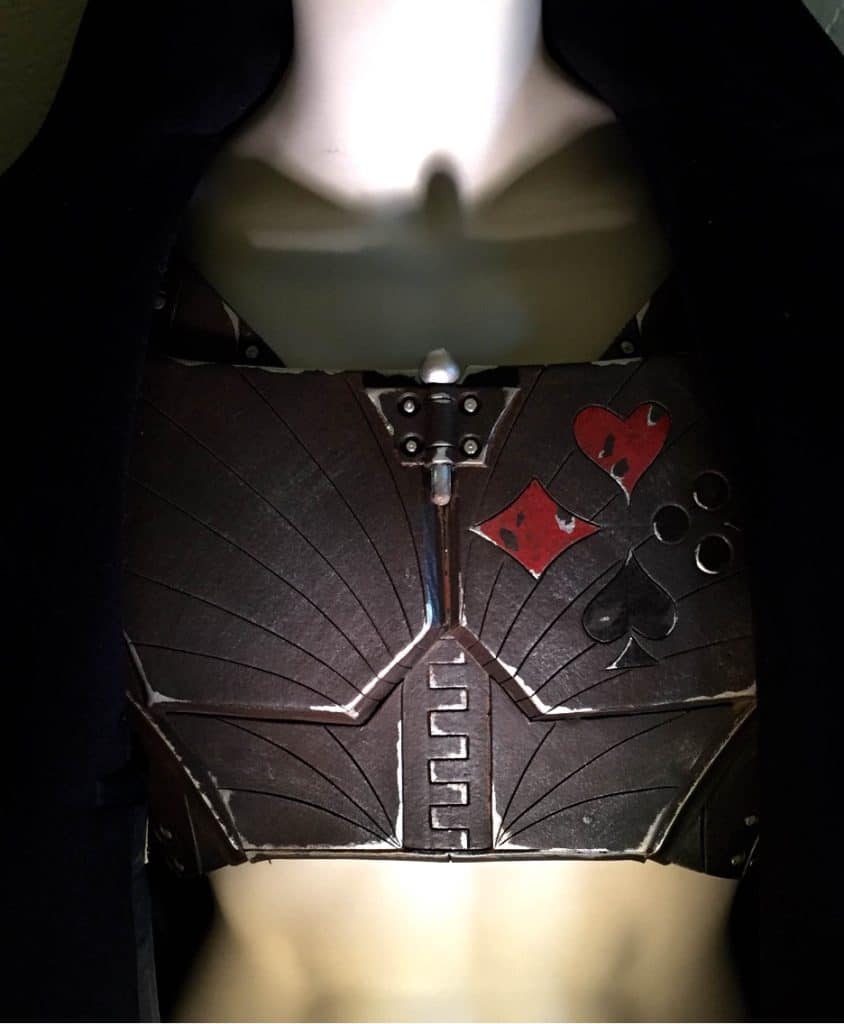 FB:
It was a spectacular moment.
CE:
So beautiful. On The View, when Brandon, the actor who portrayed Hatter, deployed the hat on camera– it just chef's kiss.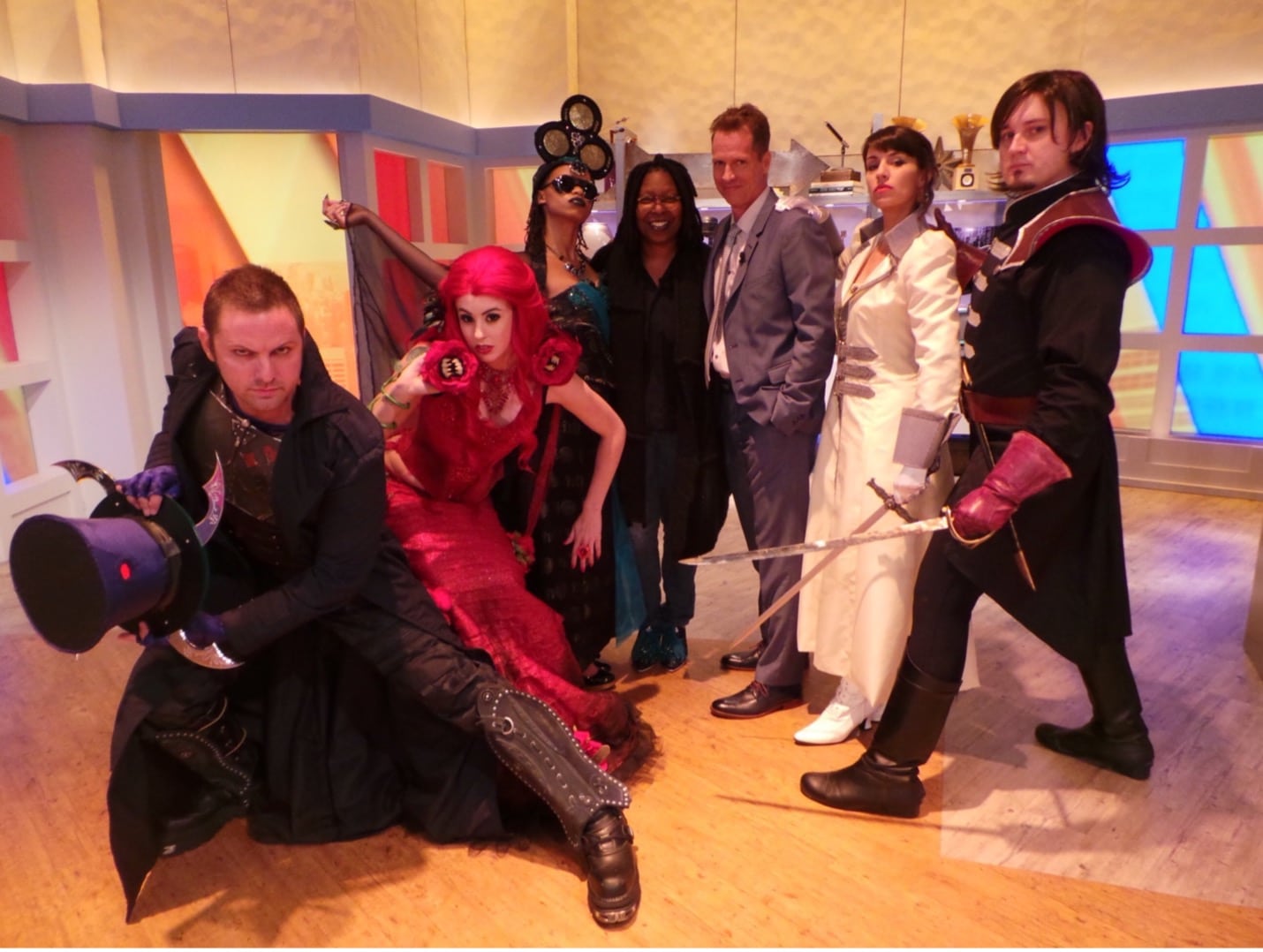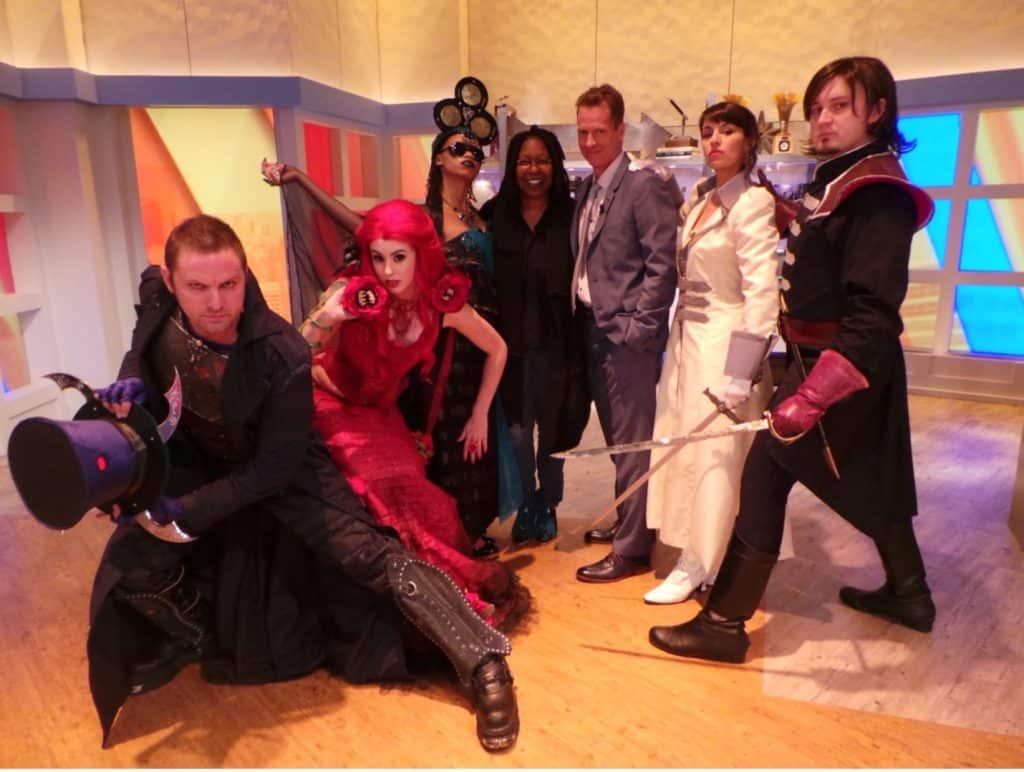 FB:
He did a fantastic job. As he moved towards the audience, kind of towards camera, and the hat opens up, that was very dramatic. We shared that experience with The View and Whoopi Goldberg. She is a big Alice in Wonderland fan. She loves all things Alice, and I did this, as you might remember, this Kickstarter campaign, and one of the things you could purchase for $500 is you could become a character in the book. Your likeness. She bought it for $500 but she used her real name which is Karen Johnson. So, I had no idea who it was. I kept saying, "Hey Karen, can you send me a picture? I can't draw something without a picture." Finally, she sent the picture. I go, "Wait a minute, you're Whoopi Goldberg?" She goes, "I'm a huge fan of yours." Then in New York Comic-Con, I was meant to go meet her and we organized it, and a friend was filming it before I showed up and she goes, "I'm so nervous, I'm so nervous I might break out in tears." And I'm walking up going, "What? What is Whoopi? Is she talking about me?" And sure enough, we hugged, we kibbutz, and we had fun. Then off camera, she said, "Hey, what do you need? I want to do something with you. Maybe we do like an animated film, or we could do something? And I said, "How about I come on your show?" And she was like," Oh yeah, I can definitely do that." And I knew she was a big fan of cosplay. For the listeners to know, she became a character. The Queen of Clubs in the book. Then she invited me to come onto The View. To promote the young Hatter book series. Which was Ghost in the Hatbox. To reveal the cover art but then the secret weapon was you guys. To bring the characters to life and I made a joke about that on the show about, "when you write something for twenty years, they follow you around. But I remembered, it was so much fun. Your enthusiasm and excitement, then what you built for her. How you built that costume, so she had the representation of the Queen of Clubs. Then you built those shoes. Then you wrote her a letter, which I have somewhere. And it goes on and on and on.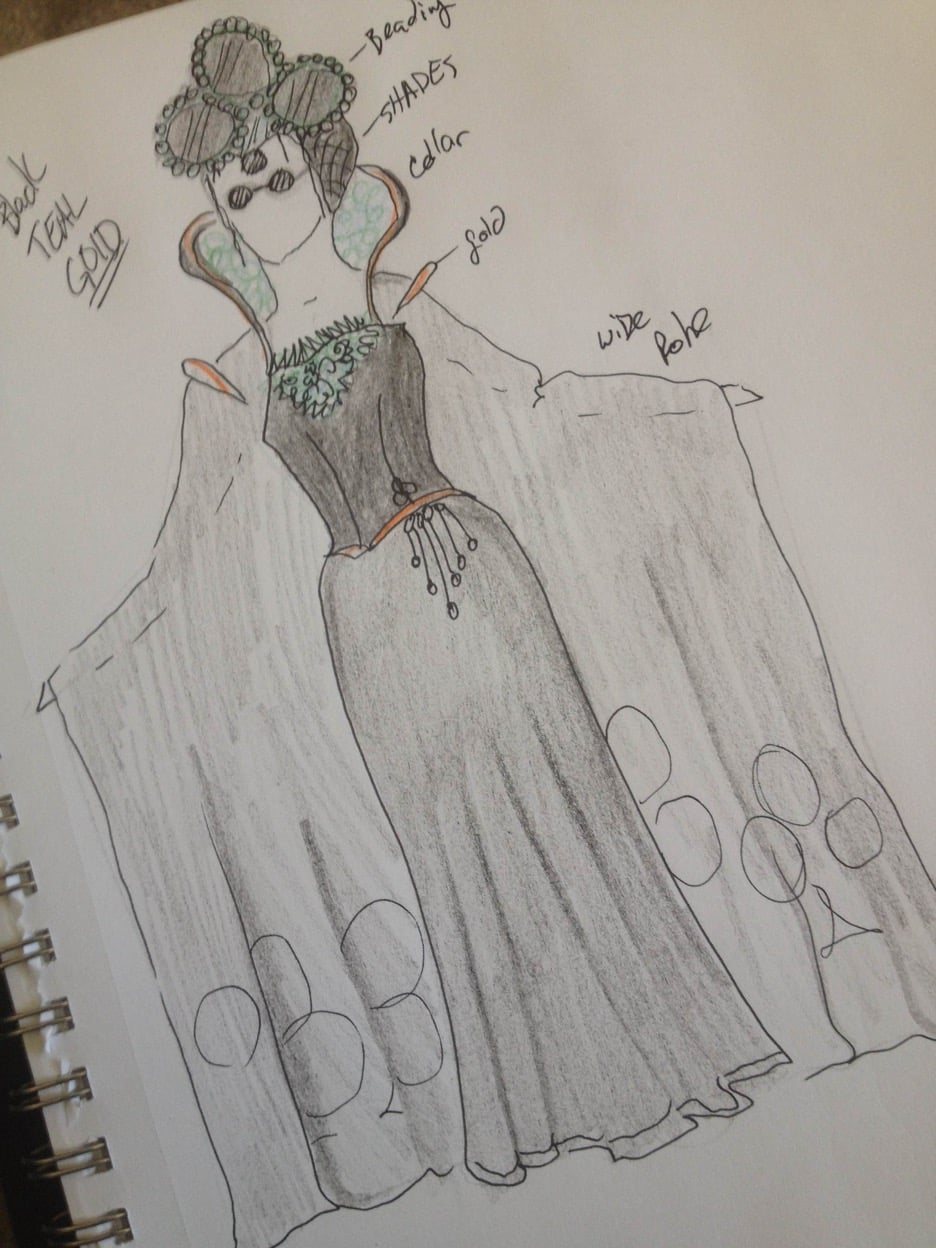 CE:
I'm not surprised in the slightest that that is what she said to you when she met you because she did the same thing to me when we were backstage. When we were backstage after filming, and you introduced us. She looked at me and said, "You made all of these?" I said, "Yeah, I did all of this." She took my hand and she said, "I will wear anything you send me because we need to make you a designer." And I thought well that's just the greatest thing ever. Her entire persona and aura is one of giving and one of reciprocity. For her to play the Queen of Clubs and embody the idea of a person working toward the greater good and working with certain great thinkers and stuff like that. It's totally on-brand for Whoopi. When she looks at you over the top of her glasses, you know you're seen. I love Whoopi she's such a delight.
FB:
She had the shoes on, you made those shoes for her. That was a highlight.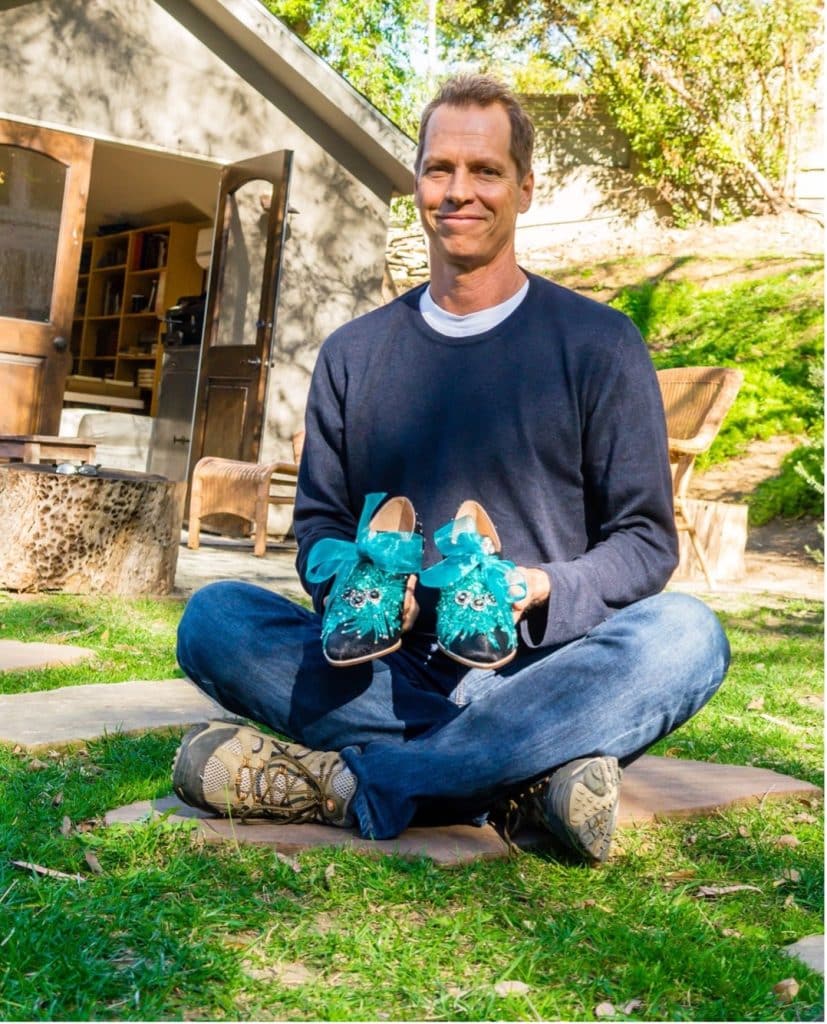 CE:
Those shoes were made by American Duchess. They were a black French court shoes that I then put embroidery and crystals and beadwork. I went out and found club-shaped silver cabochons and put them all together and blinged them up. I specifically went with American Duchess because they have a last of her foot. Because they have made her shoes before. So, by working with them, I was able to skip a lot of difficult steps because I knew the shoes would fit, I knew they were comfortable, I knew she liked them. That was why I went in that direction. Her shoe collection is nuts. I remember being in the office for a couple months after we sent her the shoes and every day, Lucas and I would put on The View. And we were like, "Is he wearing the shoes today? Is she wearing the shoes today? Is she wearing the shoes today?" I will never forget the first time she wore them. She walked out and there was a quick shot of them, and I completely lost my mind.
FB:
That's a really great example of your dedication, which leads into one of the reasons that I thought, well actually I knew, you would do a great job on Redd's costume. Because it's complicated. It's based on a piece of concept art, which is there behind you. With the flesh-eating roses. It needed to feel organic from nature, but it had to be wearable. You came up with a beautiful costume and the color shimmered. Those different reds depending on the lighting. It worked across all sorts of different environments. The person that you found to wear it she just had that, what was her name?
CE:
Sonya, Sonya Wheeler.
FB:
She was so great. The way her body moved when she was walking through Comic-Con in that dress. She owned it but I think she owned it and I think that I loved it so much was because it was spot-on, perfect image. What you pulled it from, Vance Kovacs was the concept artist and then I used that for my cover art for Seeing Redd. So, it was really important that you hit it out of the park, and you certainly did.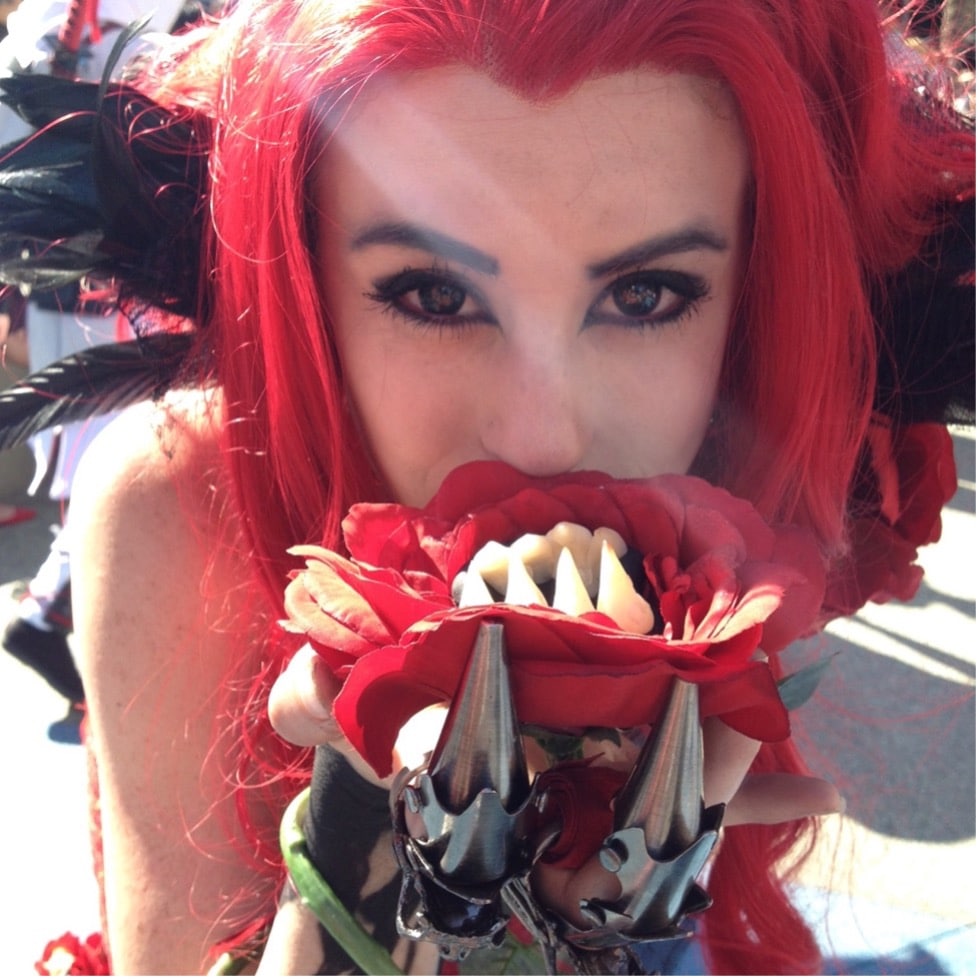 CE:
The interesting thing about Redd's outfit. When you look at the way she is in the book and when you look at the concept art, it's organic. The dress needed to feel dangerous, it needed to be beautiful, it had to move a certain way. The one that I built for you I based very loosely off of an Alexander McQueen dress that was featured in a book called Savage Beauty. The reason why I went that direction was because, give me two words that describe Redd better than savage beauty. I don't think there are any. The dress was done in layers and layers and layers of this crepe net lamé. That was veiny and it was mossy. Stringing it together in a way where it didn't look worn. Building the clusters of the roses and all the roses on it were silk. Their teeth were glow-in-the-dark Sculpey. Should she ever go near a backlight they would glow dangerously. It was very much in the idea of it being a beautiful prototype. Ideally what I would love to do, and I daydream about this, is I would love to build an animatronic variant where the roses open and close.
FB:
It was really remarkable. Also, she spray-painted part of the costume, right? We had the two versions. And you did both versions. One was "PG13" and one was "R".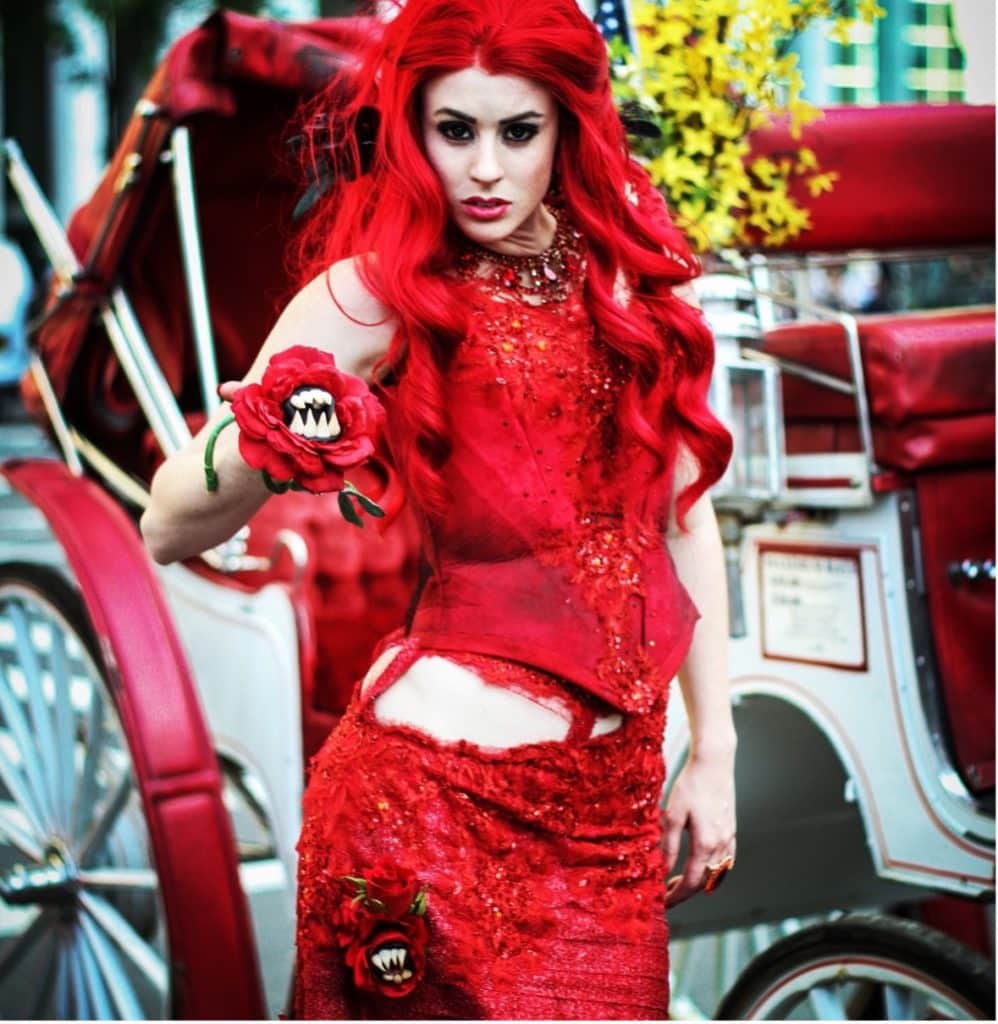 CE:
One was PG13 and one was R. So, the PG13 one was a leather bustier top that was very low cut. That thing was covered in jeweled rose appliques. I took a rasp and I kind of shredded them and worked them back over themselves so that her bodice felt like an overgrown garden. It kind of lent itself. The skirt has openings, it's kind of asymmetrical at the top and we tried to make the bodice fit into that. That thing is like a piece of armor, you can put it down and it will stand up. It's rigid it's full of boning. The R version, which was the one that Sonya really pushed to do, she really wanted to do it. We makeup-ed pasties basically, we put these silicone covers onto her bosom that negated definition and then airbrushed the entire costume onto her. So, the red of the gown hit her waist then it turned into this black scaly texture that went up her torso and kind of ended around the top of her body. She looked like a malevolent chess piece. She didn't walk through Comic-Con, she slithered.
FB:
That was my favorite image that Vance did, the "R version" so to speak, and the publisher nixed it. They said it was too provocative. In the image, let alone what Sonya looked like.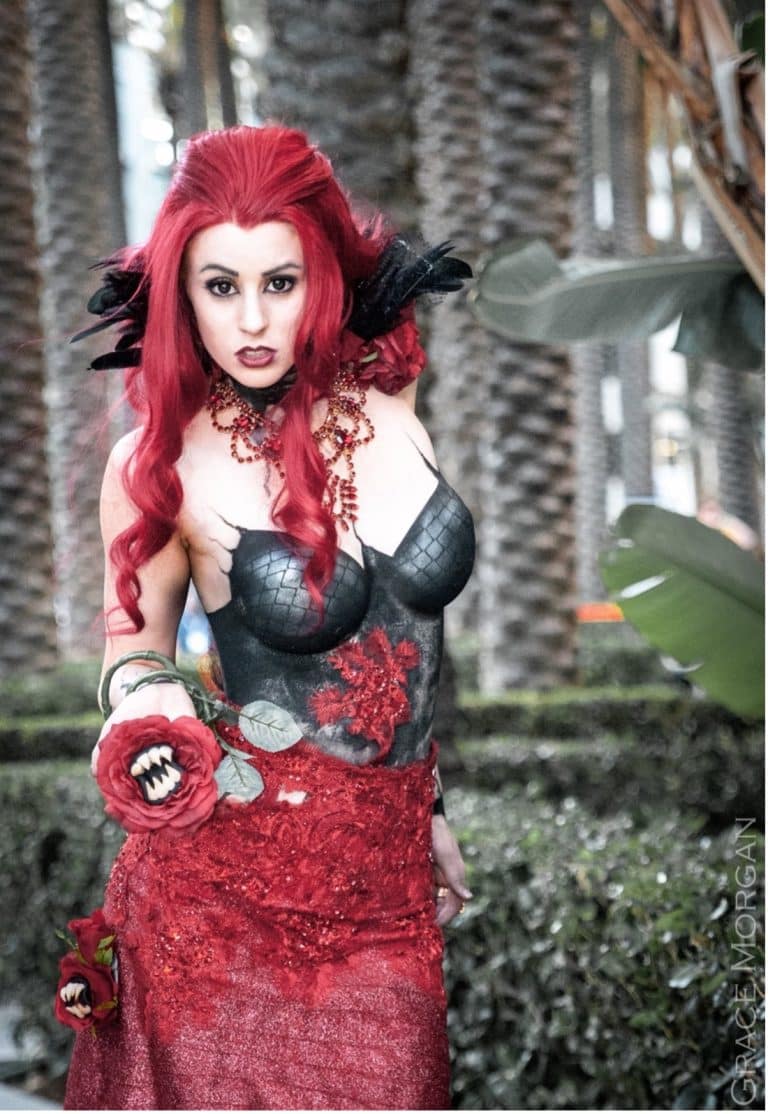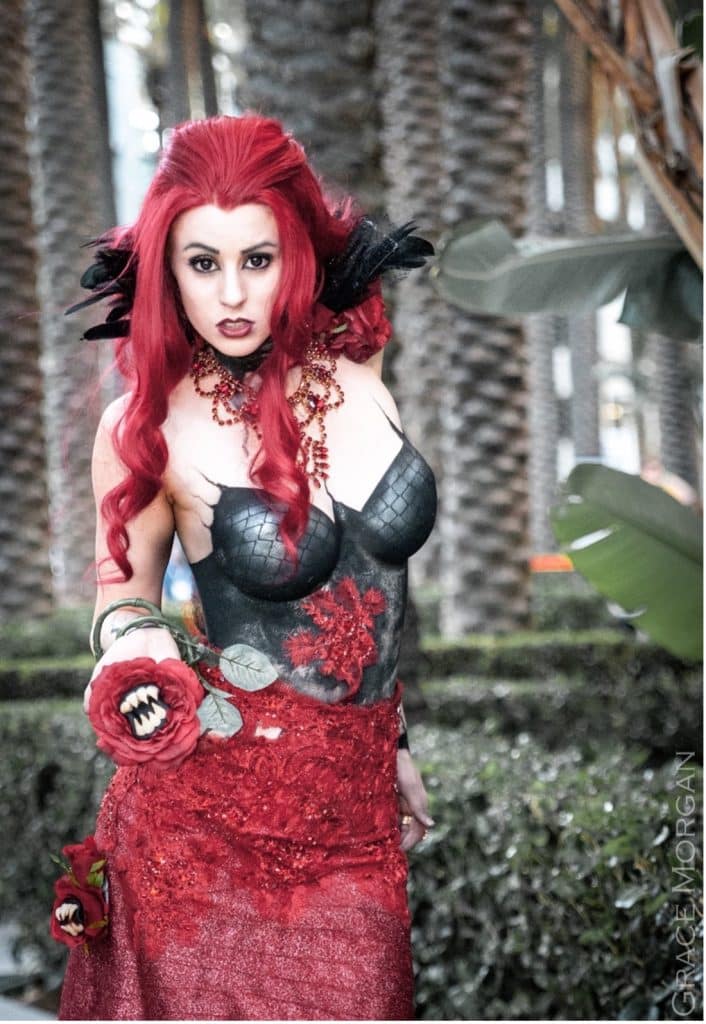 CE:
How Victorian of them. Beauty is a really interesting concept. It's so subjective, right? I think a lot of people would universally agree that beauty is a thing that is not only assumed it is also implied. Most people when they cosplay it's because they are looking at an element of the character and a piece of them is saying, "I want to be that." In some degree. When it comes to me being the Johnny Depp Hatter. The Mad hatter has always been one of my absolute favorite characters for whatever reason. I've been dressing up for him for Halloween since I was a child.
FB:
What is the reason? What do you think the reason is?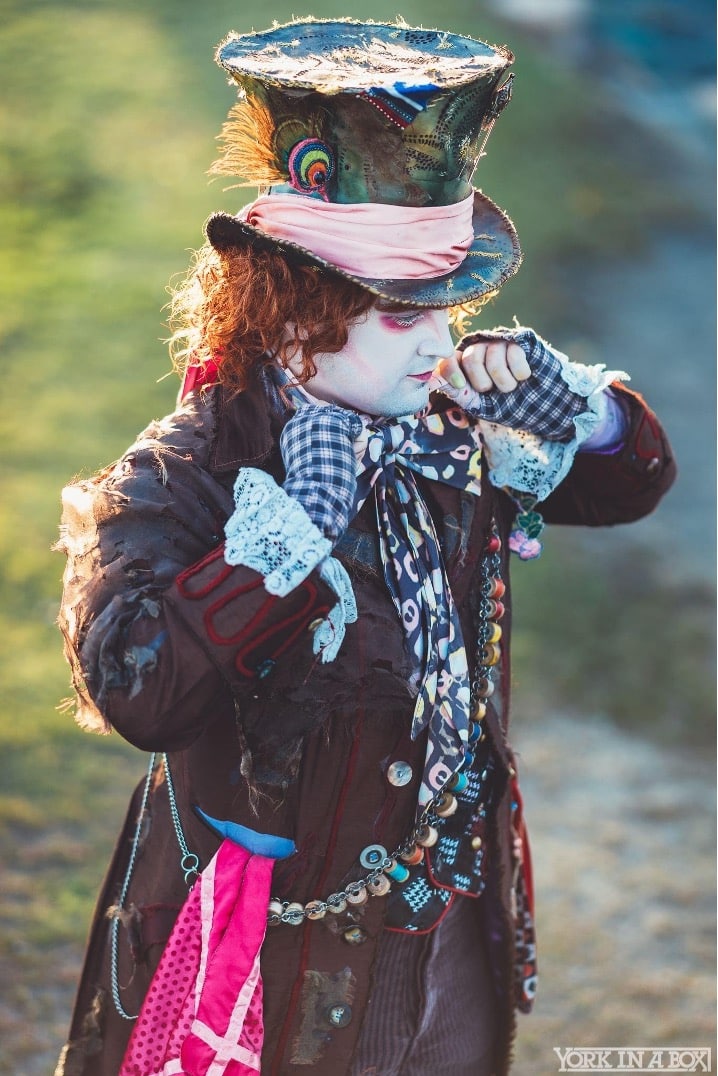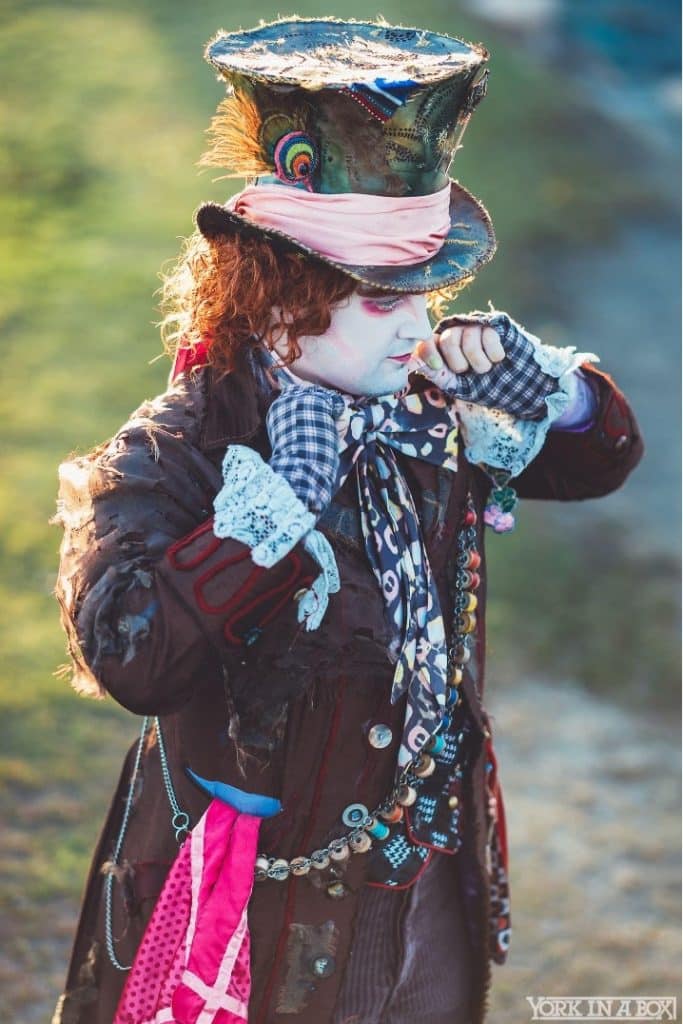 CE:
I don't know. I am attracted to top hats. I love the idea of high tea. I think there is an unbridled element to him. When you read the book, he can stop time. The thing about the book is that people think that the tea party is his, it's not. The tea party is the March Hares. The Hatter is a guest who showed up and never left and that speaks to me on a deep molecular level. This party crasher that won't go away. It's so hard to put a finger on it. It's so difficult because if you ask someone who cosplays a Disney princess, "Why did you want to be that princess?" They will begin to describe elements of the character's personality, but it always will end with, "And also she has a beautiful dress." Or if you ask someone why they want to be Bella Lugosi's Dracula, "Well his suit is so beautiful." It always kind of comes down to, people are born naked everything else is cosplay.
FB:
Well, that's very quotable. So, we had Hatter and Redd, we had the Queen of Clubs and then let's not forget was Bibwit Harte.
CE:
Oh! Yes! Played by Richard-Lael Lillard!
FB:
I think we're going to have to do another podcast with you and Richie playing Bibwit. I just think we need to have a conversation. I mean Bibwit Harte is an anagram of White Rabbit and Richard seems to be able to embody both at the same time.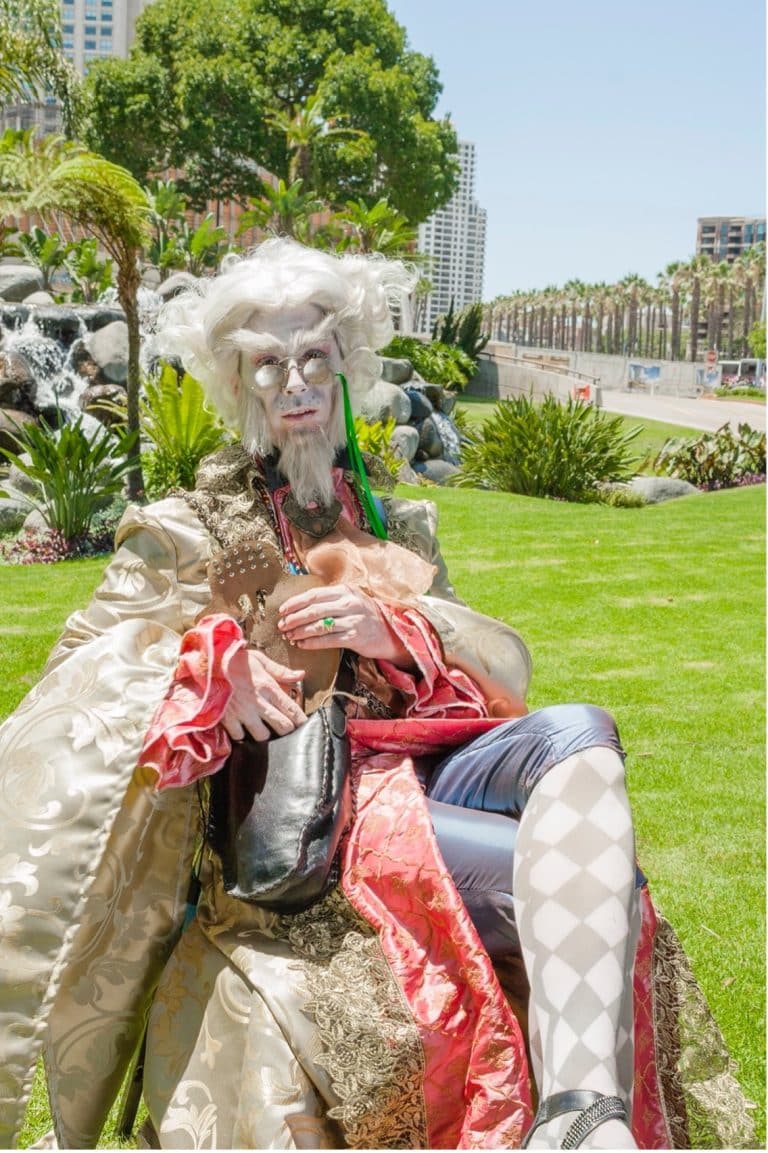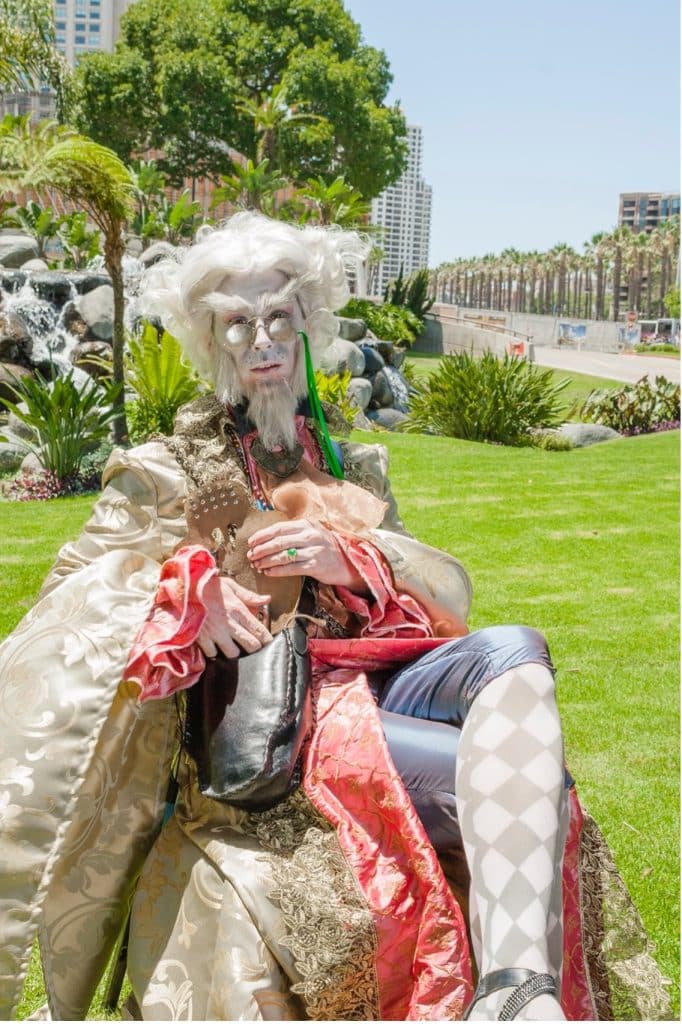 CE:
You know, we recently lost Leslie Jordan, who we interacted with on the set of Conman. There was one day when all of the characters were there. You had Hatter, Alice, Redd, Bibwit, me as Dodge and everyone was there. Richard Lillard was sitting in a chair in the lobby of that bizarre hotel they were filming at. That place made no sense.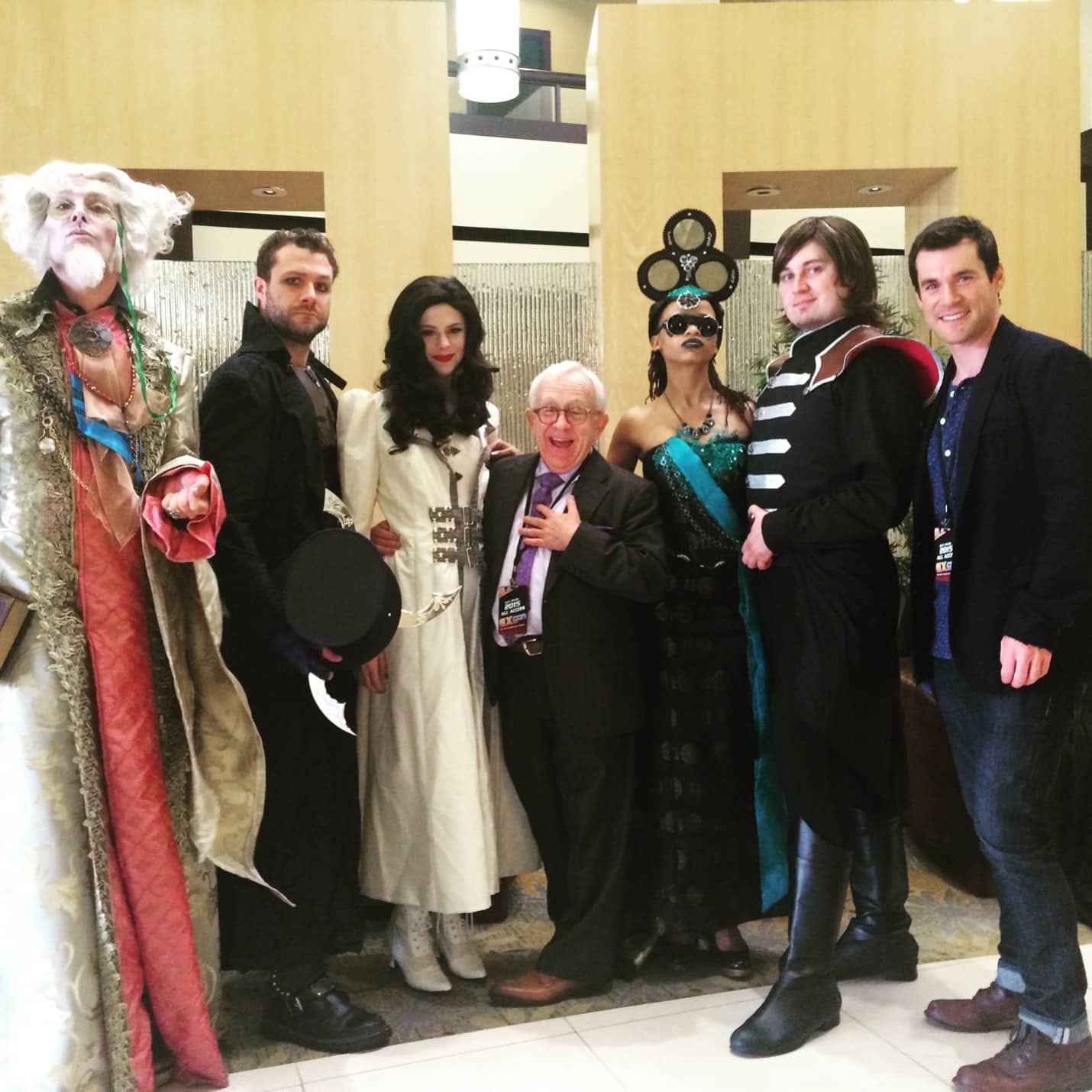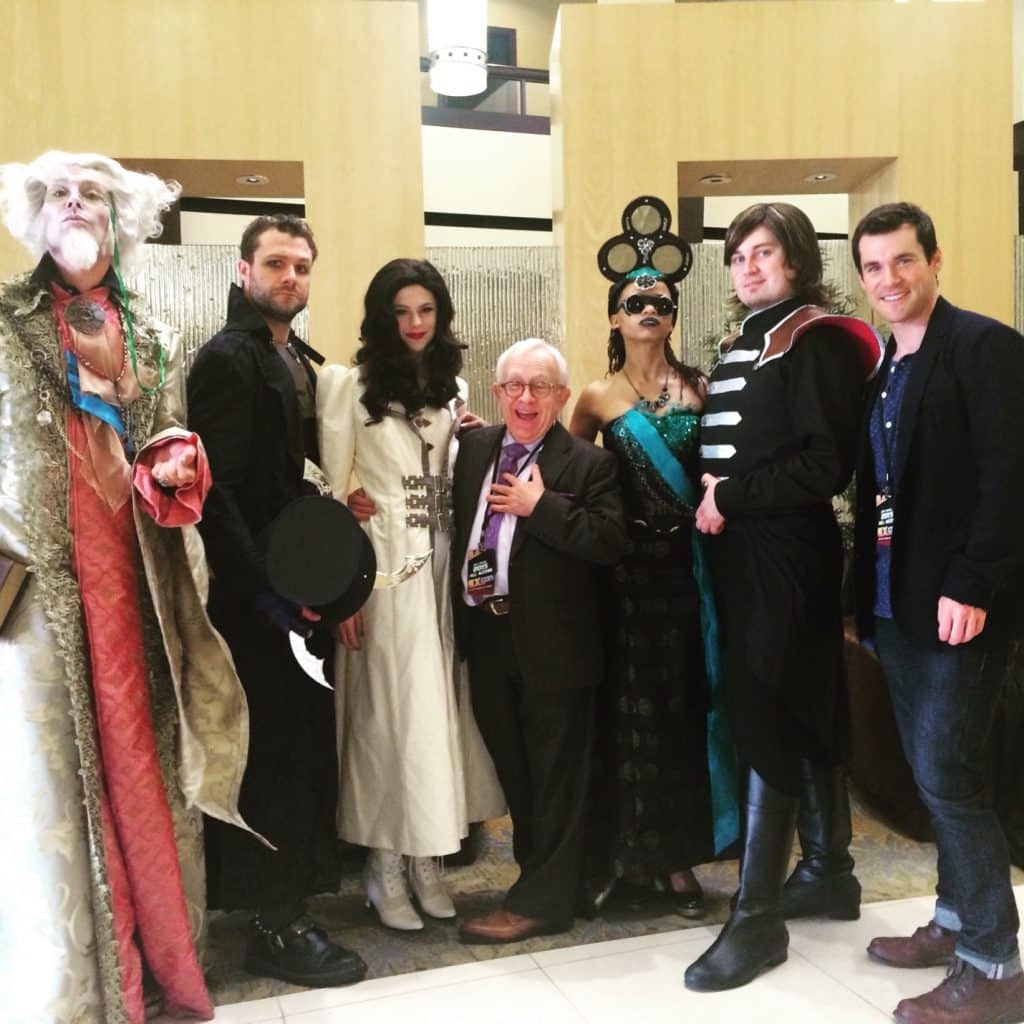 FB:
That was Industry Hills.
CE:
There's all these wealthy people with their noses in the air. I'm just like, "Why are you here?" He was sitting in a chair and Beverly Leslie approached him. Richard Lillard was reading one of his prop books that he brought with him, and I will never forget the look. He had big fake eyebrows on, and he just looked at Leslie Jordan and he just went… And gave him this, "You're talking to me?" And it was so Bibwit of him to do that. I wish there was a recording of the two of them interacting because talk about quick-witted. The two of them.
FB:
Because this is a podcast about all things Alice and the burning question is, "What is it about Alice that has allowed Alice to exist for now one-hundred and fifty-seven years?" What say you?
CE:
Oh my goodness. At the very beginning of this conversation, we touched on this idea that it's a very linear straightforward story but within it, one can pull many things out of it. Before we started recording you and I were discussing how, for some reason at this time of year a lot of people begin to look at their lives and begin to look at the bizarre chaos that is life. Alice is a character that is existing within chaos. She is finding a way through it; she is figuring out who she is through process of elimination. She becomes, if you'll pardon the expression, she almost becomes a looking glass through which we can view ourselves. She is constantly presented with situations that nothing in her life has prepared her to deal with. We as human beings are experiencing the same things on a nearly daily basis. Life is becoming more fictional the longer it goes nowadays. That's the enduring quality, subconsciously we are able to see ourselves within her. We are able to recognize the scared Victorian child who is being repressed. Seeking whimsy inside of ourselves. Whatever that means to you. I think that's the appeal. It has been reimagined so many times because it so perfectly lends itself to do that. That is why I think it has endured because so many people can look at it.
---
For the latest updates & news about All Things Alice, read our blog or subscribe to our podcast!