Looking Glass Wars fantasy author comes to O.C.
Writer Frank Beddor will be at the O.C. Children's Book Festival on Sunday.
By PETER LARSEN
THE ORANGE COUNTY REGISTER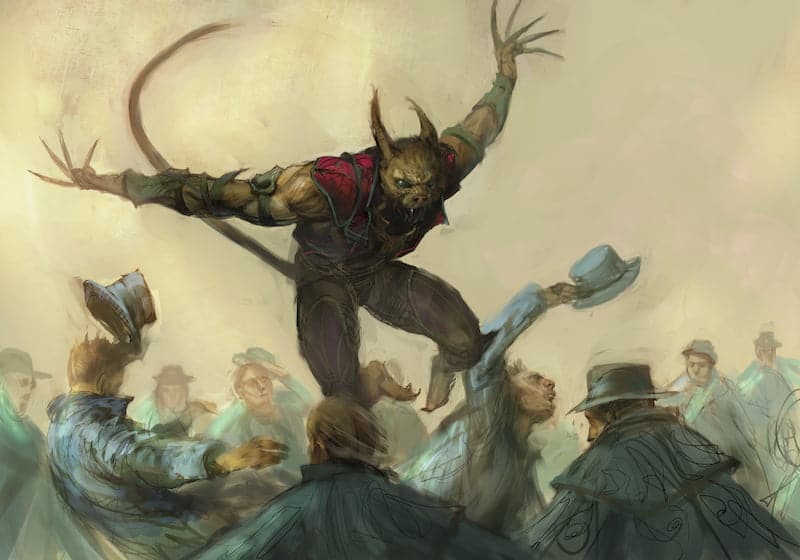 In Frank Beddor's reimagining of "Alice in Wonderland," the Cat is loosely based on the original Chesire Cat, but here is more or less a hitman -- hit-cat? -- who hunts down the heroine of the tale.
The story of how Frank Beddor came to write the Looking Glass Wars trilogy begins like a movie – only appropriate, given that before the books Beddor had mostly worked in Hollywood.
He'd produced the hit comedy, "There's Something About Mary," and was in London for the British premiere, when one day he found himself wandering through an exhibit of ancient playing cards at the British Museum, or so the story goes.
"At the end of the exhibit was an incomplete deck of cards," Beddor says of that moment. "And it had this art that reminded me of the work of Lewis Carroll and 'Alice In Wonderland.'"
A tip led him to an antiquities dealer, a fellow named Buffington, who pulled out an old box that contained more of that dark and enticing deck, and told him, as he turned the cards, the story of the real Wonderland depicted on each one.
"The story this guy told me was the jumping off spot for my story," says Beddor, who used that inspiration as to create not just the Looking Glass Trilogy – the last of which is published this month – but an ongoing graphic novel series called Hatter M, too.
Beddor will talk about the books and all their offshoot projects – including two movies he's now developing – when he appears at the Orange County Children's Book Festival at Orange Coast College in Costa Mesa at 11:15 a.m. Sunday.
The story that unfolds in "The Looking Glass Wars," "Seeing Redd" and "Arch Enemy," the final book in the series which arrives Oct. 15, is that the Alice In Wonderland stories we all grew up reading are fiction, but the characters and events beneath the fiction were real.
Taking the characters created by Lewis Carroll, Beddor invents an entirely new world and story: Alyss – as her name is spelled in the "real" story, and her bodyguard Hatter Madigan flee Wonderland after a coup. They become separated, though, and dual quests unfold: Alyss' to stay alive from forces hunting for her, Hatter's to find Alyss and protect her again.
"At the time, I'd just come out of a hit movie, and I thought maybe this would make a great movie," Beddor says of how the books began. "But as I became really attached to it, I just kept thinking a movie would not do it justice."
He spent several years thinking of the alternative world of Wonderland: how it was structured, how it was governed, and especially, what it and its residents would look like.
To help him visualize it, he took another page from his Hollywood background and hired visual effects artist Doug Chiang, an Oscar winner for "Death Becomes Her," to more or less storyboard the tale as he wrote it.
"There were these card soldiers that transformed into these sort of metallic soldiers," Beddor says. "And I was thinking, 'What would these soldiers look like?'"
Chiang sent him sketches, which Beddor loved.
"I said, 'Wow, this is great,'" he said. "'What would the Valley of Mushrooms look like?' It just started in this organic way and it was a really fun way to collaborate. "I loved showing up Monday in my office and having a piece of art," Beddor says. "It would just kick start me."
Getting the books published, though, was a different story. He tried pitching it like a movie – finding the highest-ranking executives he could at publishing houses – and while those pitches often got good responses, finding an editor to take it on proved fruitless.
"There were a lot of no, no, no's," he says. "With, 'No one will read this book because it's a retelling of a classic,' or, 'You'll only get the 'Alice in Wonderland' fans.'
Finally, a British editor heard his pitch and liked how he told the story.
'"She said, 'If the writing is as good as the story telling, I'm going to buy this book," Beddor says.
In 2004, the first volume appeared in the United Kingdom, where its success finally got him an American publisher – a branch of Penguin, which had earlier repeatedly rejected the manuscript.
In 2005, the parallel story lines of the Hatter M series – the bodyguard's quest to find Alyss – appeared as a graphic novel also titled "The Looking Glass Wars." The second volume of that series, "Mad With Wonder," also arrives on Oct. 15.
Beddor says he is developing scripts for movies based on both series. Producer Chuck Roven, whose movies include "The Dark Knight" and "Get Smart," and agent Ari Emmanuel are both attached to the projects, which are now going out to prospective directors.
The world-creating side of the books also is popping up in other projects now, too, he says. "I hadn't been working on other (movie) projects because of the Looking Glass War and the remaining stories of Alyss," Beddor says. "But then I was approached to do the same thing for Monopoly. Hasbro was looking for a story to turn their board game into a movie."
He came up with a story set in a Monopoly-themed world – a lovable loser lives mostly to play epic games of Monopoly, wakes up one day clutching a Chance card and walks out to discover that he's living in Monopoly City, where Monopoly money is the currency of the land and he is needed to defeat the schemes of the evil Parker Brothers.
"I pitched that to Ridley Scott and he stops me and says, 'What do I have to do to be on this movie?'" Beddor says. "I almost started laughing: 'You want to do this movie?' And then he launches into all these stories about how he and his brothers grew up playing Monopoly all the time."
Scott, in fact, did sign on to direct the project, and Pamela Pettler, the screenwriter who wrote "Corpse Bride" and "Monster House," is working on a formal script for the Monopoly movie now. "It's kind of a puzzle," Beddor says of creating new worlds. "What are the rules? What's the logic? But you have to get to the characters.
"You've got to create a world in space," he says of the Looking Glass Wars, the Monopoly story and another movie project he's trying to sell at present. "But it's all about the characters."